Return to Headlines
Hebron High School Launches Watch Your Words Campaign
Last fall, Hebron High School administrators wanted to get a pulse on the student body. Earlier conversations with student leaders and teachers led to areas of identified needs, such as belonging, campus climate vs. culture, relations with other students and staff and more. Wanting to hear more from students, Hebron administrators initially opened up a dialogue via a survey.
"As we know, student voice is a large piece of what moves the direction of learning and the culture of a school," HHS Assistant Principal Dr. Vanessa Zavar said. "We at HHS, chose to embrace this component and ran a survey through advisory asking students to talk about their school—honestly and in their own words—how they actually felt about the identified needs."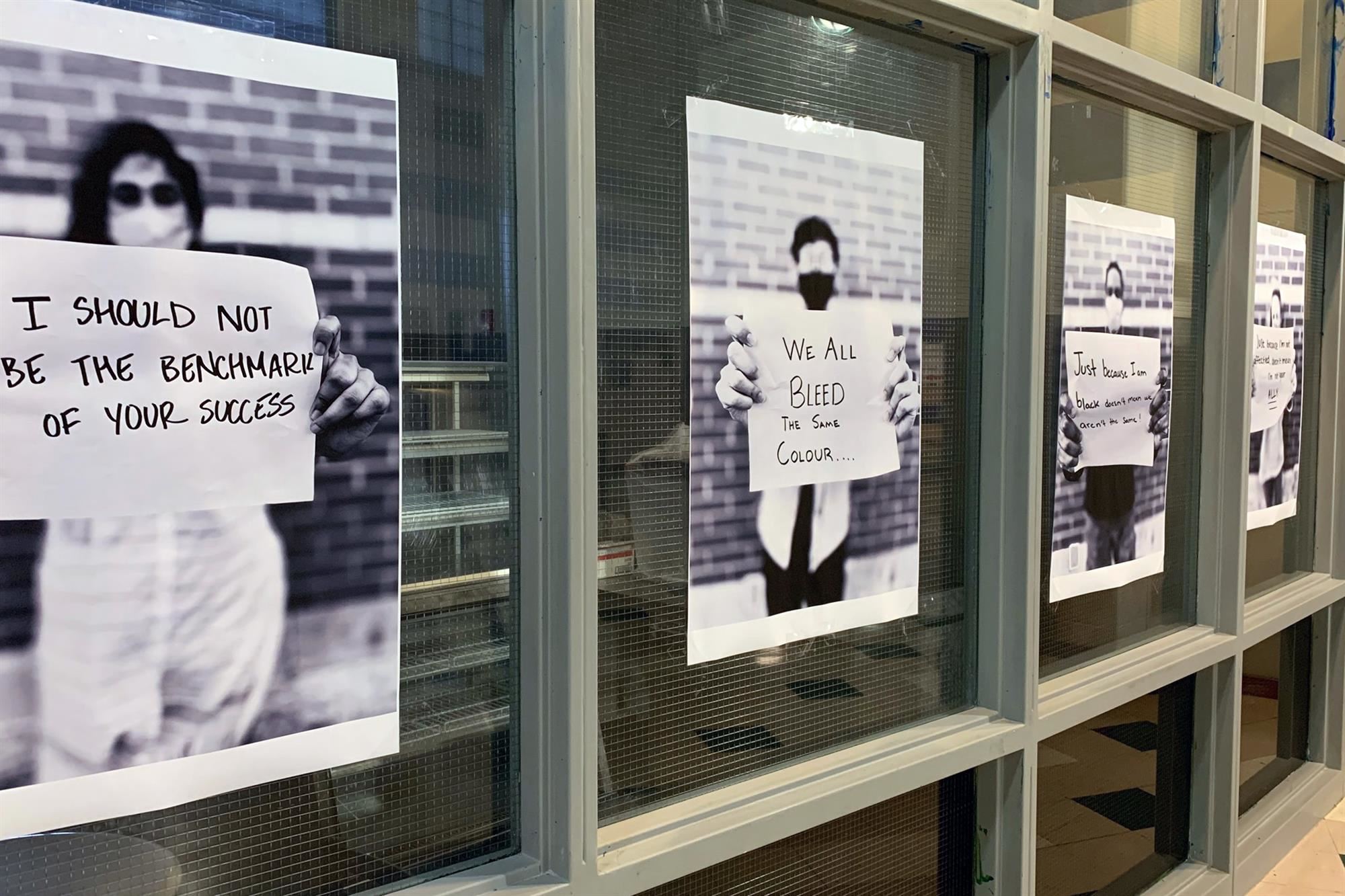 From that survey and its responses, a committee was formed, comprised of both students and staff. HHS wanted to keep the conversation going and keep listening to what students had to say.
"Students who had passionate responses were invited to come in and really speak about changes they perceived necessary," Zavar said. "Some of those students wanted to be a part of the change. In order for a campus to stay relevant, and for learning to be effective, we know student voice is a powerful piece of the puzzle."
HHS students on the committee included junior Madelyn Arriola, senior Shae Duggan, junior Nandita Kumar and junior Veronica Martin. Staff members included Zavar, student council adviser Jennifer Russell, lead counselor Dr. Justin Fields, yearbook adviser Madalyn Cooper, Hawkeye and Hawk TV adviser Steven Jones, science teachers Kristopher Phillips and Rachmad Tjachyadi, science and Black Student Union adviser Alisha Hensley, math and Hawkfest adviser Sunila Gaikwad, special education department chair Karen Cummings and librarian Kristi Taylor.
Through the committee, students shared their thoughts and concerns regarding certain word and language use that they saw had an impact on not only the student body, but staff too. It was through these conversations that the campus decided to make a school-wide, concerted effort to talk about and bring awareness to the power of words and how words can affect others. It was dubbed the "Watch Your Words" campaign. The first week of the campaign took place in late January.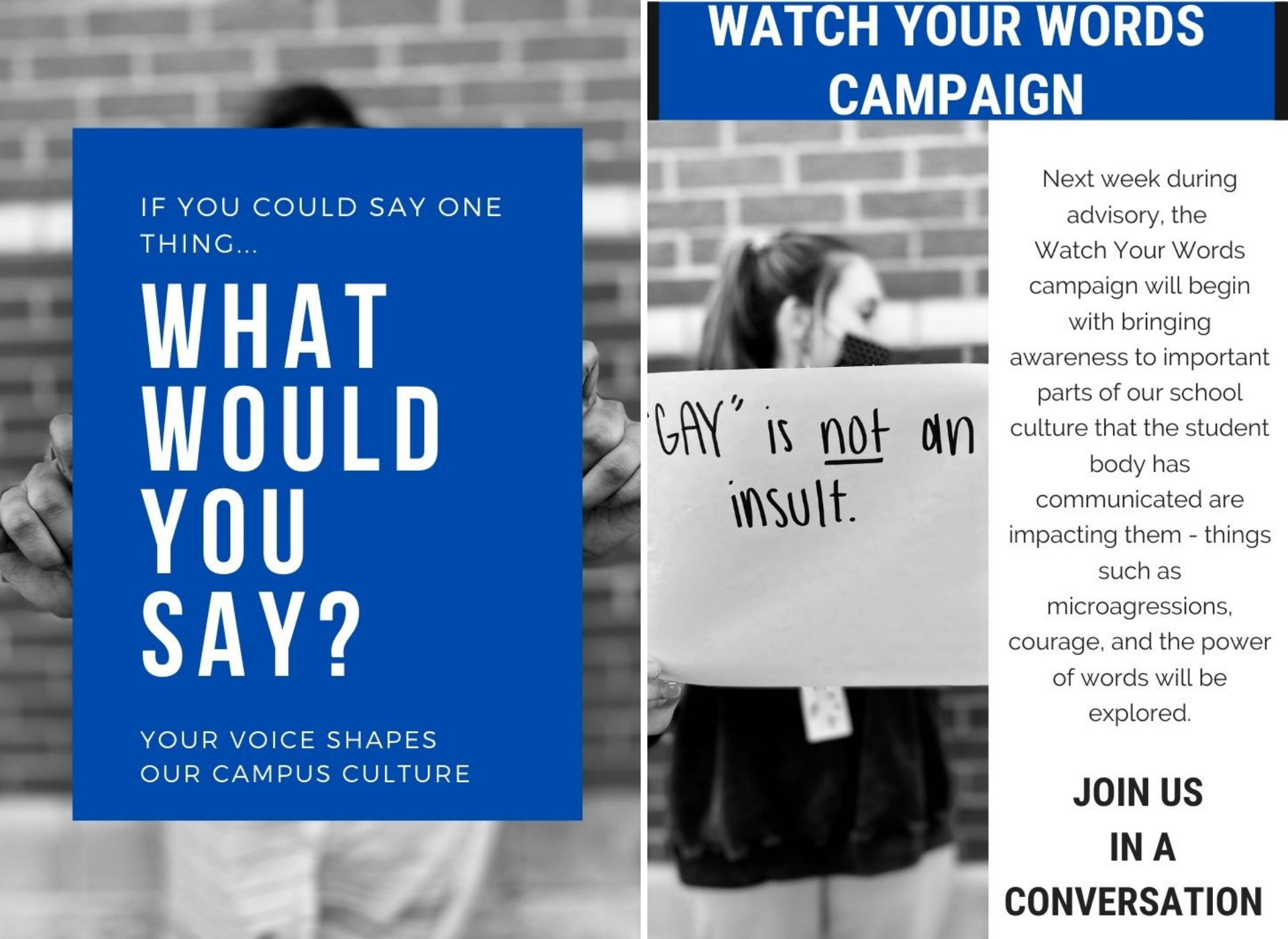 "This first week was to create awareness," Zavar said. "We felt that in order to be able to create a change we had to first explain the issue — which is what this first week of 'awareness' was all about."
Topics such as courage, microaggressions and slurs were covered through advisory lessons that week and students watched videos, voiced over by Phillips, one of the staff commitee members, on the different matters.
"This week we are attempting to bring awareness to the way we treat each other here at Hebron High School," Phillips shared in the opening minutes of the first video lesson. "Our intention is not to be an admonishment or to induce shame. Instead, we ask, that over the next three days, you take a moment to listen and self-reflect as we explore how our actions and our words might affect those around us."
He continued, "We realize this can be a difficult endeavor but we hope you can partner with us in this mission. Welcome to the 'Watch Your Words' campaign."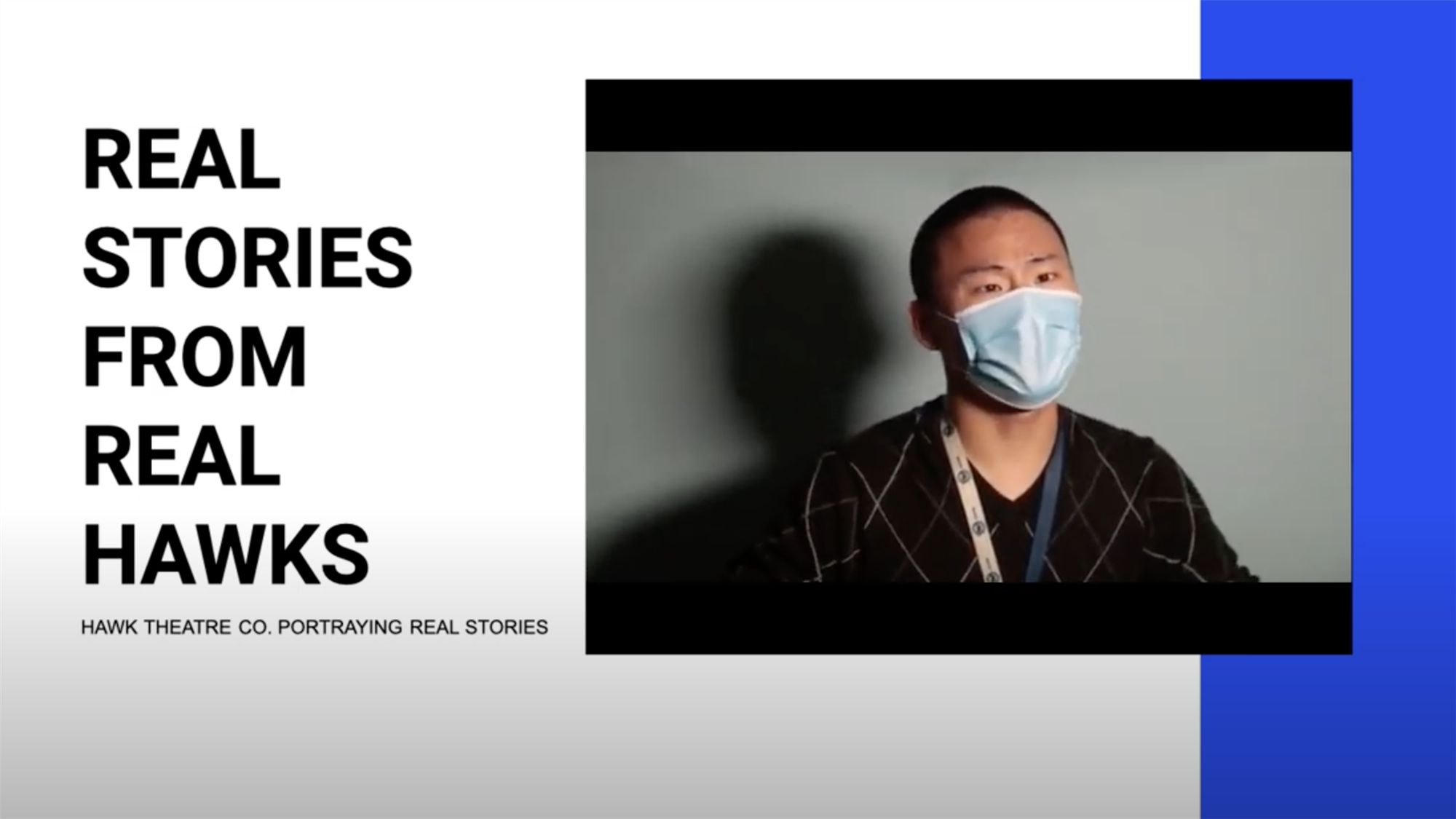 The first lesson, which covered microaggressions, also featured real stories from current HHS students about prejudice they have experienced in their life. Students from Hawk Theatre portrayed and retold these stories on behalf of their peers. One of the retold stories was a student's experience at their workplace.
"One time I was at work," the student said, relaying her peer's words. "It was just a regular day at work, minding my own business and an older couple came up to the counter. The first thing, instead of saying 'hello,' the first thing they said was, 'are you legal?' just because of the way I looked."
The lesson also focused on empathy for others, even when their experiences are different than yours. Another advisory lesson detailed the negative impact and effects of the "R-word," an offensive term used to describe individuals with intellectual disabilities. HHS students had the opportunity to hear from those directly impacted by the use of the word. In addition to the advisory activities, there were PA announcements, ads on campus TV screens and a visual display highlighting the power of words.
"One of the concerns is a general lack of understanding about these topics," senior Layla Layton said. "I was pleased that the school recognized that and the attempt was made to teach those who don't know and remind those that do."
She added, "You don't need to accept it, you just have to respect it."
For senior Dexter Mitchell, he said the awareness week gave him a better understanding of what it's like to be in someone else's shoes.
"It was such uncut and raw feelings," Mitchell said. "Hebron is so diverse it's only right that we would talk about these things"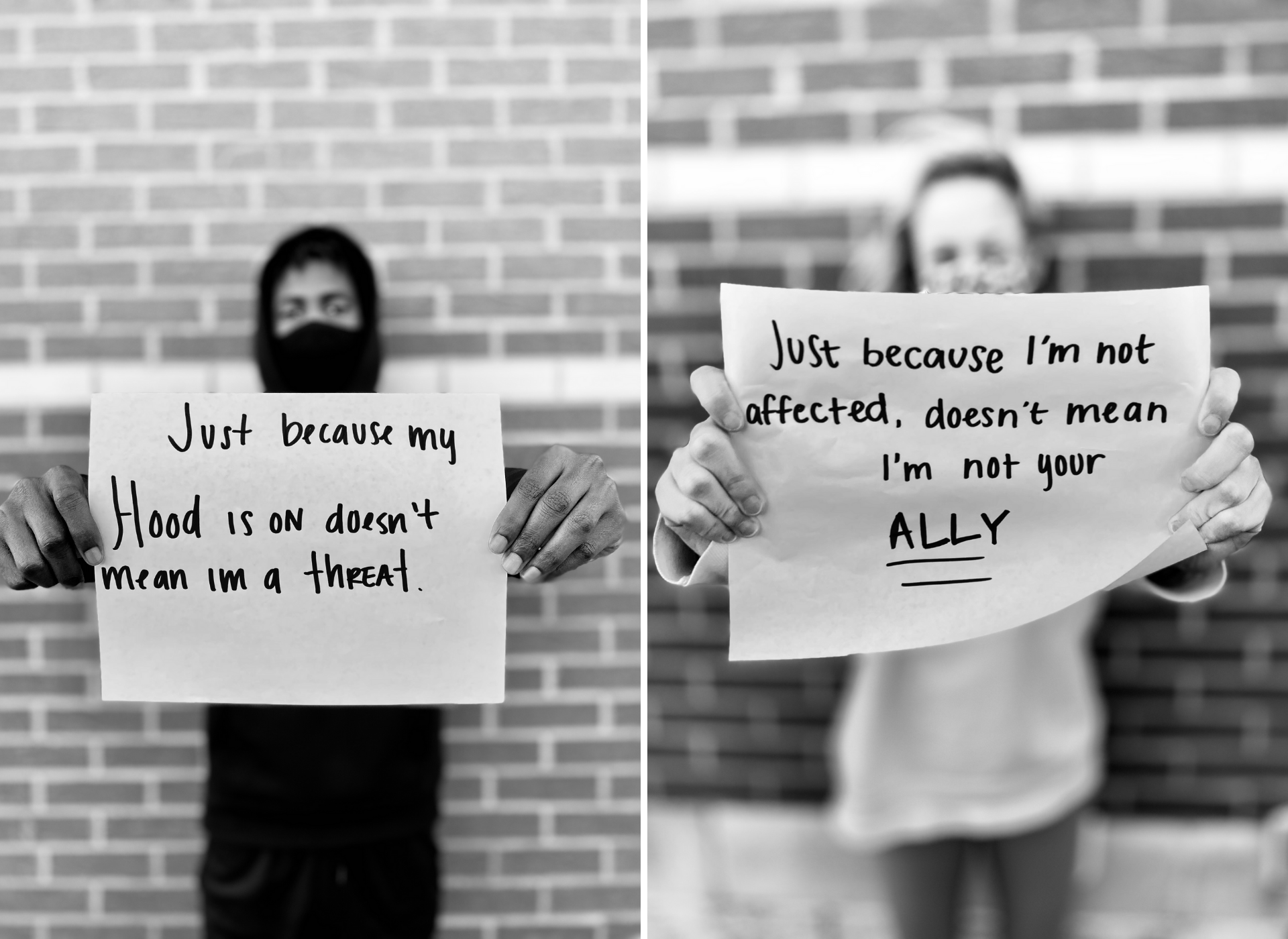 Signs that said "I am more than an athlete," "Just because I'm not affected, doesn't mean I'm not your ally," and "Just because my hood is on doesn't mean I'm a threat" were displayed around campus, sparking conversation. Other signs and ads touched on race, gender, orientation, stereotypes and more.
"I feel like people should know these things, but am glad that the conversations were had and the lessons taught if people don't know," senior Emily Price said. "The fact that perspectives from all types of students was given was very beneficial. It seems some programs in the past have missed that and usually don't represent all."
Zavar, who had multiple conversations with students about their thoughts and feelings, said what the students had to say was powerful and important to hear. Next month, HHS will move into the "action" week of the campaign, which will be student-driven, teacher-assisted, much like the awareness week.
"Thinking further into the future, this [initiative] will be completely student run," Zavar said. "We are very pleased with the interest and support our HHS community and district has shown—pleased, but not surprised—as we have the privilege of working in a dynamic, ever-changing and growing community where the school plays an important role."
For the students, they are happy that all Hawks, administrators, teachers and students alike, want to have tough conversations in order to create a more unified, empathetic and inclusive campus. Members of the community also reacted positively to photos and lessons shared on social media from the awareness week.
"Having real conversations helps the lesson and helps the growth," Layton said.
The students are now looking to the future of the Watch Your Words campaign and initiative, hopeful of what's to come and grateful their school wants to hear what they have to say.


---
From the beginning, LISD has committed to ensuring all students—your children—have the resources they need and want to ultimately thrive in a future they create. Follow LISD on Facebook, Instagram and Twitter to see more student experiences throughout the school year or visit Best Schools in Texas for more information about joining the Lewisville ISD family.