Return to Headlines
Hebron earns first place at the 6A UIL State Marching Band Contest; Marcus places third, Flower Mound fourth
Three Lewisville ISD band programs once again impressed audiences and judges alike at the 2021 6A UIL State Marching Band Contest with three schools placing in the top four in the final standings. The state contest, which was held Nov. 8-10 at the Alamodome in San Antonio, featured 38 qualifying Class 6A band programs from across the state. The Hebron, Marcus and Flower Mound high school bands earned first, third and fourth place, respectively.
The tradition of excellence by LISD's band programs continued at this year's event, held in succession in 2021 due to the modified event format in 2020.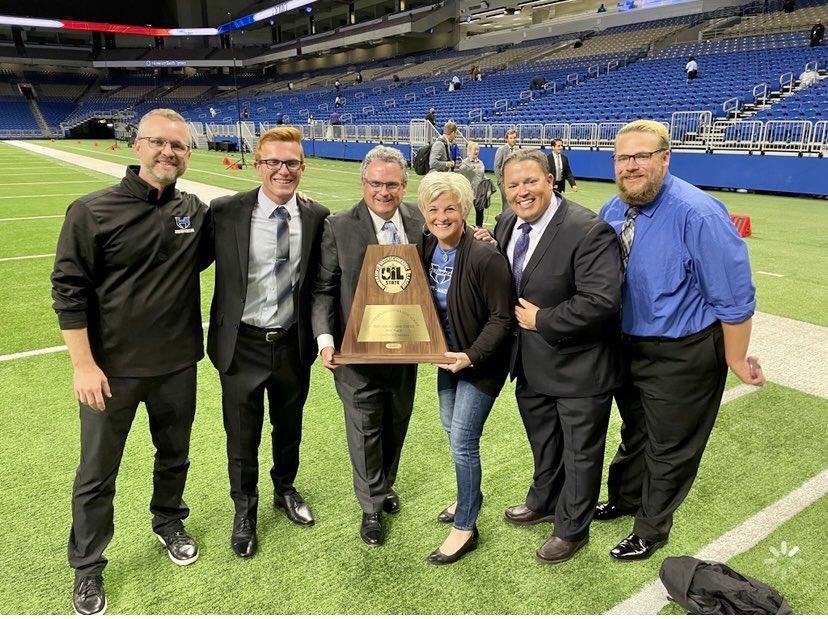 Photo Courtesy: Amy Boughton, Hebron Principal

"LISD's Hebron, Marcus, and Flower Mound marching band programs put forth outstanding productions at the 2021 6A State Marching Band Contest," Amanda Drinkwater, LISD Director of Fine Arts said. "All three groups earned successive performance opportunities through four levels of competition prior to their advancement as state finalists.
"It is a tremendous honor to have the opportunity to perform at the state contest. LISD bands distinguished themselves competitively at the event through musical and visual excellence demonstrated in all organizational components: brass, woodwinds, percussion, and color guard."
Drinkwater added, "LISD is a state leader in Fine Arts due to sustained district level and community support and the impassioned commitment of staff and students. We could not be prouder of our programs and are grateful to have the opportunity to serve the best schools in Texas through arts education."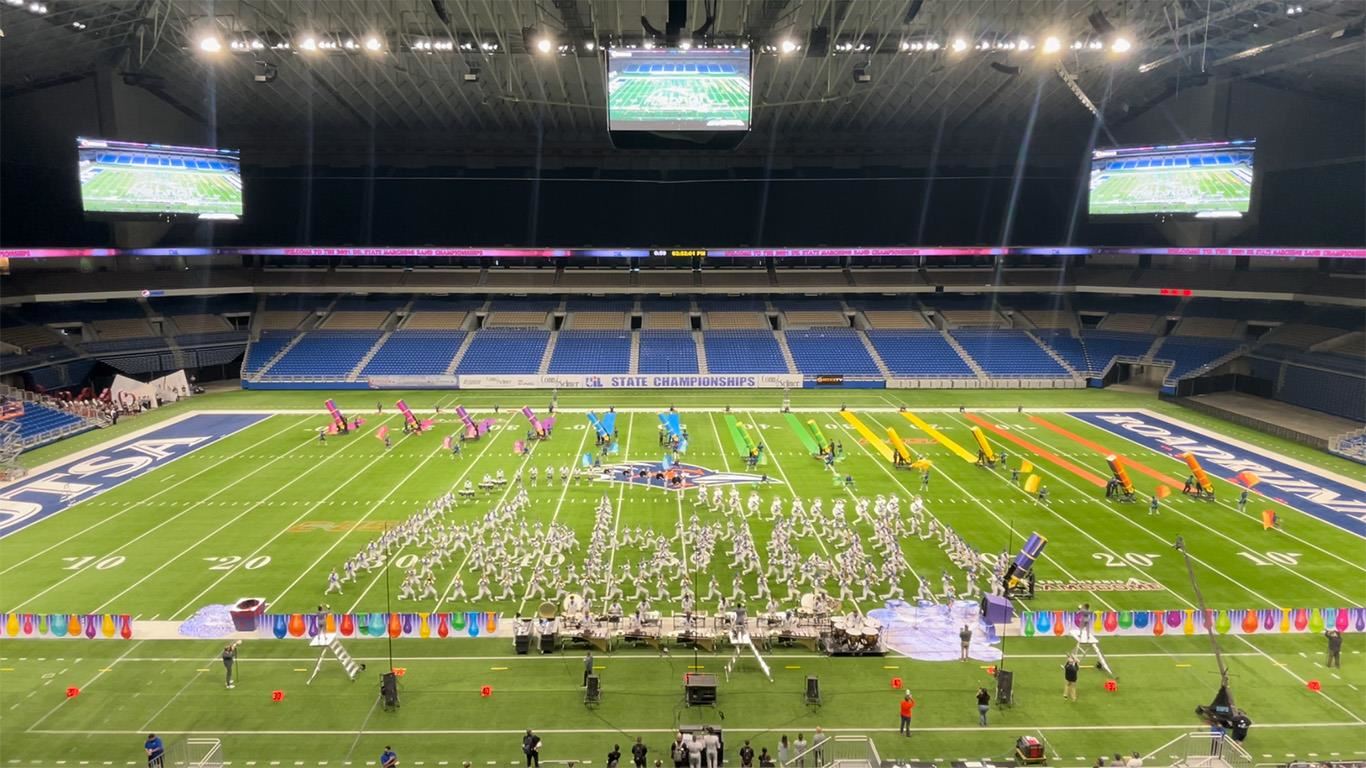 Hebron Band performing "PENstriped"
The Hebron Band, led by Director Andy Sealy, performed their gold-medal earning program, "PENstriped." Hebron Band's assistant directors are: Travis Pruitt, Brock Alsaffar, Zach Houston, and Justin Sullivan. Drum Majors are: Megan Ramos, Suhani Rana, Andie San Luis, Jada Williams and Carolin Yoo.
"We are super excited to share in this tremendous journey with our Hebron Band students and parents," Sealy said. "It was an incredible two days of performances. It's really a tribute to our entire school community and to the many Hebron Band alumni and alumni parents that have supported us for many years. We're enormously proud of our students' efforts and determination throughout the entire season.
"Thanks to our Hebron High School teachers and administrative staff, our LISD Fine Arts Office, and all of LISD for making this opportunity possible for our Band staff and students."
Marcus Band performing "The Missing Piece"
The Marcus Band, led by Director Jeffrey D. Jones, performed their bronze-medal earning program, "The Missing Piece." Marcus Band's assistant directors are: Kennan Wylie, Nick VandenBush, Logan Stalcup, and John Leonard. Drum Majors are: Matthew Bailey, Stella Bologna, Dina Bratanovic, and Kenzie Knafelz.
"We're thrilled with the efforts of our students; their artistry, poise, and professionalism are breathtaking and inspiring," Jones said. "It has been a joy to watch them delight audiences all season.
"We're thankful for the opportunity to represent LISD, and we are forever grateful for the countless dedicated family, friends, teachers, administrators, and parent volunteers who make all things possible."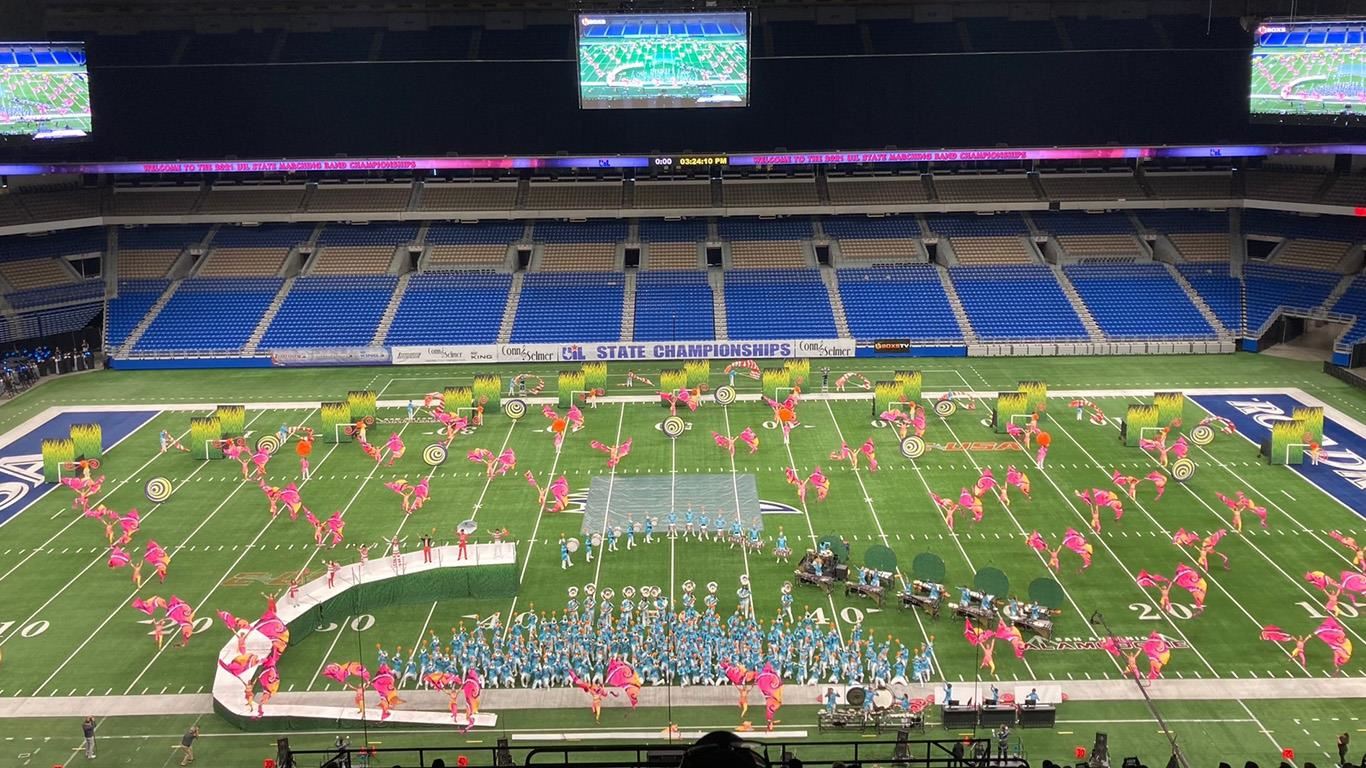 Flower Mound Band performing "The Band Show"
The Flower Mound Band, led by Director Brent Biskup, performed their fourth-place-winning program, "The Band Show" Inspired by the Literature of Theodor Seuss Geisel. Flower Mound Band's assistant directors are: Jana Harvey, Kyle Ayoub, David Gronneberg, and Nick Vizza. Drum Majors are: Lindsay Kim, Lilla Odom, Joey Risberg, Mitchell Robinson, and Kathir Seralaathan.
"We are extremely proud of the students for their performance at the UIL State Marching Contest," Biskup said. "The entire band represented Flower Mound High School and LISD with excellence and we are proud of their efforts throughout the season and at the UIL state contest."
With another outstanding showing at the 2021 event, LISD and its band programs continue to leave a mark on music education throughout and beyond Texas.