Return to Headlines
Flower Mound High School Students "Take Over" Campus Social Media
Flower Mound High School is taking its social media to the next level. Students have "taken over" the campus Instagram and other social media accounts to give an inside glimpse of student life and show the Jaguar community their perspective.

"We wanted to give our students a voice in our social media and we wanted to find ways to 'flatten the walls' of our school so people get a good picture of all the awesome things that happen here on a daily basis," FMHS Assistant Principal Chris Porter said. "Our students do so many awesome things that are never seen, and we wanted to pull back the curtain as much as possible. Who better to do that than our students?"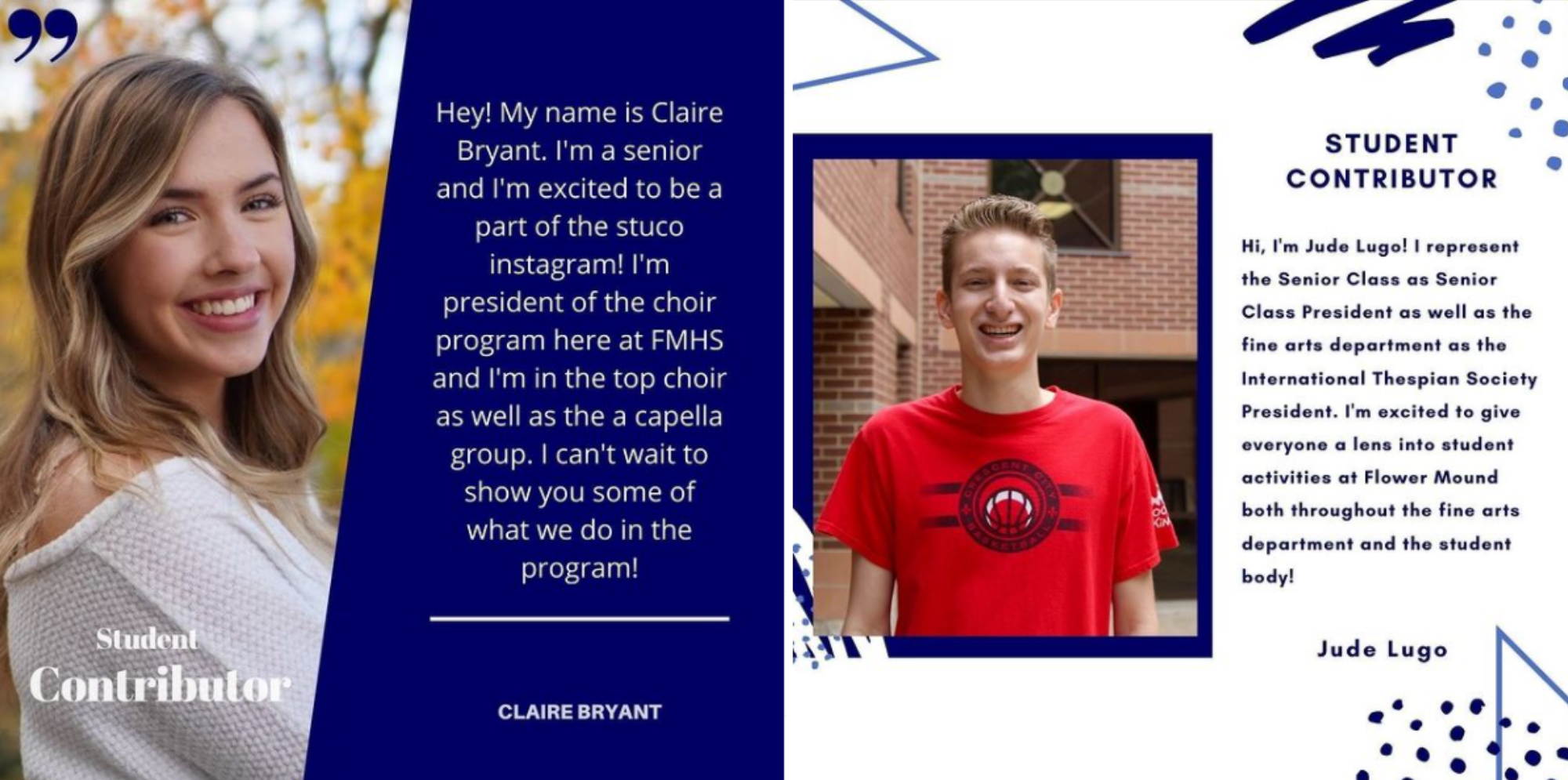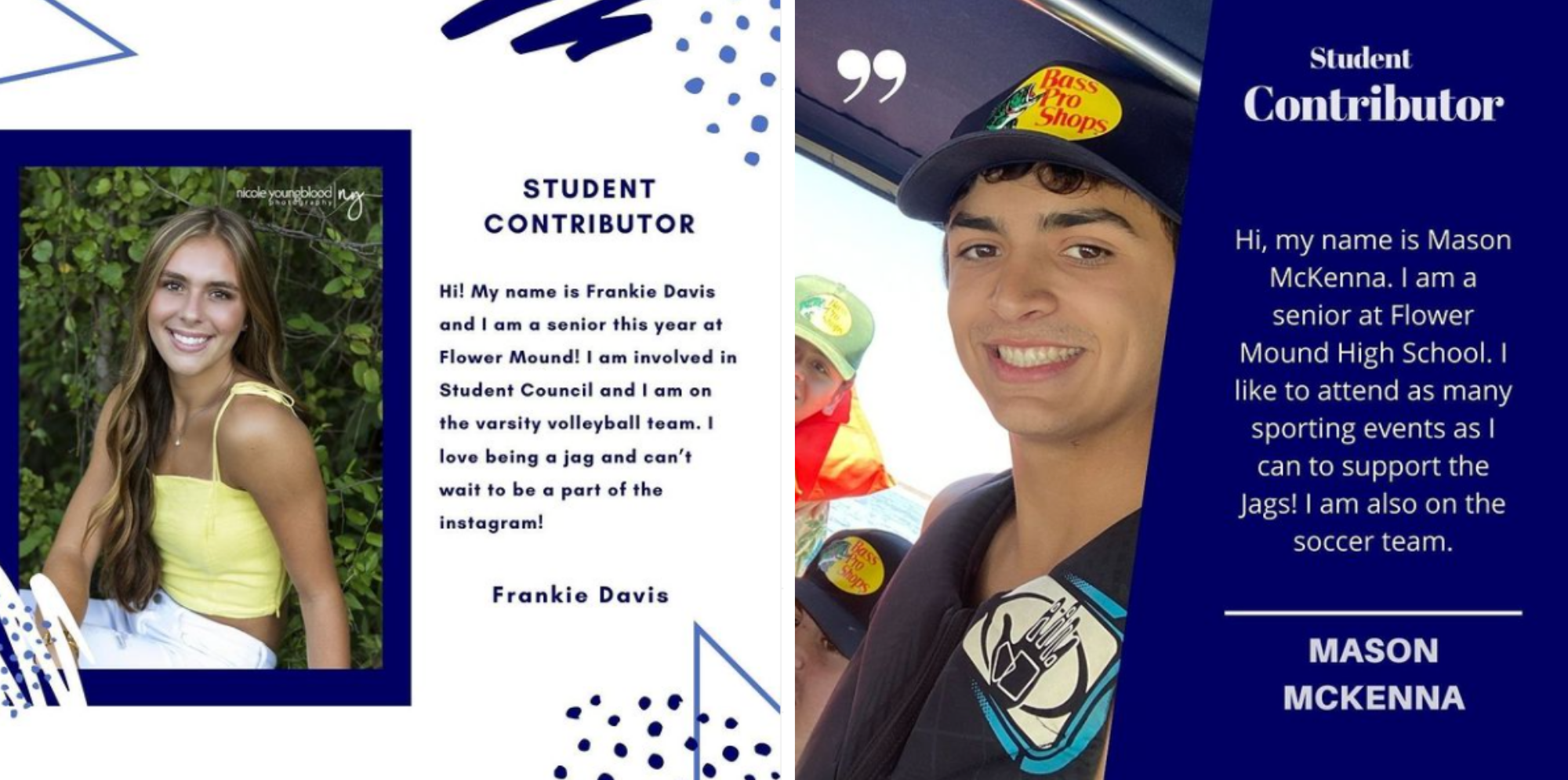 Porter, who manages the campus' social media accounts, said by telling more of the school's story through student voices, school and community engagement, as well as support, goes up.

"People want to engage with authentic and relevant content," Porter said. "This has played out in the insights we are seeing on the posts."

So, how were students selected to share photos to the Jaguars' social media? Porter talked to different students on campus and tried to get a feel for who would be the best fit for the features by asking how they could contribute or wanted to contribute.

"I asked around for names of students in some different organizations in order to be able to spread out and highlight different areas of our school with our student content," said Porter, noting he wanted great student ambassadors, as well as organic content.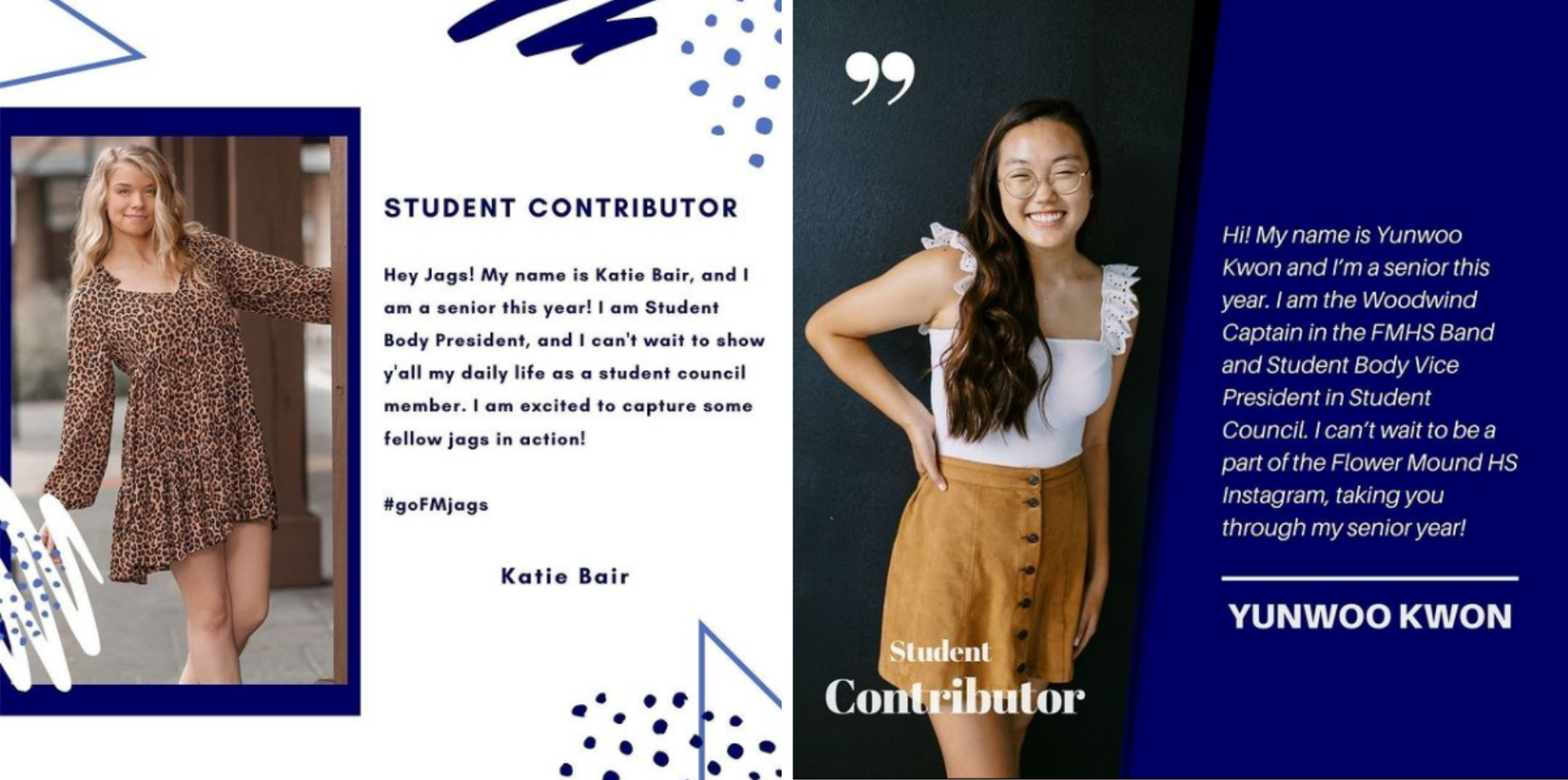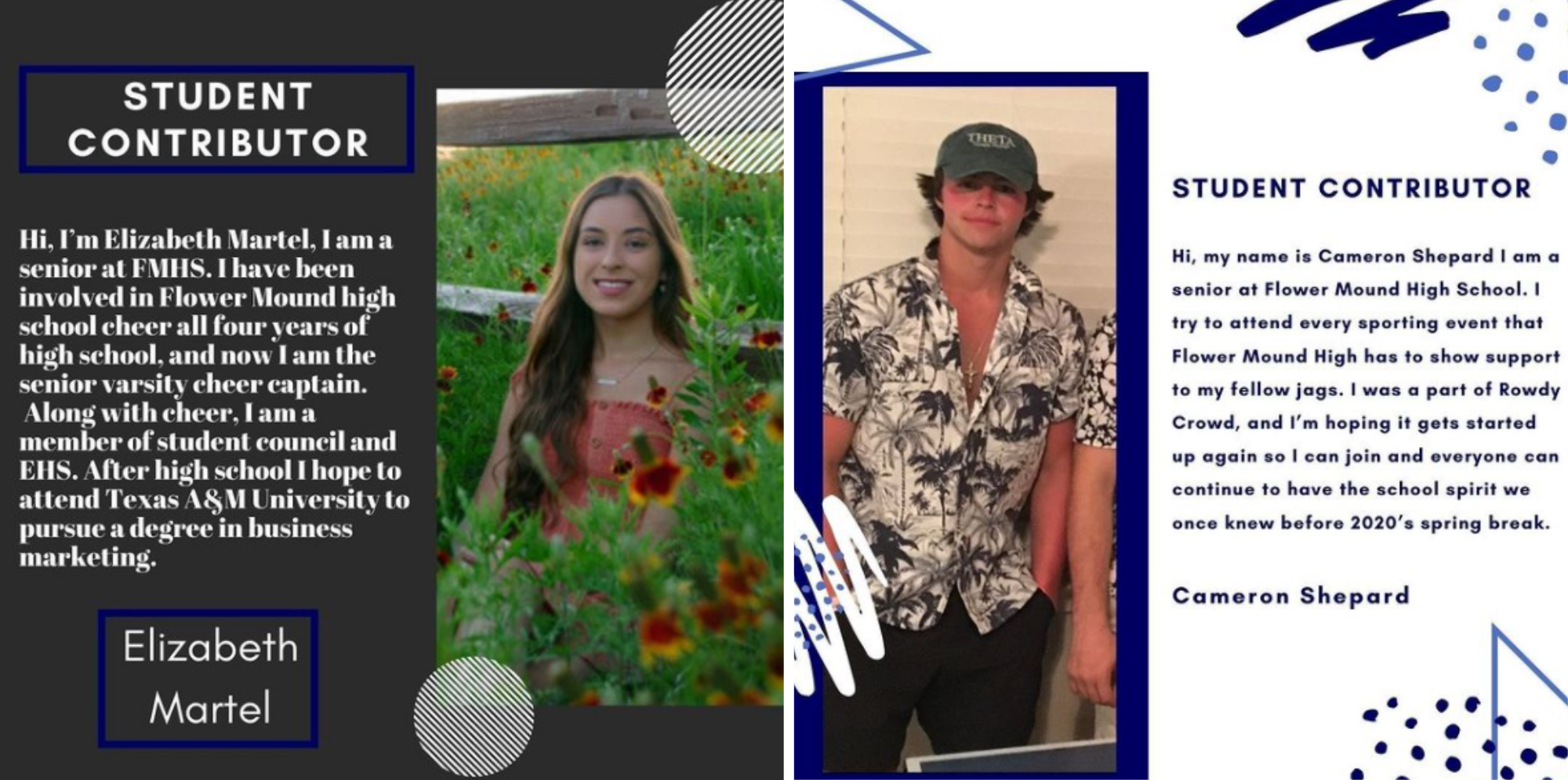 Students asked to participate are encouraged to take photos of themselves in their element, such as hanging out at a school event or with friends in their organization, and then send the photo along with a caption to Porter, who vets the content.

"If it is something they may think about posting on their personal account, but might be of interest to a wider audience, I have asked them to send it," Porter said.

Seniors Katie Bair and Elizabeth Martel were among the first students selected to contribute content to FMHS' social platforms.

"Posting pictures to FMHS' social media gives the student body a voice because I am showing the life of a Flower Mound student, and encouraging others to become more involved in the school," Bair said.

She added, "I want my peers and community to see students finding joy through this difficult year by posting about our daily activities."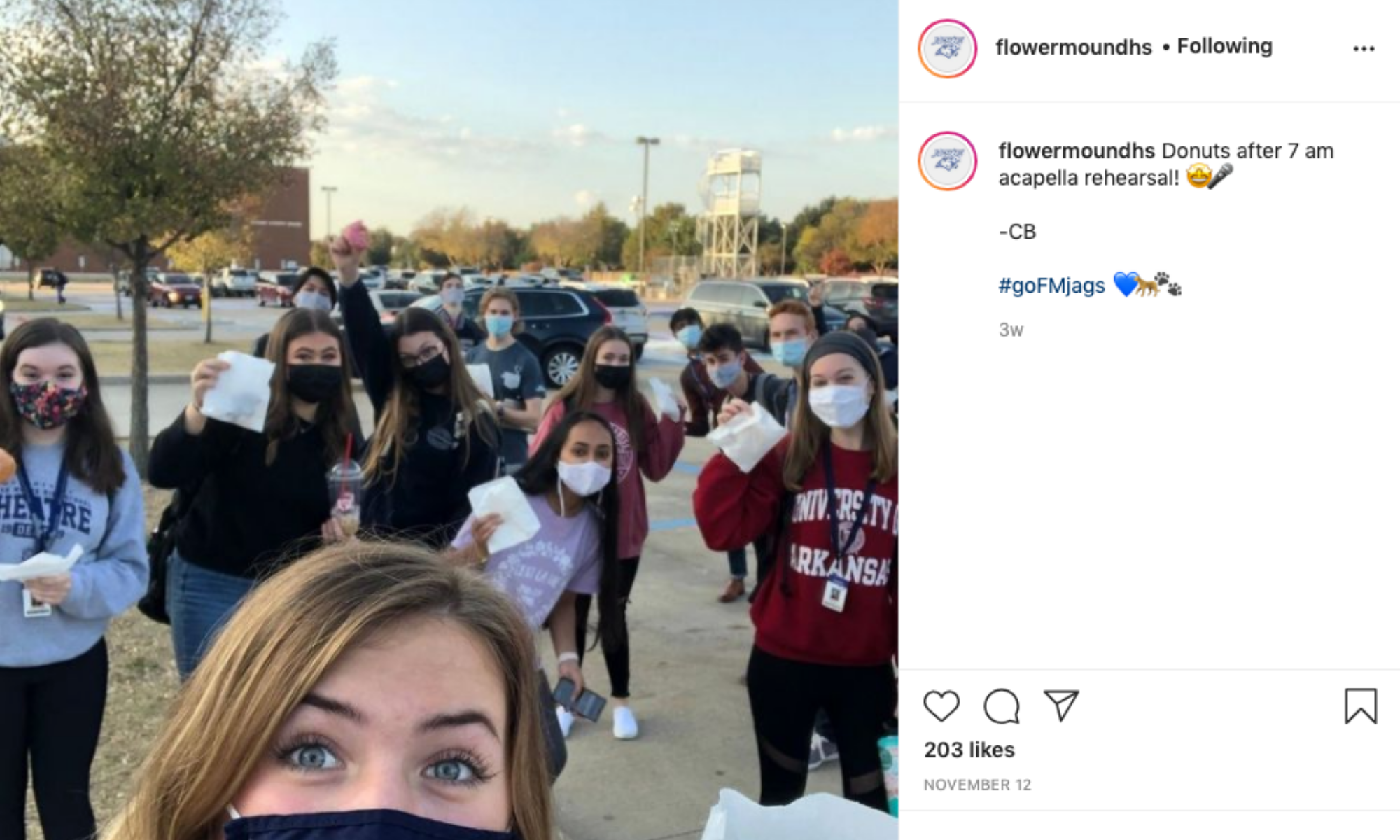 Martel echoed similar sentiments about the posts helping the campus through an unusual year, and said this push to feature student voices shows what being a Jaguar is all about.

She added that the photos and posts give clubs and organizations an opportunity to share what they've been working on and show behind-the-scenes work.

"It's not just admin running the account anymore, it's becoming a more personal account that students can interact with," Martel said. "I want family members, students, teachers, and the community to see what fun goes on at FMHS and get a peek into different students' lives. These posts are getting a group of students excited to show their school spirit to the public, and I think it's helping our school during these difficult times to still feel involved in a way."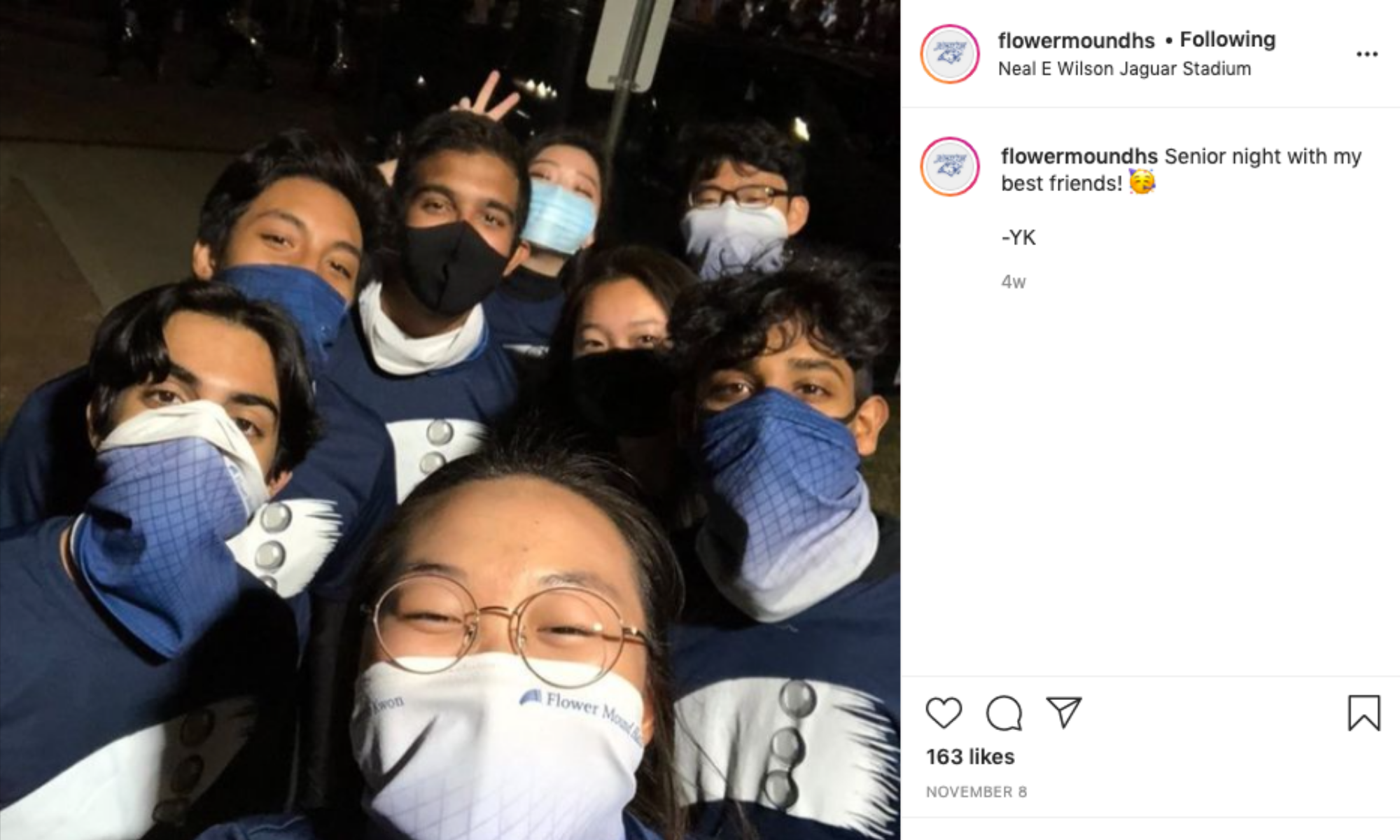 The student contributions have received a lot of attention on social media, not only from other students, but from parents and community members, too. Followers have seen students like Jude Lugo share a photo from the press box on senior night, and Yunwoo Kwon share a selfie with members of the marching band.

"It really makes the account much more authentic when we have student selfies while our students are in their element," Porter said.

FMHS hopes to make student voices a regular part of the school's social media presence. Porter said they are still tinkering, building and growing the concept, but describes the initial launch as successful.

"Students are the digital natives and are able to help us navigate the world of social media in a way that is relevant, authentic and high quality," he said.