Return to Headlines
The Dynamic Duo of Shadow Ridge Middle School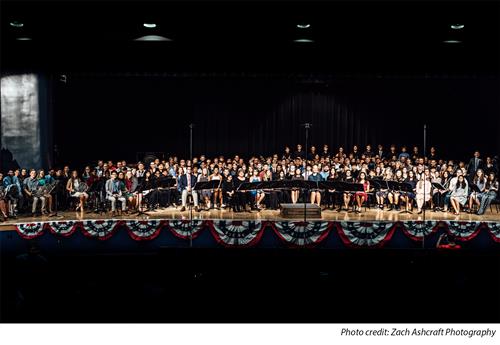 It's June 2, 2018 — a Saturday. Shadow Ridge Middle School (SRMS) Director of Bands Chris Meredith and Associate Director of Bands Alicia DeSoto are in the auditorium of Flower Mound High School, visualizing and figuring out how they were going to fit dozens of former band students on stage the next day.

Only a few months prior, the SRMS Band had been named a recipient of the 2017 Sudler Cup — a prestigious honor that recognizes sustained excellence at the middle school band level. Since its inception in 1985, less than 60 bands have been awarded this honor. Receiving the Sudler Cup was a culmination of years of greatness, and Meredith and DeSoto couldn't think of a better way to commemorate the honor than to invite former students to perform as part of an alumni band, after all, these former students played a huge role in the success of the SRMS Band.
The next day, Sunday, June 3, nearly 200 SRMS Band alumni managed to fit on stage and perform selections like Robert W. Smith's "The Second Storm" and the school's own "Panther Fight!" Even four months later, it's an evening Meredith and DeSoto won't soon forget.
"It was the coolest performance experience I've ever had as a director," Meredith said, "because you have all your kids."
DeSoto added, "The whole time I was just looking at all of them. It was special."
The Sudler Cup marked a significant moment in SRMS Band's history, and adds another layer to Meredith and DeSoto's journey as the school's band directors. For the past decade, together Meredith and DeSoto have led the SRMS Band, and while it's common for band directors to stay at one school for a period of time, the relationship the two have makes their story a bit more special.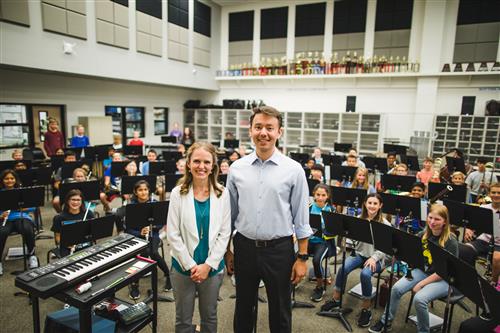 Meredith grew up in Lewisville ISD (LISD) and never really left. As a child, he attended Lakeland Elementary, Creekside Elementary, Hedrick Middle School and then spent his high school years at Lewisville High School. While a student at the University of North Texas (UNT), a college known for its stellar music program, he student-taught at Flower Mound High School.
"I have a lot of pride in our district," Meredith said. "I've seen it grow so much."
As for DeSoto, she grew up in Sandy Hook, Conn., spending all her years there before also heading off to school at UNT. Her grandmother, a Dallas resident, told her about the university's music program, so DeSoto came down to audition and loved the experience. Her aunt and uncle live in Highland Village, which helped DeSoto learn more about LISD and she ultimately student-taught at Hebron High School.
"As soon as I was down here," DeSoto said, "I knew this was the place to teach band and that I was not going back. I've been here since."
In the fall of 2007, Meredith took over the band program from Mike Brown, the first head band director at SRMS. Brown, who now serves as a coordinator in the district's Professional Learning Department, said he first met Meredith when Meredith was a student at LHS. Fast-forward years later, Brown and Meredith found themselves working together at SRMS, growing and developing the program before Brown accepted a new position at a different school.
"When I made the decision to leave Shadow Ridge, I couldn't think of a better person to assume the head band director position," Brown said. "Chris and I remain close friends and colleagues. I had many successes as both a high school and middle school band director, but it gives me such pride to see how Chris has continued his growth as a music educator and has surpassed my accomplishments."
Shortly thereafter, in the spring of 2009, DeSoto joined Meredith at SRMS.
"It was the blind leading the blind for a little bit," Meredith said. "We went into our first year teaching together with only two years total teaching experience between the two of us. I had only been teaching for two years, and it was her first year. What we had going for us though was that we both had fantastic mentors who were all in the district. Without them, we wouldn't be where we are."
Although much of the decade is described as a "blur," today is a lot different than the first years together.
"It's kind of morphed into us being like one person now," Meredith said, before looking over at DeSoto for confirmation, "Right?"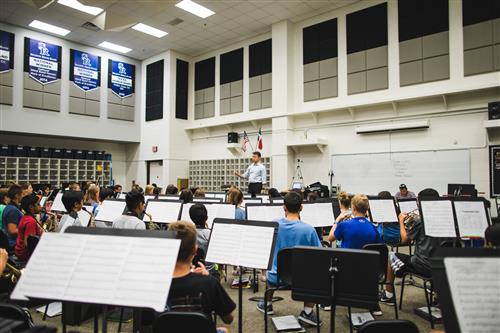 DeSoto, who nodded her head in agreement, said, "We each have the things we do to make the program run where we don't even have to talk about it per se anymore. We just know that, 'OK, I'm going to run with this project and he's going to run with that project.'"
The students benefit from the trust between the directors and their harmonious relationship as well.
"We speak the same language to the students," DeSoto said. "I think it makes it really cohesive that we're giving the same message and same consistent information to them."
Meredith added that he enjoys working with someone who's just as passionate as he is about their profession and that DeSoto pushes him to do better, a sentiment DeSoto agrees with.
"I think we're always wanting to do better in how we're teaching because of working with the other person," she said.
The two, alongside three fellow music educators, have even authored a curriculum together. The five master teachers had all at one time worked for the district, which helped bring the collaboration to fruition. The curriculum, which took nearly five years to complete, includes a 700-plus-page student portion on 10 instruments and a 400-page teacher guide.
"Quite a few bands in the district are using it, and there are so many throughout the state and beyond the state using the curriculum, too," Meredith said. "Hopefully it'll help a lot of teachers out there."
DeSoto added, "Before we had put this together, the only kind of book students would get would be a song book. This is the opposite of that, it's more of a fundamental book on how to make good sounds and play the instrument really well that the kids can then apply toward songs."
Not only do Meredith and DeSoto have a great professional relationship and are able to complete side projects like writing a curriculum, they are great friends and have much in common.
They both drive Subaru's — Meredith's is silver, while DeSoto said hers is much "cooler" since it's green. They built their classroom podium together. Both attended the same university, albeit different years, for their undergraduate studies. The two also received their master's degrees together at Southern Methodist University, giving them an opportunity to discuss their projects and classwork with one another and even carpooling together, too.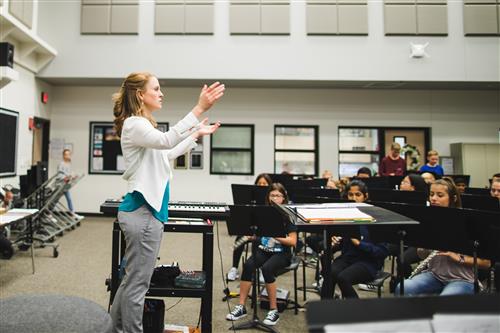 "She kind of made me do a master's," Meredith said, laughing. "It was great, it pushed you a lot. We got a great scholarship to go."
Before their free time became more limited due to work and children, DeSoto said she and her husband (and DeLay Middle School Band Director), David and Meredith and his wife, Kimberly used to get together for game nights and dinner dates. The couples even took a trip to Disney World a few years ago where DeSoto and Meredith's wife ran the "Disney Princess Half Marathon" together. Although free time is harder to come by, it doesn't mean the friends don't still hang out occasionally outside of work. In fact, it helps their children are close in age.
Meredith and his wife have a daughter, Charlotte, while DeSoto and her husband have a son, Casey. Both children are under the age of one, are only four months apart and will one day be in the same grade level.
"We took them to music class together over the summer," DeSoto said through laughter.
Meredith added, "Can you believe it? We signed up for a summer music class (through UNT) with our kids. We went up there once a week, and it was so much fun. It was great."
More than anything though, Meredith and DeSoto's shared goal as band directors has laid the foundation for their great relationship.
"Both of our goals are to provide the kids with a better program than what we had," Meredith said. "We both came from really good programs, but for us, we just want better for our kids. Being driven with that same goal, I think the kids get a lot out of us."
Their drive for their students is something that hasn't gone unnoticed by others.
"I couldn't be any prouder of the work Chris and Alicia have done with the students in the Shadow Ridge band," Brown said. "I am continually amazed with the quality they produce year after year, and when I think it can't get any better – it does. They both accomplish this while keeping the heart of the student at the center of their teaching philosophy and decision-making."
Meredith and DeSoto, though humble, sense they've made a difference in their students' lives, especially after seeing how many returned to be a part of the alumni band for the Sudler Cup celebration.
"So many of them were so excited to come play again," DeSoto said. "Even a bunch of kids who hadn't continued music after middle school, still came in and picked up an instrument again. That was really special."
Meredith added, "If I retired tomorrow, as far as what we've accomplished at Shadow Ridge, I think we've done a good job serving the community and giving the kids a fantastic experience. We want to make sure that the students have a great experience at Shadow Ridge. I think seeing all those students come back (for the Sudler Cup concert) speaks to that."