Return to Headlines
Art Party Brings Community Together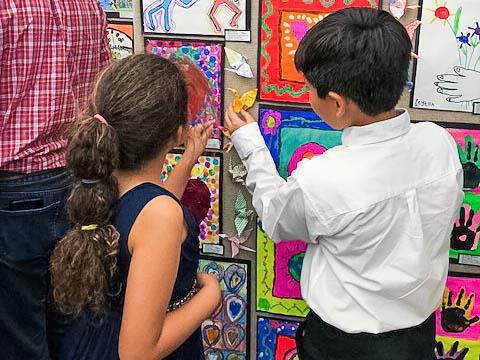 Nov. 16, 2018 — Recently, the Town of Flower Mound Public Library was packed with parents, students and staff members from all the schools that feed into Flower Mound and Marcus High schools for the Fourth Annual Town of Flower Mound Art Party — an event coordinated by the Town of Flower Mound Cultural Arts Commission, Flower Mound Public Library and school art teachers.

More than 1,000 guests attended the community event, which featured artwork from all the schools, local artists, performances by Bluebonnet Elementary's Show Choir and The Voices of Flower Mound, and more.
"As an art educator, my ultimate hope is that all the participants, young and old, are provided a greater awareness of local artistic endeavors," Flower Mound Cultural Arts Commission member and Bluebonnet Elementary art teacher Tammie Turner said. "My hope is that the Art Party builds a sense of community while also igniting the imagination of all who attend."

Some new items this year included art demonstrations created by students, seniors and professional artists; making Artist Trading Cards; a preview of the Library's expansion plans; a food truck and free cake.

"The Art Party was a fun learning experience," Bluebonnet student Brennan Flurry said. "I was so proud to perform with the Bluebonnet Show Choir, but I also enjoyed getting to do all the fun art activities. I especially loved looking at all the art from the other schools and artists in our town."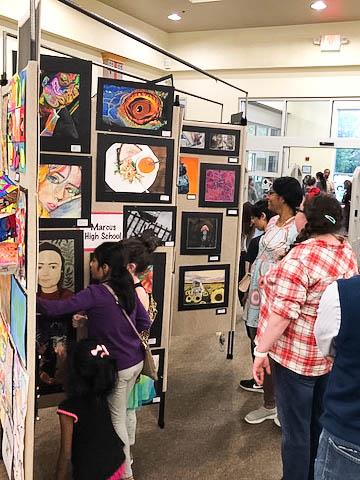 The Art Party is an opportunity for students from kindergarten through high school to showcase their artistic and musical abilities. This year, The Art Party also partnered with local professional artists, adult vocal groups and artists from the Flower Mound Senior Center to further showcase the talent within the community.

"By watching everyone participate in face painting and art trading cards, I was able to see how strong our community's appreciation for art is," FMHS student Jasper Cao said. "This opportunity allowed me to experience our vibrant and diverse culture, and see that there are so many people out there who share the same love for art as me."

LISD STEM Academy at Donald Elementary student Brynley Dawkins added: "The Art Party wasn't just for displaying art, it's to see others' train of thought, creativity and inspiring others to create a story without words."

The mission of the FM Cultural Arts Commission is to stimulate a community brought together and enriched through the cultural arts. The Art Party started four years ago as a venue to promote and highlight the vibrant artistic talent found within the community.

See more photos from the "Art Party!" on Flower Mound Public Library Facebook page.