Return to Headlines
The Colony Chamber Awards | October 2021
Lakeview Middle School student Valeria Gallegos and teacher Kim Hardin were recognized at The Colony Chamber's October Leadership Luncheon at The Stage at Grandscape in The Colony, Texas.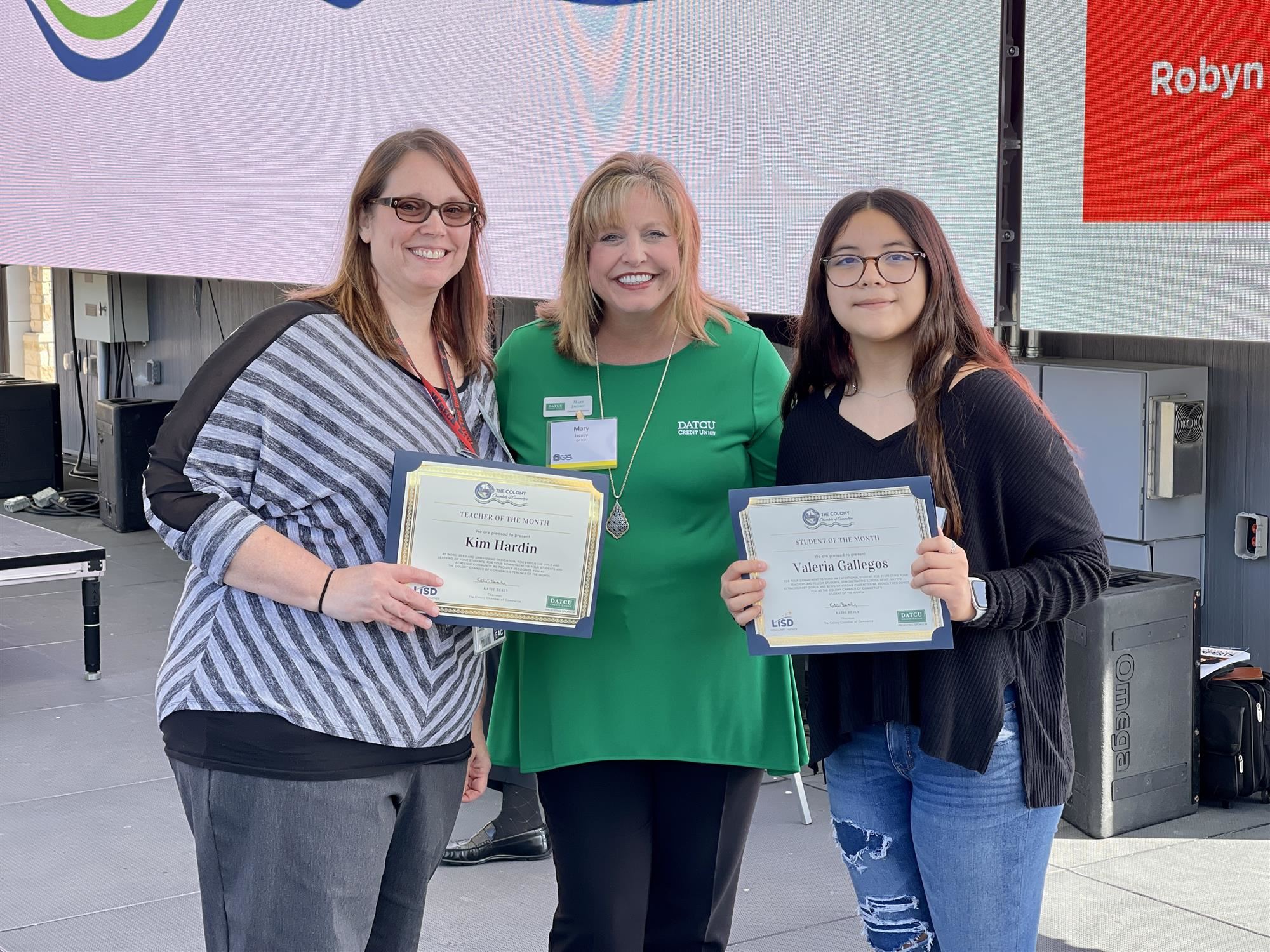 OCTOBER STUDENT OF THE MONTH | VALERIA GALLEGOS
Lakeview Middle School 8th-grader Valeria Gallegos works hard in the classroom and in leadership roles in her extracurricular activities. She is a member of Lakeview's Chamber Orchestra and participates on the school's athletic teams. According to her teachers, Valeria has a positive attitude, is flexible, helpful, and always does her best.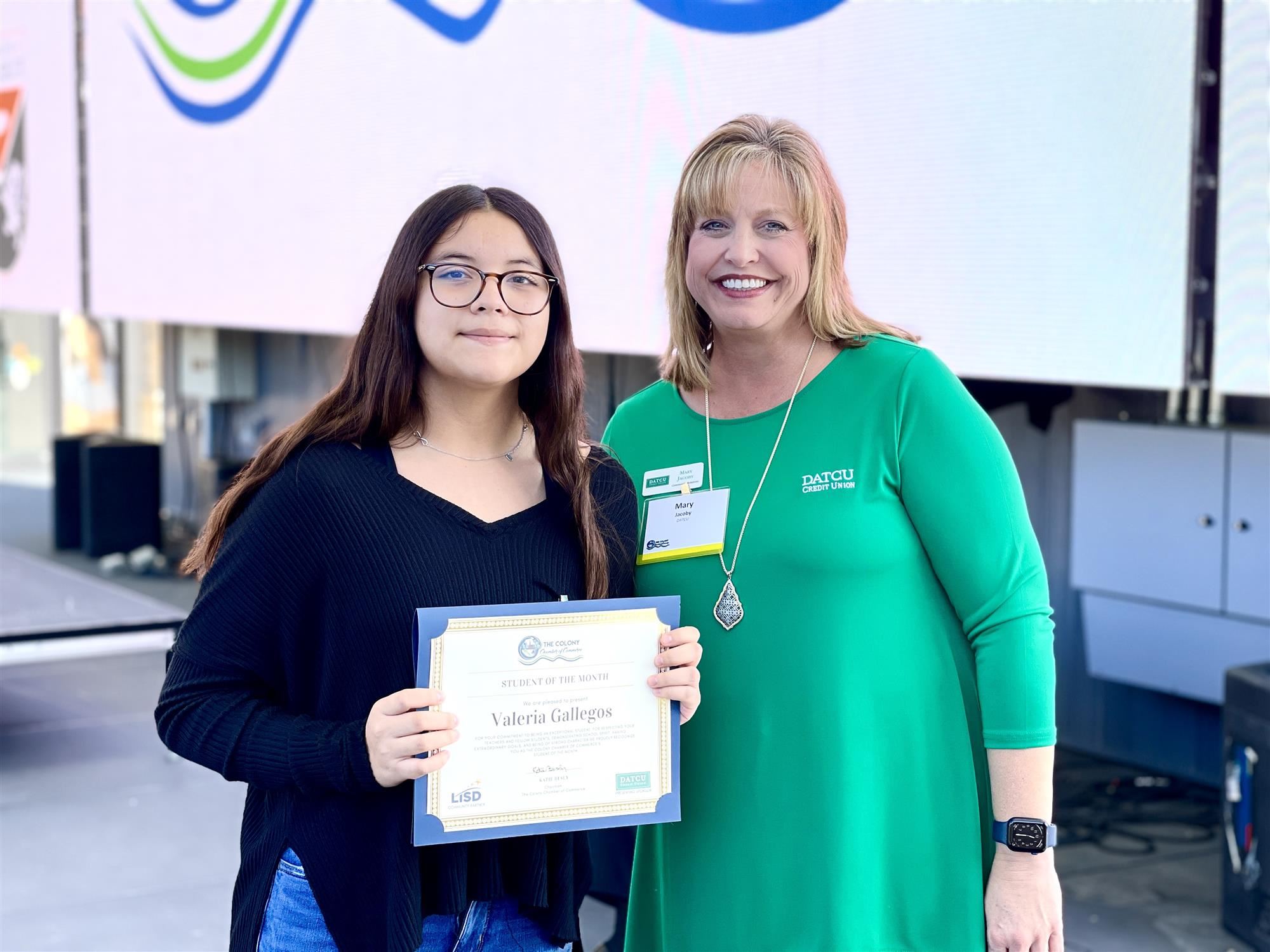 To get to know Valeria a little more, we asked her the following questions:

What are your hobbies and/or what do you like to do in your free time? During my free time, I like to practice volleyball, study, and hangout with family and friends.
What is your favorite subject in school and why? My favorite subject in school is Algebra. This is because I have always worked very well with numbers, and math has always been very fun to me.
What do you love most about your school and why? I love all the amazing bonds I have built here at Lakeview Middle School. I'm so thankful to have met such wonderful people at this school!
What are you looking forward to next year in high school? I'm looking forward to all the opportunities I will get to have for my education, as well as for my athleticism. I'm also looking forward to all the new bonds I will get to create in high school.
Who do you look up to and why? I look up to my older brother, Jacob. He has always been very determined in everything he does, and he is one of the kindest people I know. He makes very smart decisions when it comes to his life, which is what I want to do as well. He's the person I go to when I need help with anything. I know I can count on him as a friend, not just as a brother!
OCTOBER TEACHER OF THE MONTH | KIM HARDIN
Lakeview Middle School Teacher Kim Hardin has done a tremendous job leading Lakeview's Special Education department this year. She navigates the many responsibilities of meeting students' individual needs and supports her team as they do the same. She has demonstrated compassion, flexibility, grit and grace, and Lakeview is lucky to have her leading its Leopards.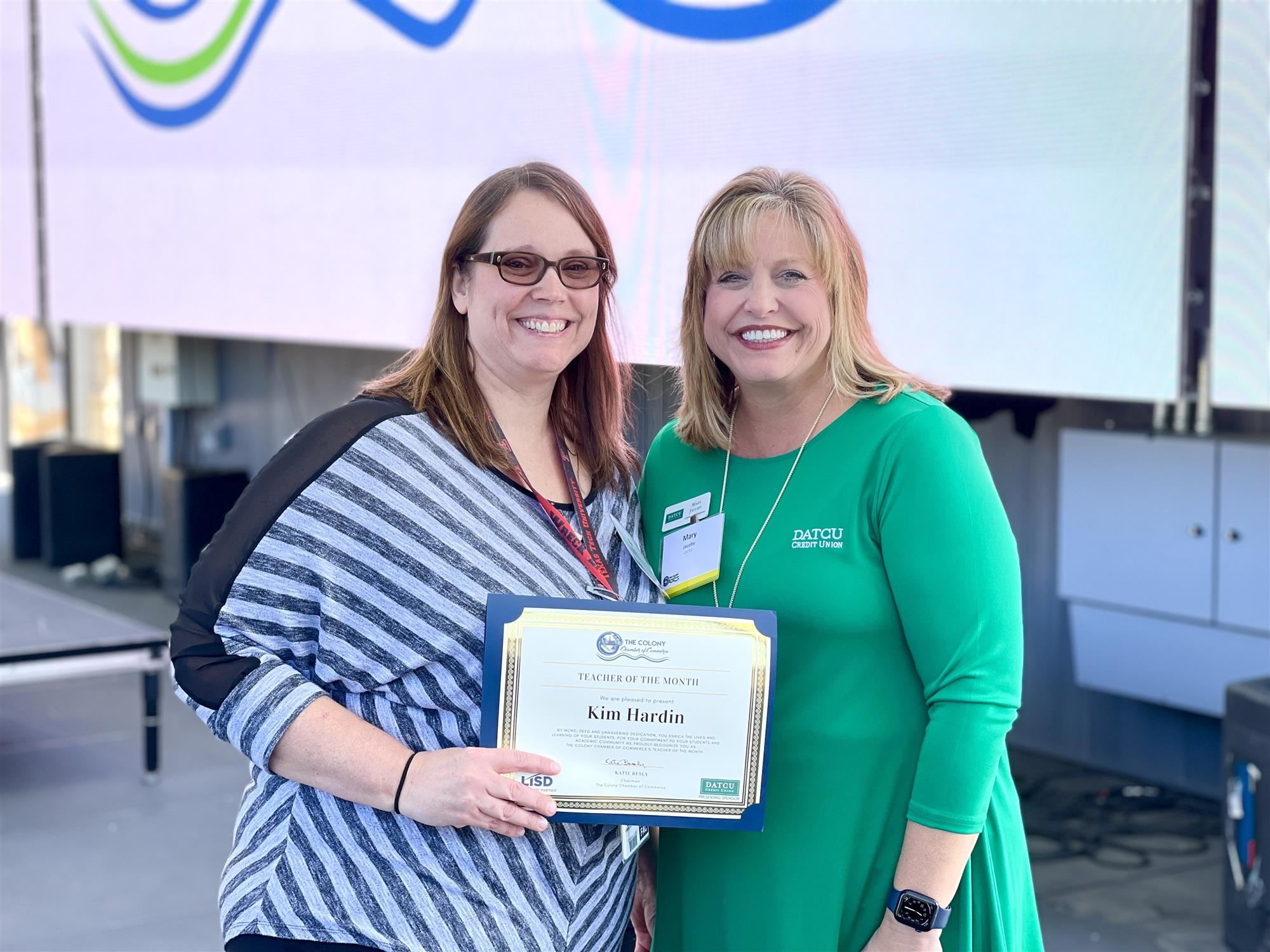 ---

Lakeview Middle School is a middle school located in The Colony, Texas serving students in the Lewisville Independent School District. Follow Lakeview on Facebook and Twitter, to see more student experiences throughout the school year or visit Best Schools in Texas for more information about joining the Lewisville ISD family.