Return to Headlines
Killian Middle School Brings Classroom Learning to Life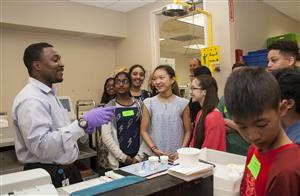 Field trips provide students with experiences that extend beyond classroom walls

Aug. 10, 2018 — While gearing up for the new school year, Killian Middle School (KMS) teacher Holly Hill reflected on an unforgettable field trip her then-seventh-grade students experienced this past spring. Like all Lewisville ISD schools, KMS is committed to providing enriching opportunities for students that extend beyond classroom walls, and a trip to LabCorp at Medical City Dallas gave 62 KMS students the chance to see their classroom learning translate into real life.

Hill's students had just wrapped up a unit on human body systems and were beginning to study genetics and DNA when they visited LabCorp. Students split into smaller groups so they could walk among the lab technicians, doctors and nurses. LabCorp employees answered questions the students had, gave presentations outlining what doctors or technicians did in each area, and even gave them a peek inside the large walk-in refrigerator where thousands of vials of blood are stored.

"I want to be a geneticist one day and help cure Alzheimer's disease," KMS student Mimi Rodriguez said. "Seeing how doctors and technicians actually do their work in a real lab was fascinating."

Jon Booth, the marketing director for LabCorp Dallas, coordinated for each small group to visit the four major facets of the lab: histology, urine testing, the main lab area where blood is tested and genetic testing.

"It was wonderful to see the excitement in the eyes of young students as we introduced them to what we do here at LabCorp each day," Booth said.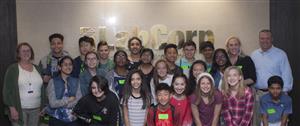 Although KMS students often have guest speakers, Skype calls, online and in-class labs, Hill said giving students the opportunity to actually see what happens inside a large-scale laboratory is bar none.

"My students were able to transfer their knowledge of what we learned in class to a tangible visual," Hill, who teaches Gifted & Talented (GT)/LEAP Science said. "Many of my GT/LEAP students want to go into the medical field, and I am beyond thankful that I was able to provide them with such a relevant field trip to their interests."

In fact, students watched one doctor, Dr. Etifugh, cut a piece of tissue, create a microscope slide and view it under a high-powered microscope — not one that would be found in a typical classroom.

"I never thought I would see the microscopes I see on TV in real life," student Antony Sajesh said.

Students related real-world scenarios to the lab equipment as lab technicians and doctors shared with students how they tested Ebola in 2014. Students also walked with a doctor whose sole job is to work with HIV-infected blood and help create medications to combat the disease.

"The amount of fancy machines in the HIV blood testing section of the lab was amazing," student Ethan Choe said.

The field trip also provided students with tidbits they didn't know about the organization.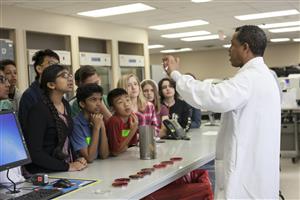 "I was surprised to hear that LabCorp does the testing for 23andMe," student Isabella Nations said. "My family did that this past December and now I know where our DNA was tested."

While the students enjoyed the trip as a whole, Hill said that surprisingly enough, students enjoyed the urine testing lab the most — particularly two $500,000 machines from Italy. Nicknamed Jane and Tarzan, the machines were coded to test urine and inoculate petri dishes to test for fungal presence.

"I know it sounds gross," student Esha Gajula said, "but seeing stacks of petri dishes representing over 700 people in one room was cool."

Field trips, like the one to LabCorp, are just another way KMS and LISD strive to provide the best learning experiences for students and ensure they are future ready.

"I want to either go into the medical field like my parents or into computer programming," student Elliott Huang said. "The computers and machines at LabCorp showed me that I can do both."

Photos courtesy of LabCorp Dallas.


---
Killian Middle School is a Lewisville, Texas middle school in the Lewisville Independent School District. Follow Killian on Facebook and Twitter to see more student experiences throughout the school year or visit LISD.net for more information about our district.