Return to Headlines
Coach Brian Brazil's Legacy Cemented at Hebron High School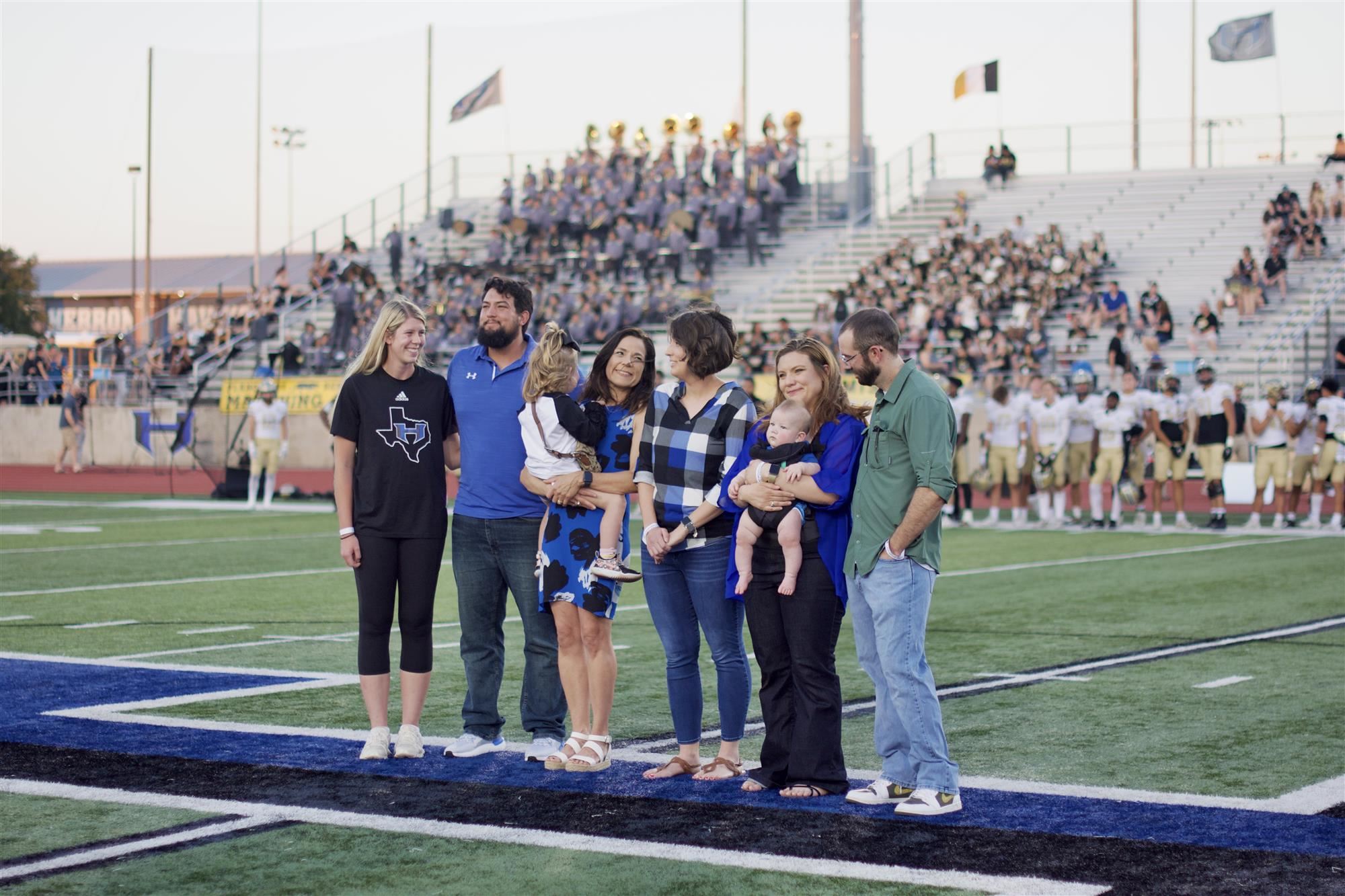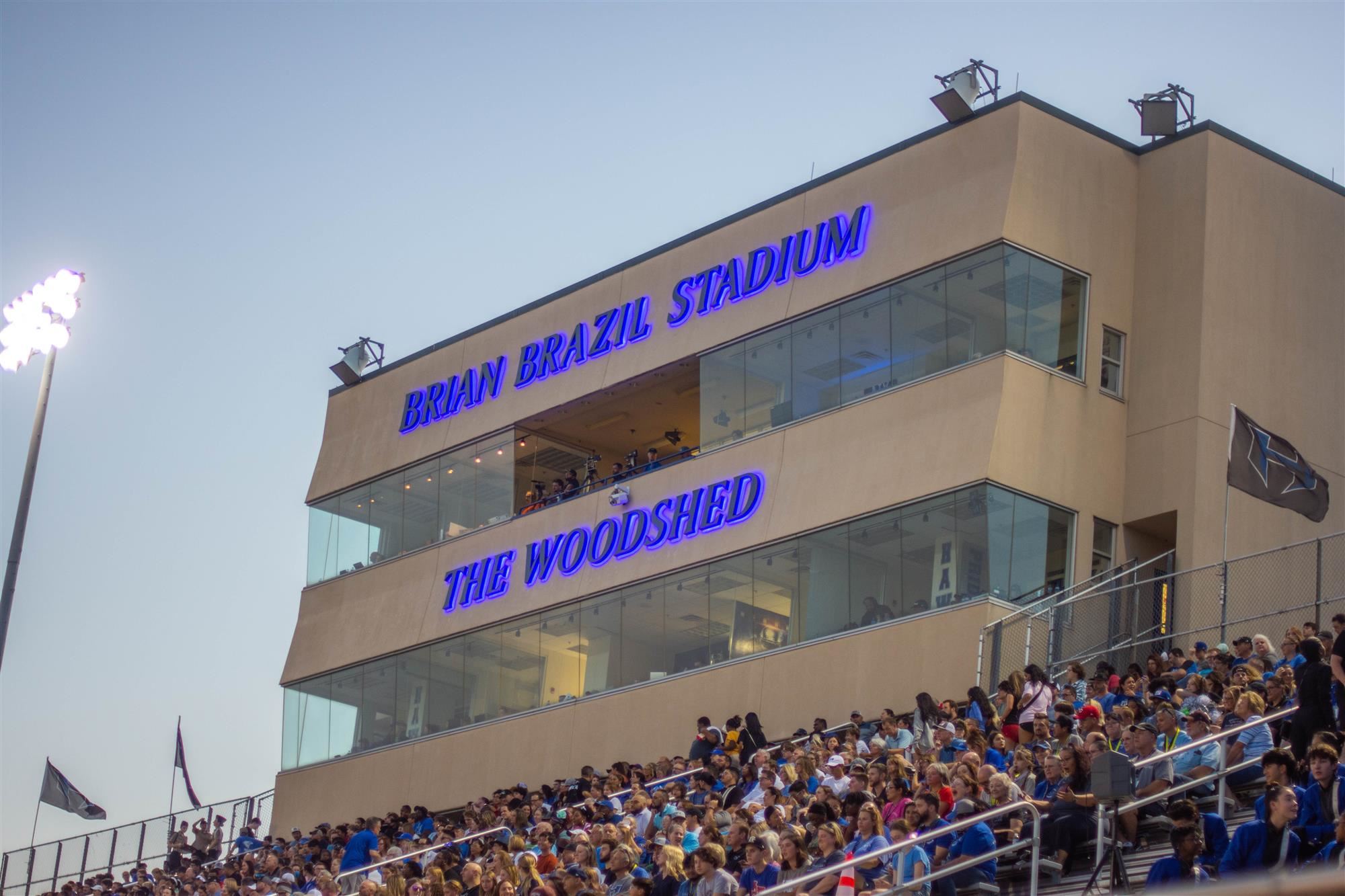 On Friday night, Hebron High School cemented the legacy of Coach Brian Brazil. Before the Hawks' homecoming football game, Brazil's family and friends were in attendance to celebrate his life and the naming of the Hebron Football Stadium to Brian Brazil Stadium, also known as The Woodshed.
One of the most prolific football coaches of his day, David Brian Brazil was so much more to Hebron High School and the Lewisville ISD community that he and his family called home for 30 years.
Brazil's on-field accomplishments were plentiful. He was a multi-sport letterwinner at Sam Rayburn High School in his hometown of Pasadena, Texas, and an All-Southwest Conference player at TCU under the legendary head coach Jim Wacker. His talents even landed him in the NFL for a brief stint with the Houston Oilers before retiring to coach high school football.
But to all who knew him, Brazil was an exemplary member of every community he represented, from his first coaching stop at Shepton High School in Plano, to R.L. Turner in Carrollton, to Lewisville High School, where he coached under Ronnie Gage, winning two state championships, and to the Hebron High School community, where his impact has been felt since the doors opened in 1999.
Brazil, along with the love of his life and wife of 34 years Birdie, and his three children Danielle, Gabrielle and David became a fixture in Lewisville ISD, carving out a rich legacy of community involvement, leadership and athletic success.
Brazil dedicated his life to the teaching and mentorship of students, as a football coach, an active member of Prestonwood Baptist Church and the FCA. His leadership was widely recognized, earning Brazil many accolades throughout his career, most recently being inducted into the Texas High School Coaches Association's Hall of Honor in July of 2022.
On the field, the love and care that Brazil poured into his student athletes paid dividends across his 23 years at Hebron, amassing 152 total wins with the Hawks, highlighted by a perfect 16-0 campaign in 2005, capped by winning the Class 4A Division II State Championship. Brazil would also be named the State Coach of the Year in 2005. Under his guidance, Hebron won five district championships, and Brazil earned six district coach of the year awards.
For his contributions and service to his students and community, Brazil was the recipient of the 2014 Tom Landry Award from the THSCA. In 2016, he received the Landry Coach of the Year Award, presented by the FCA recognizing coaches who encourage leadership, selflessness, maturity, respect and kindness. In the same year, he was also inducted into the Sam Rayburn High School Hall of Fame.
The impact Brazil made in the lives of those he coached, and everyone around him is immeasurable. His contributions to the culture of Hebron High School go beyond his calls to "Bring the Wood," they have become a part of the very fabric of the shared Hawk experience and DNA. Through his many roles at Hebron and in the community, his compassion, commitment to excellence, and his love and respect for those in his care, Brazil was the embodiment of the saying "Hawk Pride Never Dies."
"I couldn't be more proud and honored for his legacy to continue at Hebron High School forever," said Hebron volleyball coach Karen Keeney, who coached alongside Brazil since the school's opening in 1999. "This honor means the world to his family and those of us who loved him. I don't know of another person who has had a more positive impact on Hebron High School than Brian Brazil."
"He made this place what it is," said Coach Brazil's son, David. "I'm very proud to be a part of it as a ball boy, then player and coach. We're all family here and it's been awesome."
"Coach Brazil laid the foundation for Hebron High School and 'Bring the Wood'," said Hebron High School principal Amy Boughton. "I feel responsible for carrying on the foundation and legacy that he established in 1999."
Lewisville ISD and Hebron High School would like to thank Brian Brazil and the Brazil family for all they have done for HHS and the community.