Return to Headlines
Lewisville Chamber Awards | October 2021
OCTOBER STUDENT OF THE MONTH | GRIFFIN BROCK
Killian Middle School 8th-grader Griffin Brock is a member of Killian's Circle of Friends. Circle of Friends is an elective that students can choose to take during the year where they work with Life Skills students. They do activities with them, play games, help them build real-world skills to set them up for success, and assist with school work as well. The students love working with him and you can tell how big of a heart he has by the way he interacts with them.
Griffin is one of the most polite, kind and caring students. He genuinely cares about others. He will always ask how your day is going, how your weekend was, or just stop by to say, "Hi." He is hard-working, helpful, and incredibly respectful. When anyone mentions a student that stands out to them, Griffin Brock is a name that instantly comes to mind.
Griffin plays football, soccer, and runs track for Killian. He is not afraid to offer assistance to his fellow classmates or teammates and is an advocate for himself and others. He truly exemplifies a Killian Mustang.
To get to know Griffin, we asked him the following questions:
What are your hobbies and/ or what do you like to do in your free time? In my free time, I like to hang out with my family and friends.
What is your favorite subject in school and why? My favorite subject in school is history. It's interesting to learn about the mistakes and smart ideas of others from the past.
What do you love most about your school and why? The thing I love most about school is the fact that we get to learn and have fun in the same building.
What are you looking forward to next year in high school? It's crazy to start looking forward to high school, but I look forward to beginning a new chapter of my life.
Who do you look up to and why? I look up to many people in my life like my dad, and my grandfather. The man I look up to the most is Jesus Christ.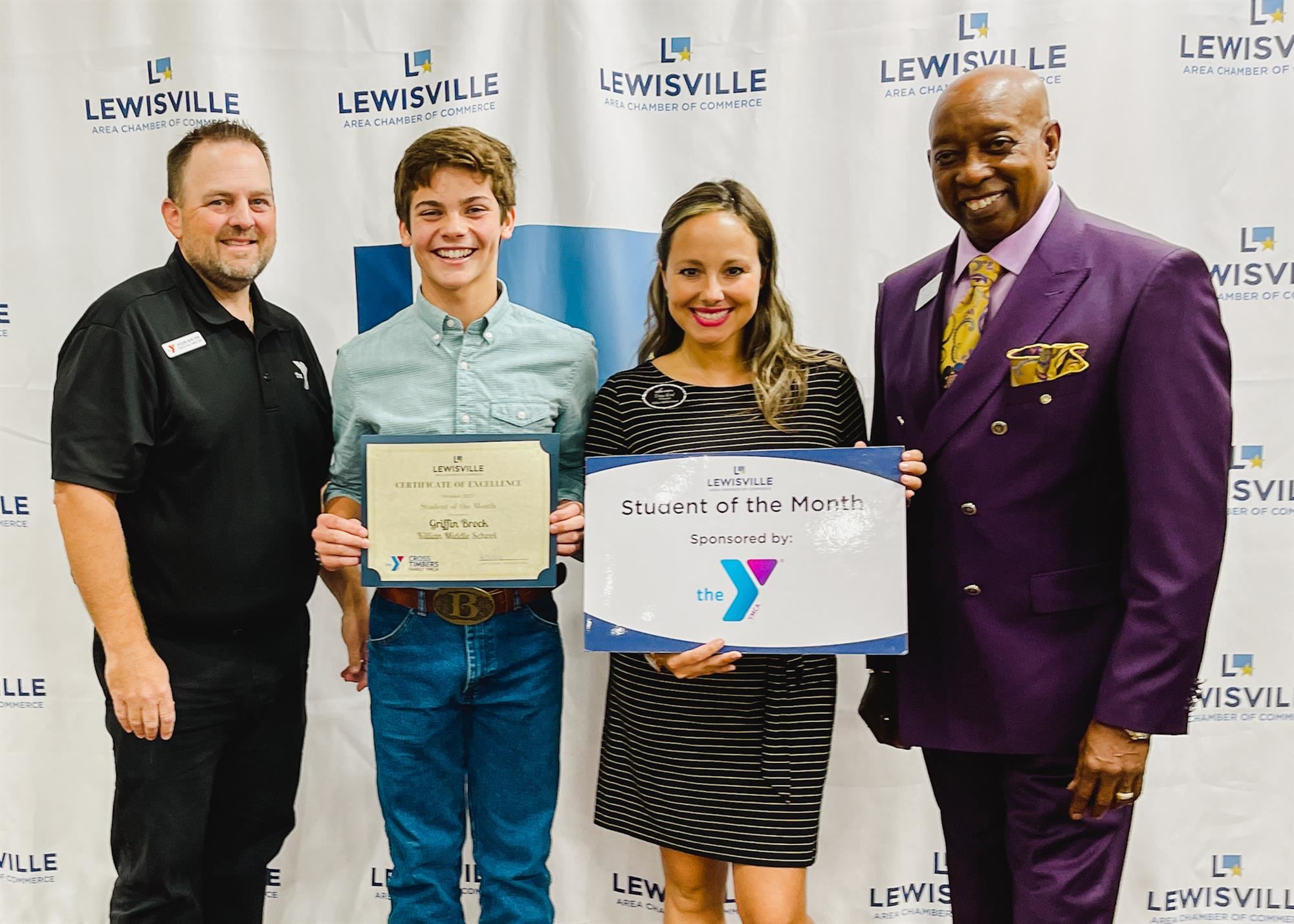 OCTOBER EXCEPTIONAL STUDENT OF THE MONTH | RYAN LACEY
Killian Middle School 8th-grader Ryan Lacey is an amazing student. He's driven, works hard and can be seen helping out around the school. He has become such an independent learner and excels in both theater and robotics. What we appreciate so much about Ryan is how much he cares- he wants to do well for his teachers and grown so much since 6th grade. We are so proud of his accomplishments in and outside of the classroom this year. We can't wait to see what the future holds for Ryan!

To get to know Ryan, we asked him the following questions:

What are your hobbies and/or do you like to do in your free time? Playing on the Xbox

What is your favorite subject in school? Science

What do you love most about your school and why? I love that I can be included in a discussion and friends.

Which teacher has impacted you the most? Ms. Hill.

Who do you look up to and why? My grandpa because he is a hard worker and always gets the things that need to be done.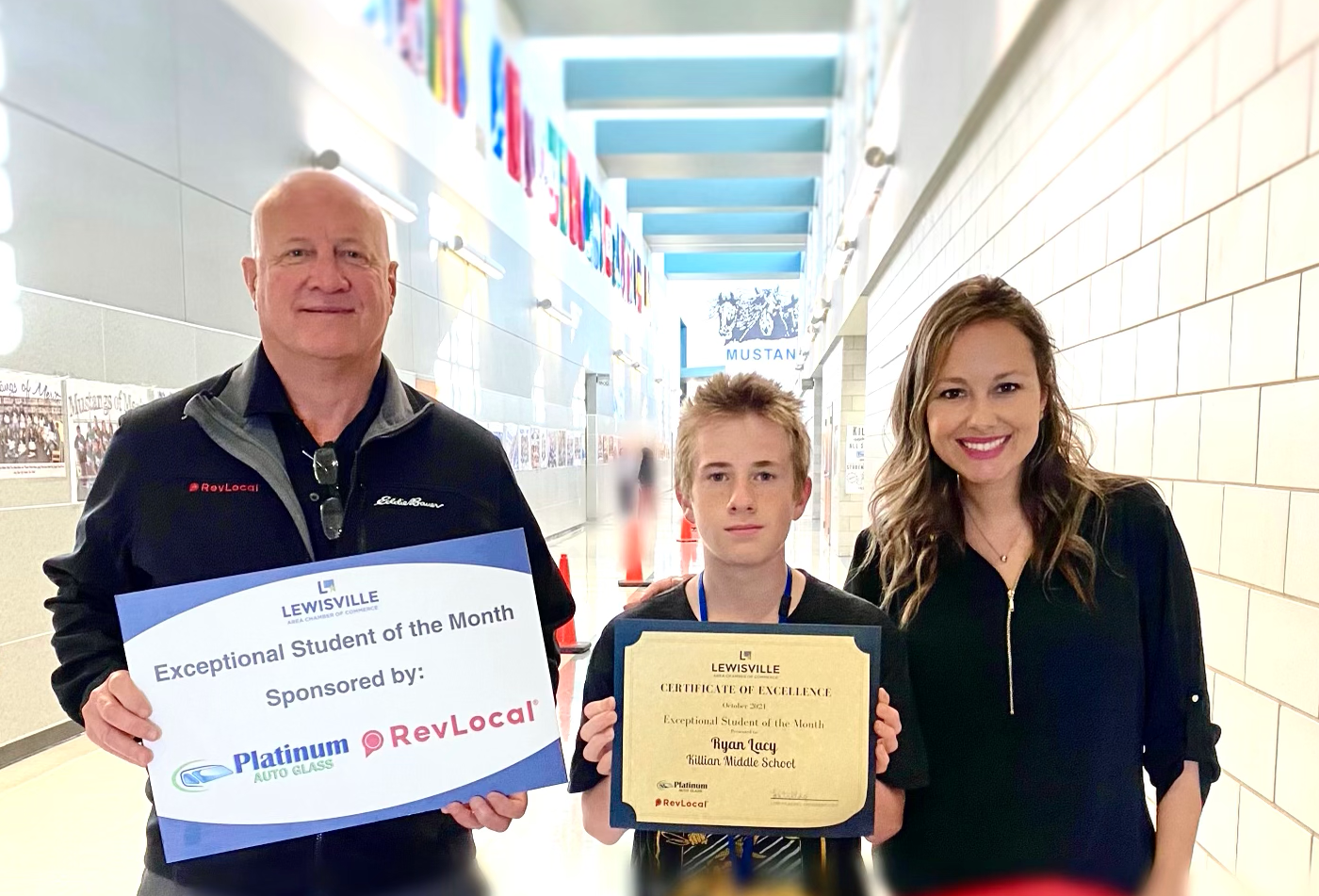 OCTOBER TEACHER OF THE MONTH | BRITTANY THOMAS
Killian Middle School teacher Brittany Thomas serves primarily as an 8th Grade On-Level and Honors U.S. History teacher, but in reality, she makes a positive impact on our entire learning community through her daily actions. Mrs. Thomas also serves our staff as the New Teacher Mentor, the Social Studies Department Chair, and leads our Party Ponies (staff celebrations committee). At the core of who she is, she is a kind and compassionate educator who not only builds strong relationships with her students, but also provides engaging and authentic learning experiences as the students travel through history. Middle school years are not always easy, but when you are in Mrs. Thomas' class, students have such a strong sense of belonging that it becomes a safe and risk-free learning environment. Mrs. Thomas is the type of teacher that gets invited to attend high school graduation ceremonies because her students value her and her dedication to teaching them not only about History, but also about life. Mrs. Thomas is an integral part of our campus as a life-long learner, teacher, mentor, and leader!
What inspired you to become a teacher? I was inspired by my mom to become a teacher. The love she had for the students at her school, and the way they loved her was so amazing to see. So many educators were influenced or inspired by her throughout her career. I hope to impact students and staff in the same way.
What is your most cherished moment in the classroom? ​There are so many moments that have happened in the past eight years, but I would have to say by far that welcoming students back in September 2020 was the best feeling. Even through the craziness of the school year, seeing students' faces and having genuine conversations in person with them really reminded me why I am a teacher. They were so excited to be back in person learning and just to be in school. You could just feel it in the room when they would walk in.
What do you hope your students or colleagues would say about you? I would hope that my students and my colleagues would say that I genuinely care about them and their success. I want to be their cheerleader. I want to help them reach the success that they are striving for. The relationships I have built with other teachers and with students are irreplaceable, and I hope they all know how much of an impact they have on me as an educator, too.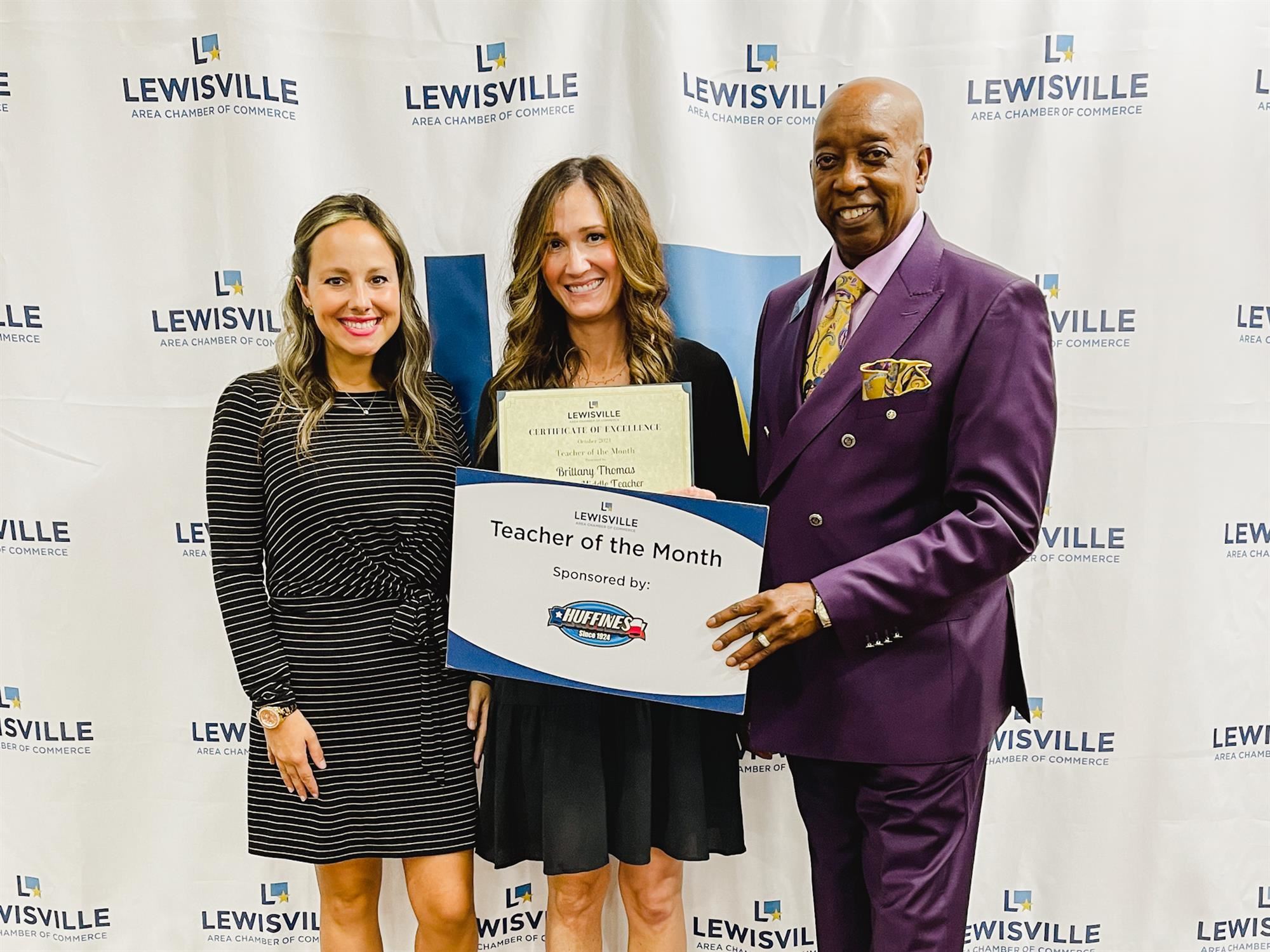 SCHOOL OF THE MONTH | KILLIAN MIDDLE SCHOOL
Killian Middle School opened in 2007 with an enrollment of 493 students. Today, they have a total of 1,100 students and are currently the largest middle school in the district. Killian is very fortunate to have a very diverse student population. They pride themselves in being innovative, forward thinking, and providing opportunities for student voice in all that they do. Leadership opportunities are given to students through Student Council, NJHS, Kindness Club, and No Place for Hate. Killian provides unique opportunities for students through its Dual Language Program, in which students are able to earn college credit in 8th Grade through the Spanish 4 AP exam as well as a strong AVID program that prepares students for college readiness.
During the 2020-2021 school year, Killian athletics programs had an incredible year and earned the following awards: 8th Grade D1 Football District Championship, 8th Grade Boys Basketball D1 District Championship, 8th Grade Girls Cross Country District Championship, and 8th Grade Boys Track District Championship. Killian also has a phenomenal history in Fine Arts: Orchestra, Choir, and Band consistently win Sweepstakes in their UIL competitions every year, and the Killian Honors Band has been recognized as a national winner every year since 2015 and was the State TMEA winner in 2018.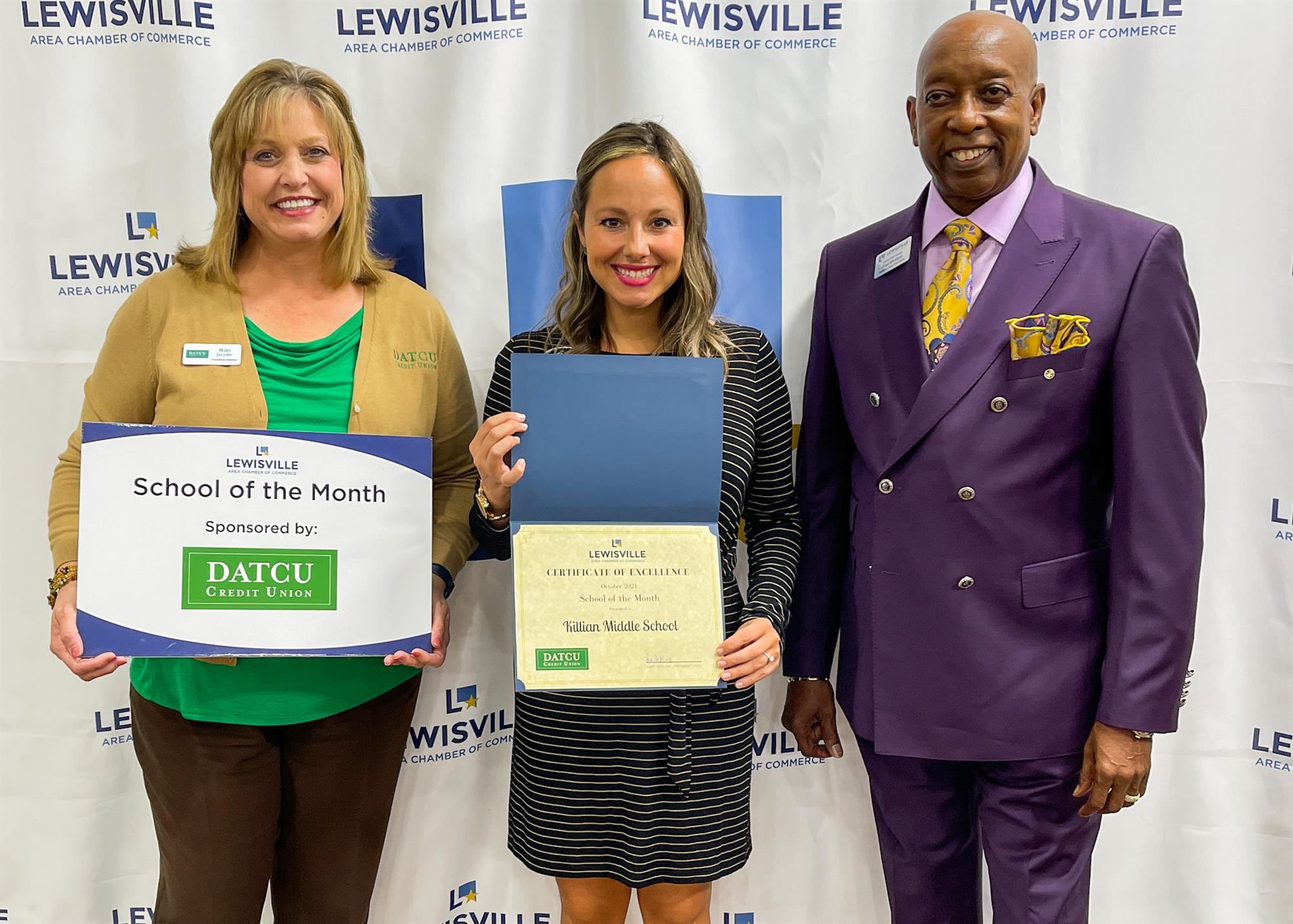 ---

Killian Middle School is a middle school located in Lewisville, Texas serving students in the Lewisville Independent School District. Follow Killian on Facebook and Twitter, to see more student experiences throughout the school year or visit Best Schools in Texas for more information about joining the Lewisville ISD family.