Return to Headlines
Hedrick Middle School Robotics Thrives Against Older Competition
When Hedrick Middle School teachers Casey McCluskey and Frederick Vonnahme were looking to recruit new students for "Hedrick Garage," the school's robotics team, the coaches wanted to ensure prospective members knew the team wasn't about building robots, but rather building engineers.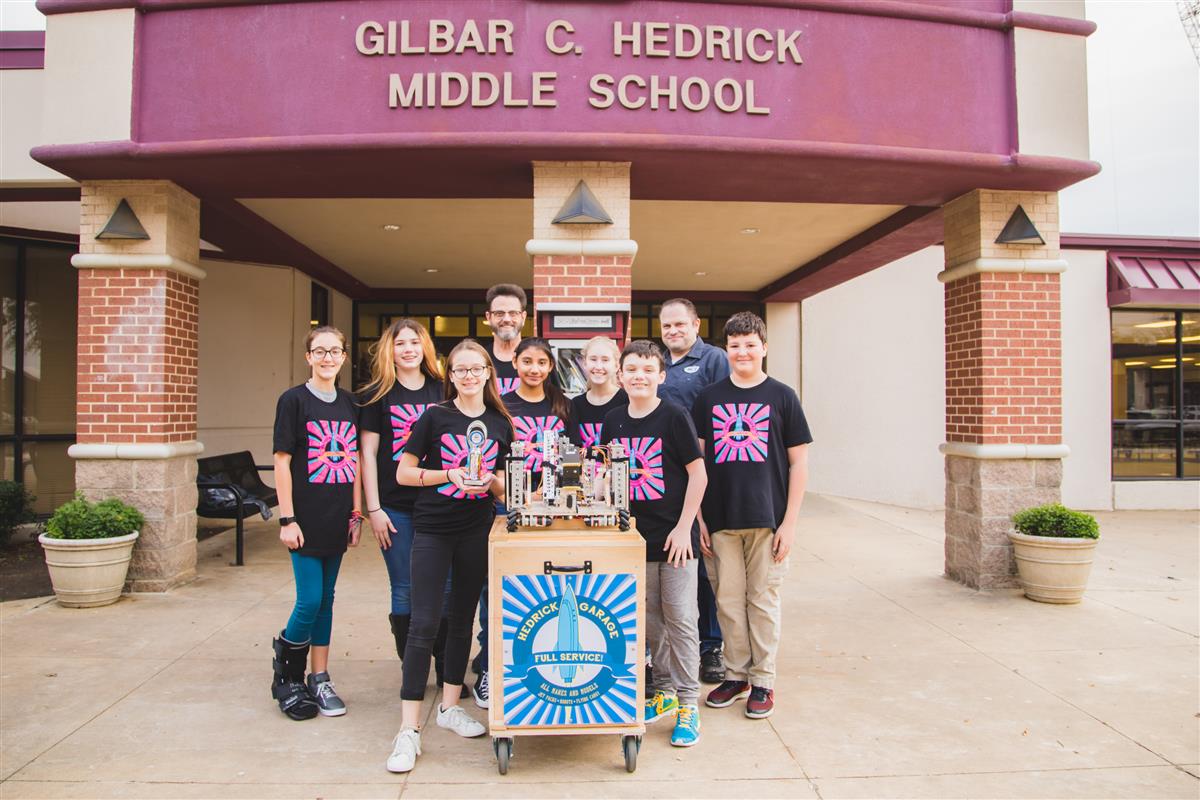 And, when it came to marketing Hedrick Garage, McCluskey and Vonnahme created flyers and posters that best represented the team's mission of building engineers.

"The posters looked a lot less like the cover of a video game," McCluskey said, "and maybe more like something they would see in a magazine. The students have to do their own software — they're building the programming skills here."

The marketing paid off and the team soon had spots filled up. While the team's composition wasn't quite the 'norm,' the two coaches were excited as their efforts to not only fill the team, but diversify it with more female members, worked. Hedrick Garage was now made up of seven members — two boys and five girls. One eighth-grade student, one sixth-grade student and five seventh graders.

"I think the students are really interested in what we're giving them," McCluskey said. "What we're giving them seems very real. Robotics is great because it covers mechanical engineering, structural engineering and software engineering. The students also get to see the engineering lifecycle because we build stuff and throw it away, then we build new stuff and throw it away, and then we build stuff on top of that and throw it away."

When students first joined the team, they learned the basics such as tools and the programming behind building robots.

"I thought [joining this team] was interesting because I want to go to college and become an engineer," Keera Young, seventh grader, said. "If I wasn't in robotics, I wouldn't know all the stuff I know now. Like, about the tools we use and how our robot works and all the things we use to build our robot."


Once students had the basics down, it was time for the competitions. Hedrick Garage meets about five days a week, and competes in FIRST Tech Challenge (FTC), which is designed for students in grades 7-12. Hedrick is a member of the North Texas FTC Region. According to FIRST, teams compete head-to-head by "designing, building and programming a robot to compete in an alliance format against other teams."

The first few competitions this school year weren't all sunshine for a team comprised of mostly new members. FTC competitions are split into two halves. One half is autonomous as the robot is required to do all the thinking itself. The other half, a "drive team" made up of a driver, gunner and coach, is in control and drives the robot to complete various tasks. Hedrick Garage's drive team includes Keera Young, who is the driver; seventh-grader Sarah Humphrey, the gunner; and seventh-grader Luca-Bella Francis, the coach. Other members of Hedrick Garage include sixth-grader Isabella Borges; seventh-graders Devin Mattson and Gissel Valdez; and eighth-grader James Nash.

At times, factors out of the team's control come into play, and it is necessary for the students to maintain composure, which isn't always easy to do.


"They're middle school students, and they have to communicate effectively and strategize in a very, very high-stress environment," Vonnahme said. "It's one thing to practice in a 12-by-12 empty ring with nothing else there, but it changes when there are three robots in your field and you have to communicate with your team partner to go up against another team and play by the rules."

At one competition in particular, issues with the robot pitted the teammates, more notably the drive team, against one another. Hedrick Garage ended up placing 11th.

"We had a lot of hardware issues and we were fixing it after every match," Francis said. "We were all so frustrated with it and with each other."

However, the experience at the FTC Qualifier at Trinity River proved to be a lesson for the students.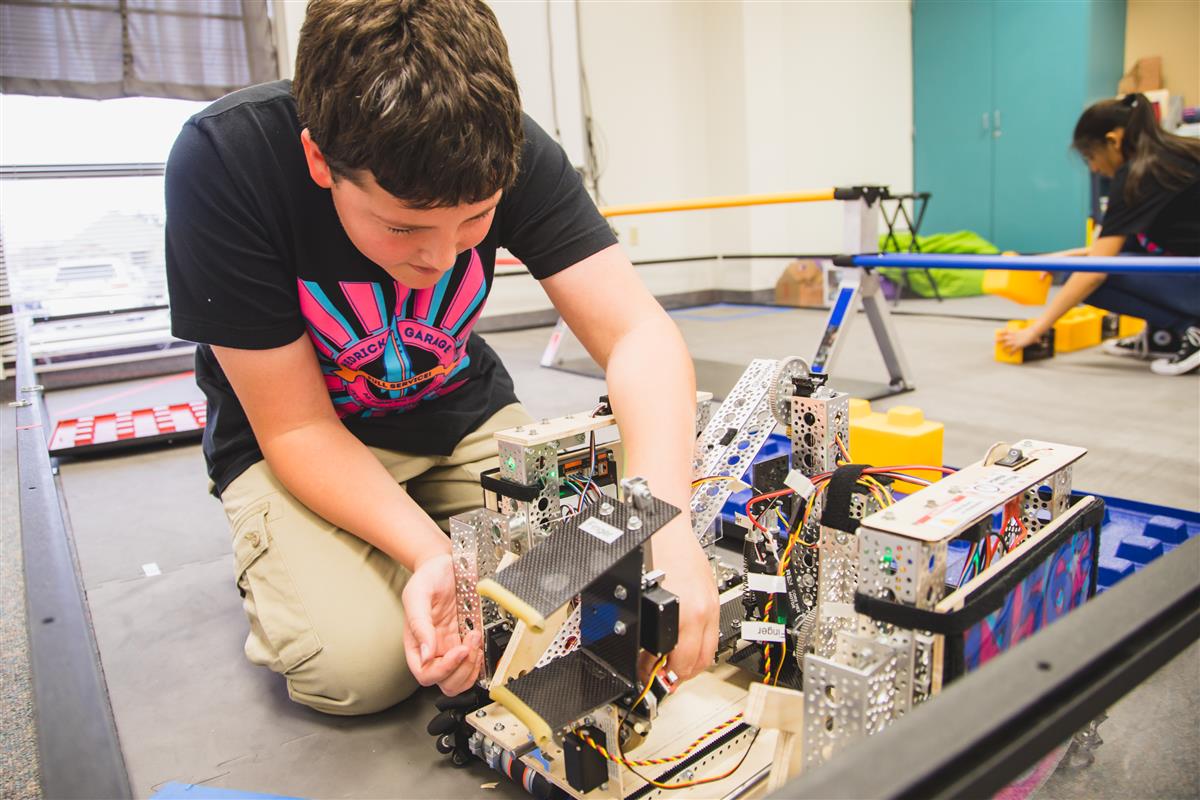 "We can do a lot better if we communicate and work with each other," Humphrey said.

McCluskey and Vonnahme learned a lot that day, too, with helping the teammates manage frustration.

"We now all come back, we decompress, we say what we did wrong, how we're going to fix it, and we move on," McCluskey said.

Not long after the Trinity River competition came the FTC Qualifier at Aledo High School. Hedrick Garage was set to compete against more than 20 schools, most of which were high schools. In fact, Hedrick was one of only two middle schools in the competition. Hedrick competed against teams from across Dallas-Fort Worth including Colleyville, Coppell, Frisco, Plano and Richardson.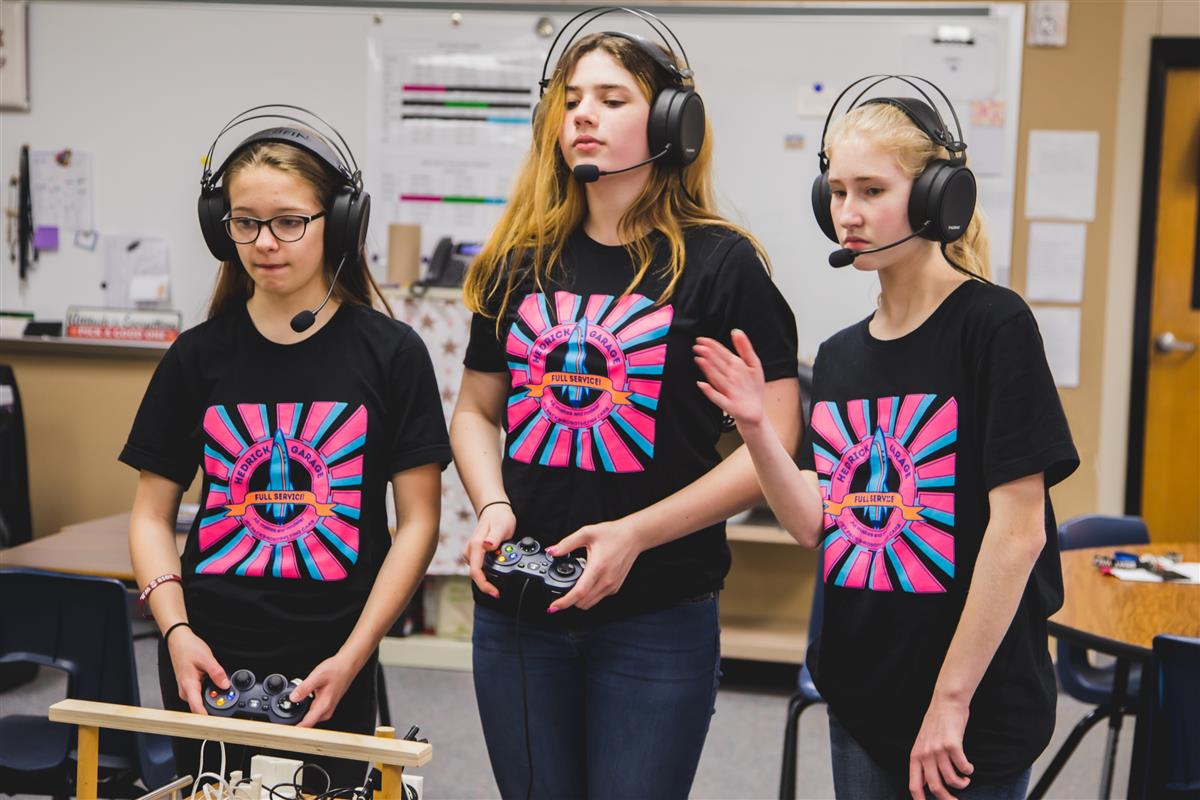 "It was really scary at first because the first match we lost," Humphrey said. "But, then we came back in and took over the field."

Although the odds were seemingly stacked against them, Hedrick Garage persevered after the first-match loss, and placed second overall — qualifying them for the Regional FTC Championship for North Texas.

"In our minds, we were thinking, 'We're going to beat a lot of high schoolers, and we're just middle schoolers,'" Young said.

Humphrey added, "You know, sometimes guys say girls can't drive robots, and we placed second and we're mostly an all-girls team. I want to inspire younger girls to feel like they can do it, too."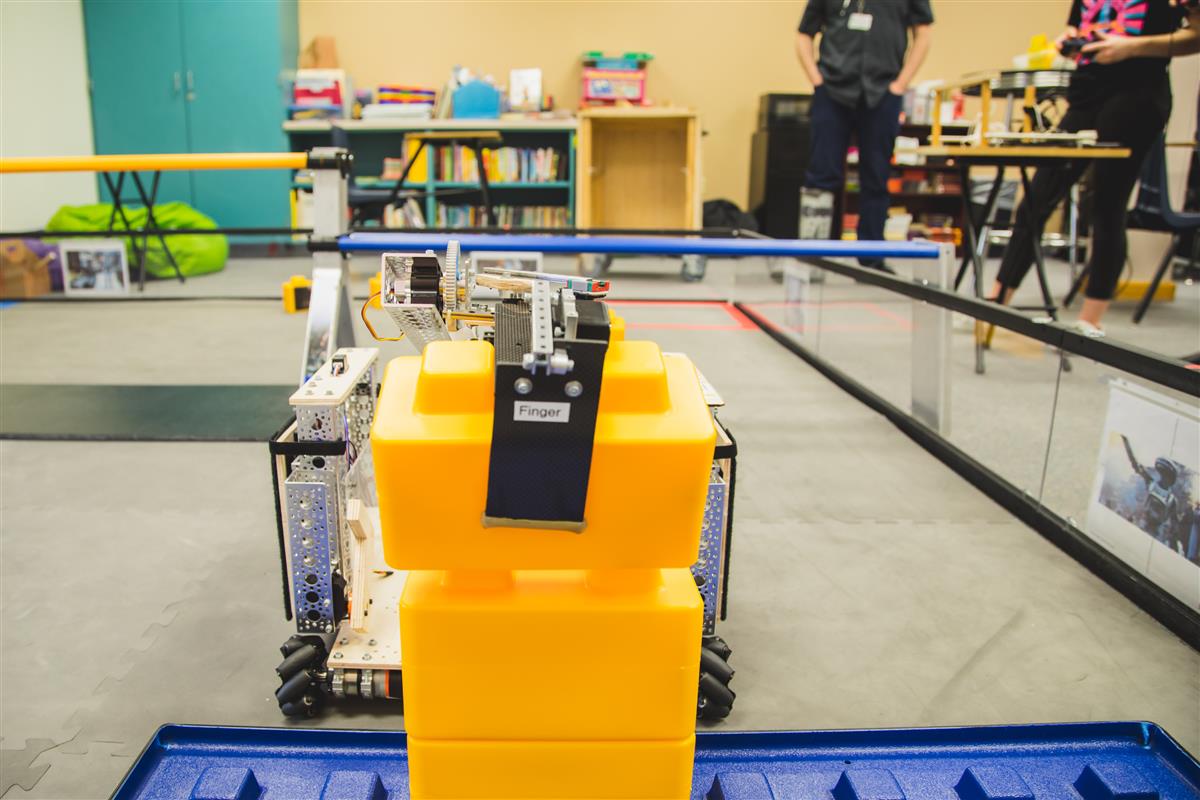 Although the overarching goal is to build engineers, Hedrick Garage has become much more. The students have gained invaluable interpersonal skills, and being a part of the team has brought forth confidence in their abilities and theirselves.

"It feels good to know that I was a part of something like building a robot," Young said.

Francis added, "And we've all become best friends now and can tell each other everything."

On Feb. 15, Hedrick Garage will compete as one of 48 teams in the Regional FTC Championship for North Texas for awards and the opportunity to attend the FTC World Championship in Houston in April.
---
Hedrick Middle School is a middle school located in Lewisville, Texas, serving grades 6-8, in the Lewisville Independent School District. Follow the Hedrick Middle School Wranglers on Facebook and Twitter to see more student experiences throughout the school year or visit Best Schools in Texas for more information about joining the Lewisville ISD family.