Return to Headlines
The Colony Chamber Educator of the Year | 2022-2023
Griffin Middle School's Amy Malecki was named The Colony Chamber's 2022 Educator of the Year. Malecki was recognized at the chamber's Salute to the Stars Awards Gala on Friday, March 3 at Chapel at Ana Villa in The Colony, Texas.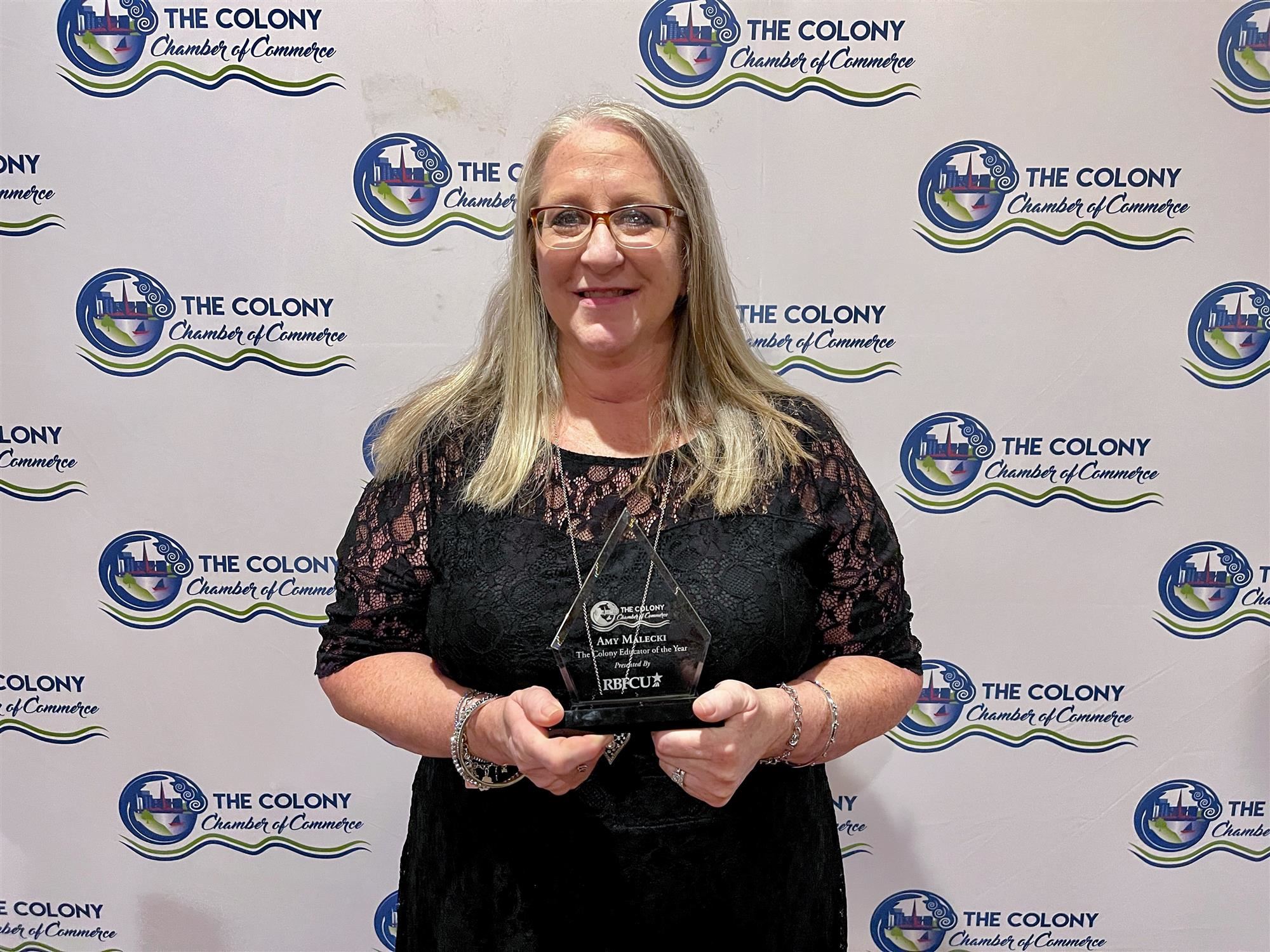 The prestigious award honors a teacher who consistently goes above and beyond her regular duties to truly make an impact on their school, Lewisville ISD (LISD) and the community.
"I am so honored to have been chosen as The Educator of the Year by The Colony Chamber of Commerce," Malecki said. "I am lucky enough to live here in The Colony as well, which allows me the opportunity to see my students out and about in our community. I love being a teacher and this award is very special and meaningful."
Malecki is a Special Education Teacher and Special Education Department Head at Griffin Middle School in The Colony. She currently teaches English Language Arts to 6th, 7th, and 8th grade students.

She earned her Bachelor of Arts degree in English from Texas Woman's University in 1994. Over the years, Amy has earned a number of awards from her peers. She was named a Lewisville ISD All-Star, The Colony Chamber Teacher of the Month, as well as Griffin Middle School's Teacher of the Month.

Mrs. Malecki lives in The Colony and takes great pride in going to her student's games, chaperoning dances and different school activities. She loves to see her students at the store, Hawaiian Falls, and Grandscape to interact with them and their families.
"Ms. Amy Malecki is a truly one of a kind educator," Griffin Middle School Principal Heather Garrison said. "She leads the Griffin Middle School Special Education Department, assists with all GMS first-year teachers, participates on the school's sunshine committee, and has her hand in many other areas. However, it is not just her leadership that sets her apart. Ms. Malecki invests in every student on campus, regardless of whether she has them in class. If she sees a student in distress, she will often be the first one to take him/her aside, listen, and help resolve whatever the issue may be. She is both loved and respected by parents, students, and staff!"
---
Griffin Middle School is a middle school located in The Colony, Texas serving students in the Lewisville Independent School District. Follow Griffin on Facebook and Twitter, to see more student experiences throughout the school year or visit Best Schools in Texas for more information about joining the Lewisville ISD family.