Return to Headlines
The Colony Chamber Awards | January 2023
Griffin Middle School students Maylee Horner, Julian Vanegas and teacher Logan McGraw were all recognized by The Colony Chamber at the Chamber's January Luncheon at Andretti Indoor Karting and Games in The Colony, Texas.
Student of the Month – Maylee Horner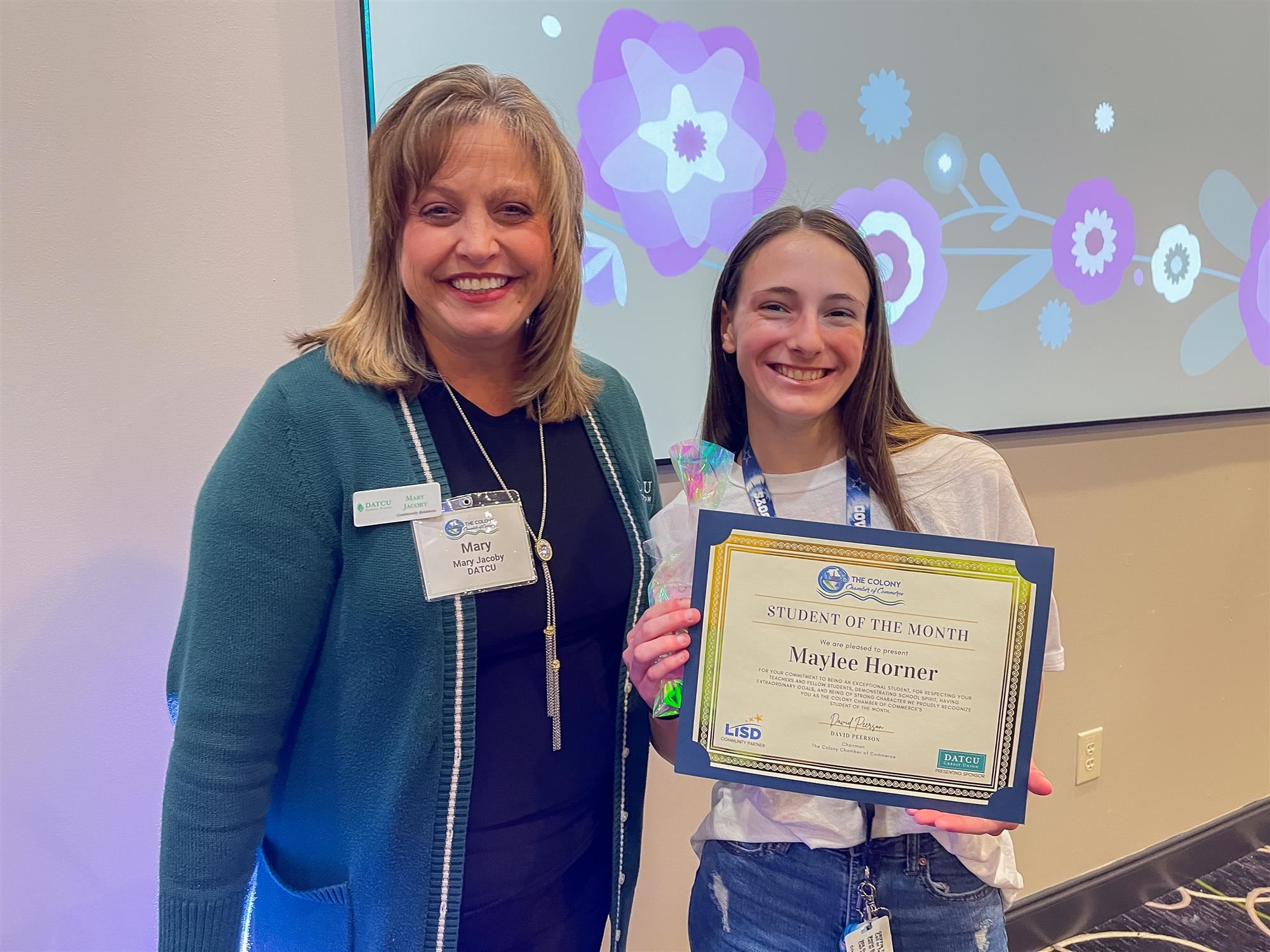 Griffin Middle School 8th-grade student Maylee Horner has many amazing attributes and qualities both inside the classroom and in the community. According to her teachers, Maylee is determined and is always the best that she can be while maintaining straight amazing grades in all her classes. Maylee is creative, intelligent, an amazing writer, and a caring person towards her teachers, classmates, teammates, and friends. She is a member of N-J-H-S, Academic U-I-L, the school band, and athletic teams. During her free time, she likes to read and play volleyball. She looks up to her mom, because she got a full-ride scholarship for school and she wants to get one, too.
Exceptional Student of the Month – Julian Vanegas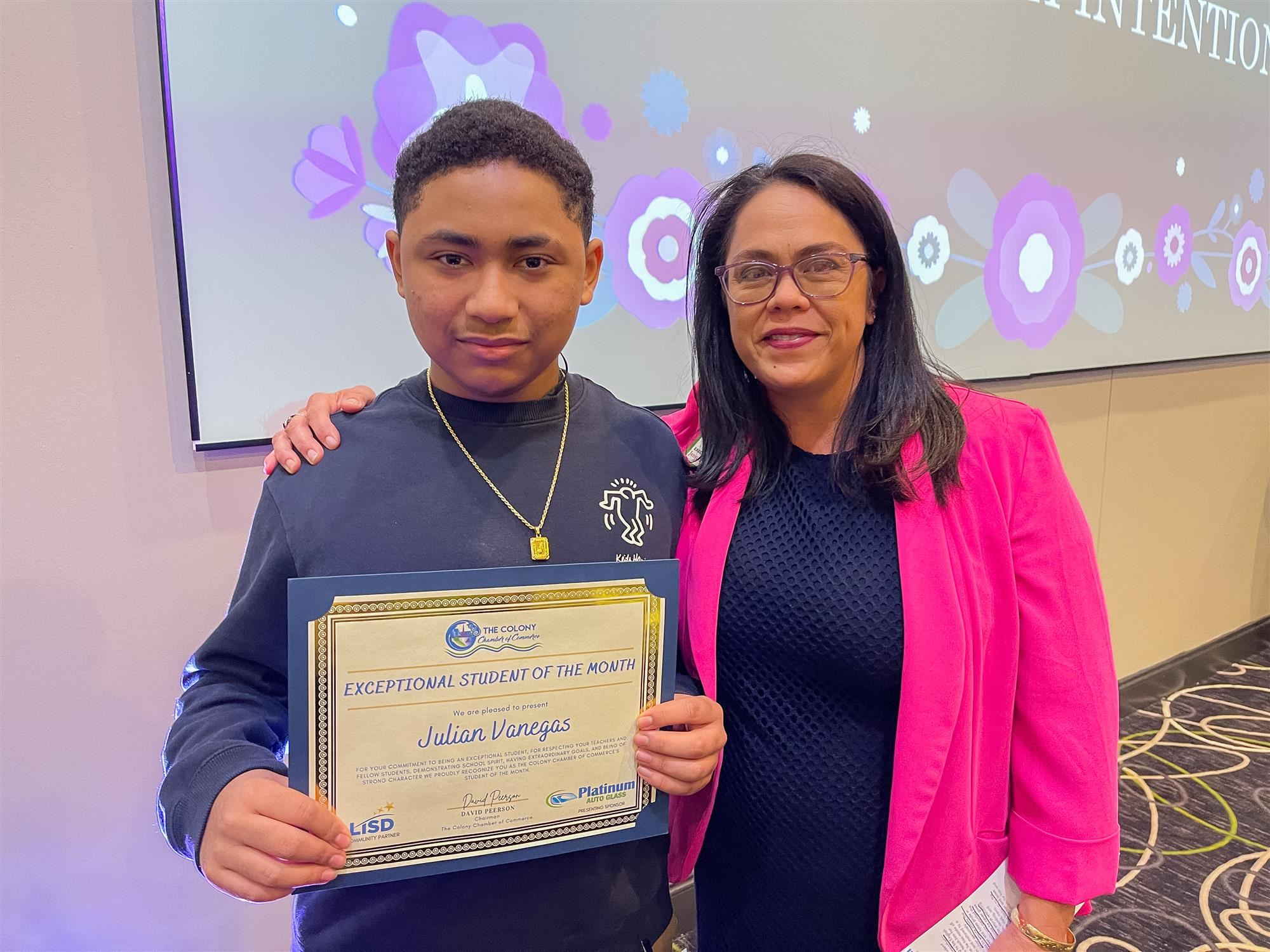 Griffin Middle School 8th-grade student Julian Vanegas is smart, kind, empathetic and extremely funny. According to his English teacher, they've been lucky to teach him for three years. During that time, he has made everyone laugh daily and has grown and matured into a very special young man. Julian genuinely cares for others and likes to ensure others are happy. He is a hard worker and takes pride in a job well done. He was recently awarded the perseverance award because he never gives up. During his free time, he enjoys watching TV, family, playing games, reading, and eating. He looks up to his dad, nana, pawpaw, but the person he looks up to the most is his mom. He cares for her and loves her so much, as she does so much for him and is his everything.
Teacher of the Month – Logan McGraw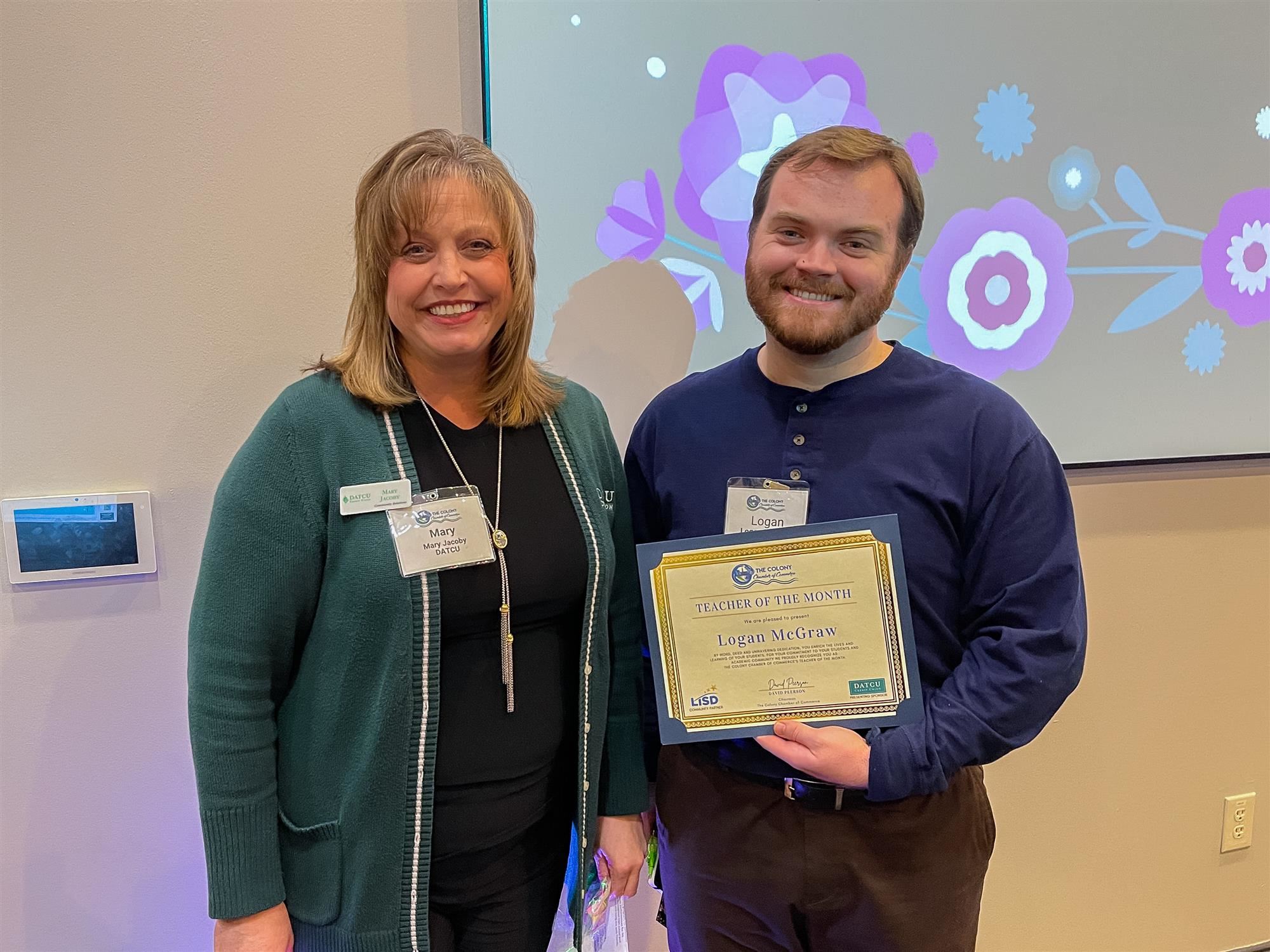 Mr. Logan McGraw has been a member of the Griffin Middle School family since 2019 and has made such an impact on students and staff. Mr. Mgraw can't help but stand out. Whether it's his spunky daily announcements or his creatively thrifted outfits, he is one to be noticed. He dedicates countless hours to the students of Griffin with his involvement in Theater, NJHS, Academic UIL, and is always willing to volunteer his time anywhere he may be needed. To say that he has grown up as an educator would be an understatement. He started his first year excited about changing lives and then a global pandemic struck. This didn't stop him from creating an environment of fun, safe, and impactful learning. He is truly resilient. Students look forward to not only signing up for Mr. McGraw's class because of his clear acceptance and warmth, but they know that they will thrive and learn to be their best on stage. After students exit his program, he continues to be an amazing advocate for their success. He attends performances for his former students and is a huge cheerleader for them throughout high school and beyond. During his free time, he likes to listen to music and hang out with friends, or his cat, Greta, and he looks up to his parents.
---
Griffin Middle School is a middle school located in The Colony, Texas serving students in the Lewisville Independent School District. Follow Griffin on Facebook and Twitter, to see more student experiences throughout the school year or visit Best Schools in Texas for more information about joining the Lewisville ISD family.