Return to Headlines
The Colony Chamber Awards | December 2020

DECEMBER STUDENT OF THE MONTH | EMMA WISSINGER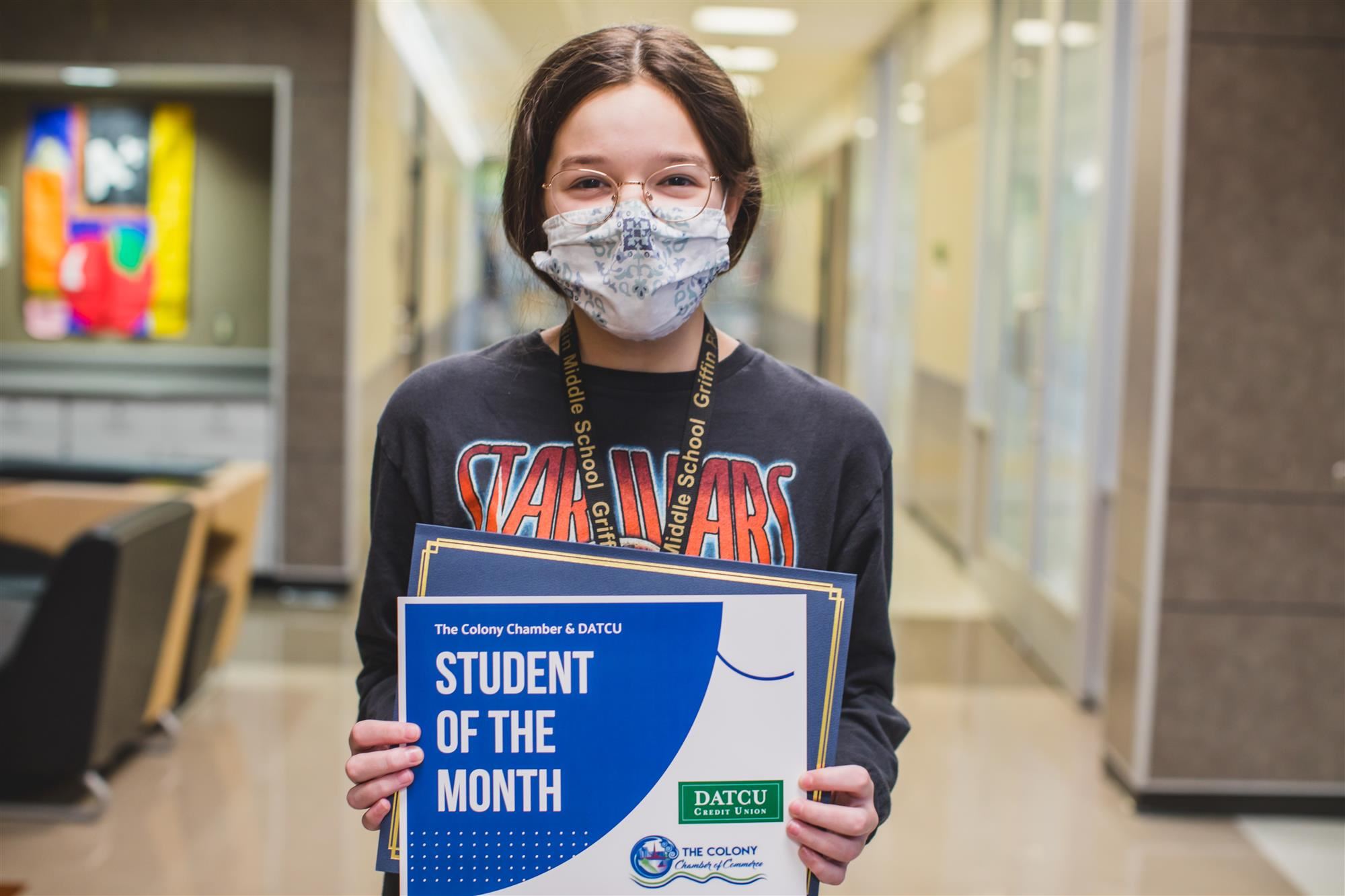 Griffin Middle School 8th-Grader Emma Wissinger was recognized as The Colony Chamber/DATCU December Student of the Month. According to several of Emma's teachers, they believe she puts forth her best effort in everything she does, and she excels academically. She always has a positive attitude, is an exemplar of politeness and courtesy in interactions with staff and her peers. She is creative, helpful with other students, and a joy to have in class.

To learn more about Emma, we asked her the following questions:
What's your favorite subject in school? Theatre Arts because it's a place that helped me become the person I am today, and it's a good way to express myself.

What do you like to do in your free time? I attend church events and hang out with my family.
What do you enjoy about middle school? The community that you build with students and teachers.

What do you look forward to in high school next school year? Focusing on future career choices and being able to take classes toward those goals. I'm thinking about becoming a surgeon or physical therapist/trainer.

Who do you look up to and why? At school, I look up Coach Freehauf because I have had him all three years and he is like a father figure, he is fun, fair, and respected. In my personal life, I look up to Ms. Abby at church because she is nice and kind and a good role model for all.

DECEMBER TEACHER OF THE MONTH | GUARIO ROBLES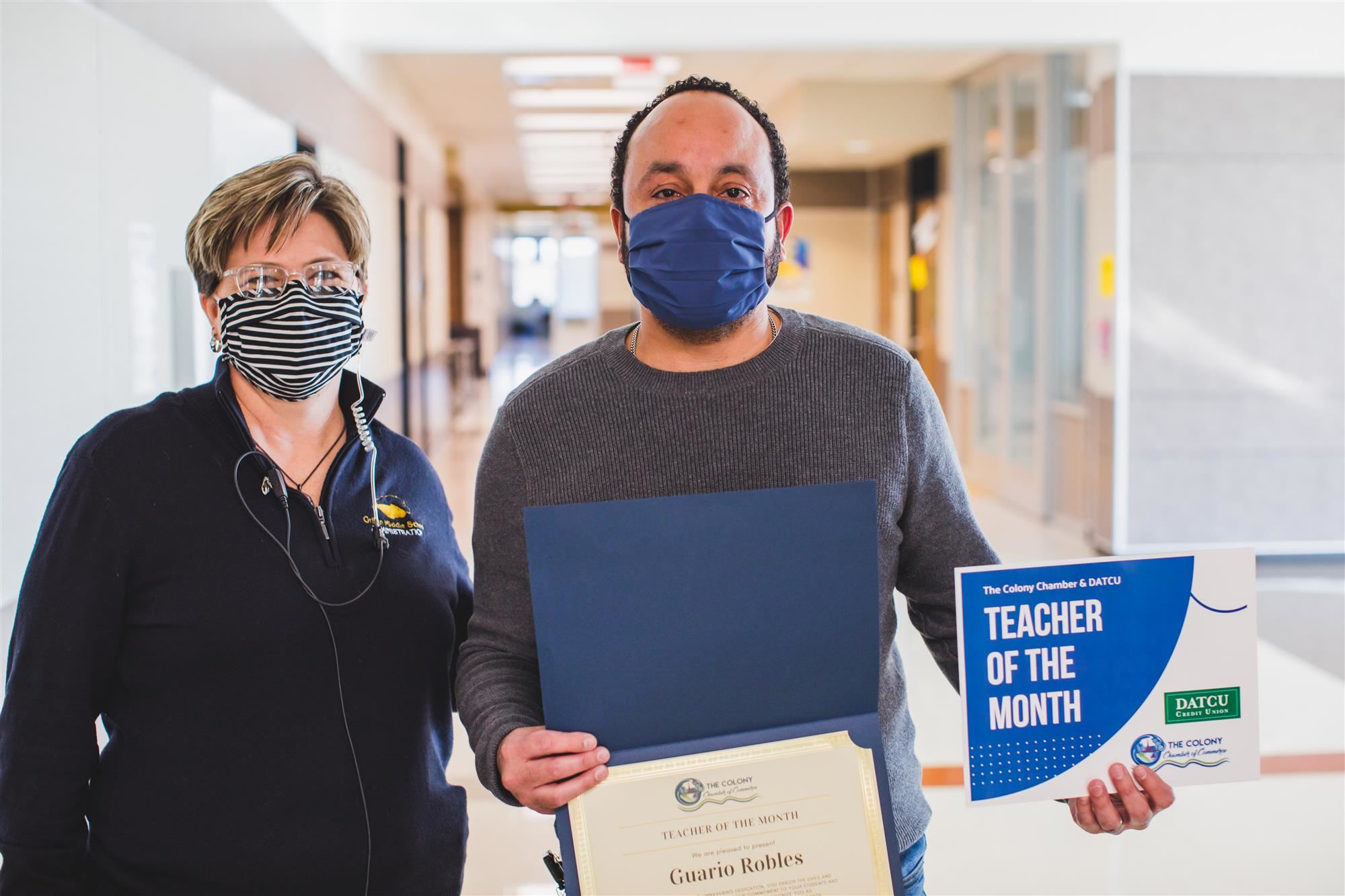 Griffin Middle School Advanced Spanish Teacher Guario Robles was recognized as The Colony Chamber's December Teacher of the Month. Mr. Robles teaches Pre-AP Spanish 2, Pre-AP Spanish 3, and AP Spanish 4. Year after year, Señor Robles has been an outstanding role model for our students by exemplifying the attributes of kindness and respect to all at all times. He upholds high expectations for his students, regardless of the Spanish level, and he instills an understanding of the importance of a strong work ethic in everything his students do.
This year, Señor Robles has not only taken on the challenges of teaching both virtual and in-person students, but he has also created combined classes for virtual and in-person classes to be "co-seated." He works one-on-one with students during tutoring times as well as before and after school. Along with all of the new challenges of teaching, he is also working on his counseling internship. He works regularly with the counselors during his conference time, before, and after school. Señor Robles has already gained valuable experience with entering schedules, meeting with students, translating all counseling documents, and much more. He is called upon frequently to translate for a parent conference, or when a non-English speaker needs assistance.
There are so many amazing attributes that make Señor Robles one of the best in his field. The halls of Griffin Middle School are filled with outstanding teachers, yet Señor Robles still is able to stand out amongst the very best!


---
| | | |
| --- | --- | --- |
| December | Student | Emma Wissinger, Griffin MS 8th-Grader |
| | Teacher | Guario Robles, Griffin MS Advanced Spanish Teacher |
| November | Student | Braley Arnold, Lakeview MS 8th Grader |
| | Teacher | Melissa Myers, Lakeview MS Virtual Lifeskills Teacher |
| October | Student | Peyton Nisonger, B.B. Owen Elementary 5th Grader |
| | Teacher | Laurie Hyman, B.B. Owen Elementary 4th-Grade Teacher |