Return to Headlines
DeLay and Forestwood Middle School Students Connect Through Learning
Students came together to connect as learners, but left with new friends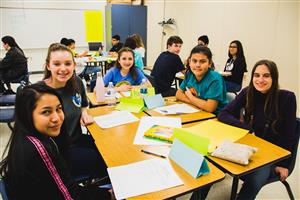 June 8, 2018 — Two campuses. Same district. Six miles apart.

Unless students are involved in extracurricular activities, the friends they make tend to be the ones they meet at school or in their neighborhood. A few Lewisville ISD (LISD) teachers sought to change that norm. While sitting with fellow teachers at a curriculum writing workshop, an idea came to the mind of Angela Lewallen, a LEAP teacher at Forestwood Middle School. For the 2017-2018 school year, they were going to try something a little different.

"I realized we all benefit from different perspectives," Lewallen said, "and, it's hard to get multiple perspectives when you're sitting in class with someone you've gone to school with since kindergarten. When Ashlyn and I were planning curriculum together, it occurred to me that it wouldn't be that hard to take a bus, get the kids together and be able to share those different ideas."

Ashlyn Cramer is Lewallen's counterpart at DeLay Middle School. The two educators teach sixth and eighth-grade LEAP at their respective schools, with Cramer splitting eighth grade with Cindy Shoemaker, a fellow LEAP teacher. The teachers decided to have the eighth-grade LEAP classes collaborate throughout the year. When Lewallen introduced the idea to her students, she said it was met with enthusiasm.

"It was the coolest thing," Lewallen said. "I got goosebumps because the students were like, 'Really? We get to meet kids from DeLay?' That was the initial excitement."

Both teachers said the excitement then turned into nervousness as students from both schools were unsure if the classes would like each other.

"Our first meeting was in October at Forestwood," Cramer said. "I think there was some natural apprehension before this first meeting from both sides, however, I have seen firsthand how this partnership has knocked down preconceived notions."

The first meeting between the schools was structured in a way for students to interact socially while also working on activities related to their language arts studies.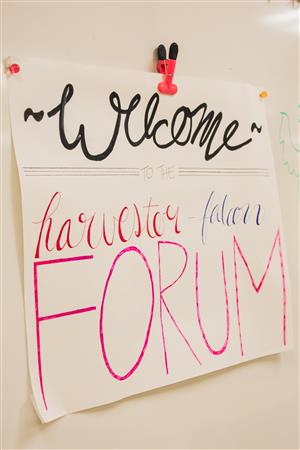 "For the forum itself, both groups of students read a mix of informational articles over a variety of topics," Cramer said. "The students then met in assigned groups to discuss what they read. We found this first meeting to be successful, and the students were already looking forward to the next one."

DeLay hosted the second meeting. However, before diving into the meeting's purpose, DeLay students gave Forestwood students a tour of the campus as its layout is different than many other LISD schools.

"Giving the tour was a lot of fun," DeLay eighth-grader Jacqueline Navarro said. "I was one of the tour guides, and I had never really done anything like that before, so it was cool."

Victoria Singleton, an eighth-grade student at Forestwood, said she really enjoyed visiting DeLay's campus.

"When we went to DeLay, we were like, 'Whoa, this place is huge,'" she said. "We were walking around and just thought the school was gigantic. It was really nice and their library was great — it was a great visit."

During that second meeting, students met in assigned groups and discussed the short story "Thank You Ma'am" and worked together to reflect on the story's theme. The students also worked on poetry and constructed a graffiti wall before rotating into additional groups to discuss more informational articles they had read.

By the time the campuses met for the third get-together at Forestwood in mid-February, the environment was less structured, with the teachers no longer providing "getting to know you" questions as students grew more comfortable with each other. The students ate lunch together and discussed short stories and an editorial about the "American Dream."

"Now, it's just easy breezy," Singleton said. "I came in here (the classroom), sat down and said, 'Hi, how are y'all doing?' When the first couple times, it was more of a (nervous) 'hi'."

It doesn't hurt that the students are all a part of LISD's Gifted and Talented (GT) program.

"It's good for them to connect with other GT kids across the district because they realize there's more of them than just the 30 at their campus," Cramer said. "I think it makes them feel comforted that there are kids who think like them."

Lewallen added, "As GT learners, they have these communication skills and leaderships skills that they need these opportunities to develop those and test those skills out in a different environment and this is a different environment in which they can grow those."

Principals at both campuses agree the experience has been fruitful for all those involved.

"The students benefit by getting to know people they might never meet if it were not for this activity," Forestwood Principal David Tickner said. "They learn each other's stories, experiences, thoughts, and it broadens their horizons in terms of individual differences in the world around them. The schools benefit simply by opening our doors to students from another school, welcoming our peers into our home and learning together."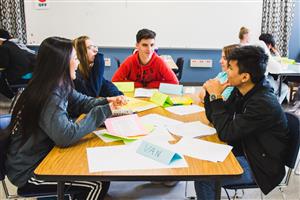 DeLay Principal Jim Baker said this experience is one that won't soon be forgotten.

"Collaboration is the skill our kids must have to build the future they want, yet it can be quite uncomfortable," Baker said. "I was blown away when we brought the kids together and just got out of their way. The students came together and were able to connect as learners and as friends in the most amazing ways."

And, students weren't the only ones who benefited from the collaboration between the campuses.

"The teachers are collaborating to plan these events," Tickner said. "One of those most beneficial uses of times for teachers is to get to talk with colleagues in similar positions at other schools to learn what they are doing, learn their needs and what works for their students."

But for the students, more than anything, socializing and meeting people they may have otherwise not met, was the best part of the experience.

"We all have stereotypes," Singleton said. "But, when we got together, we figured out that the stereotypes aren't true, and really, we're all pretty much the same."

DeLay eighth-grader Oscar Torres echoed similar sentiments.

"I've enjoyed socializing with all the new people and making new friends," he said. "We're all GT students, and we have our differences, but what we've really seen is how alike we are."

There's a chance lifelong friends were made in the process, too.

"We had two boys, who within three minutes of meeting one another, it was like they were long-lost brothers," Lewallen said. "I think this has been really beneficial for all the kids at both campuses all the way around."