Return to Headlines
Flower Mound Chamber Awards | October 2021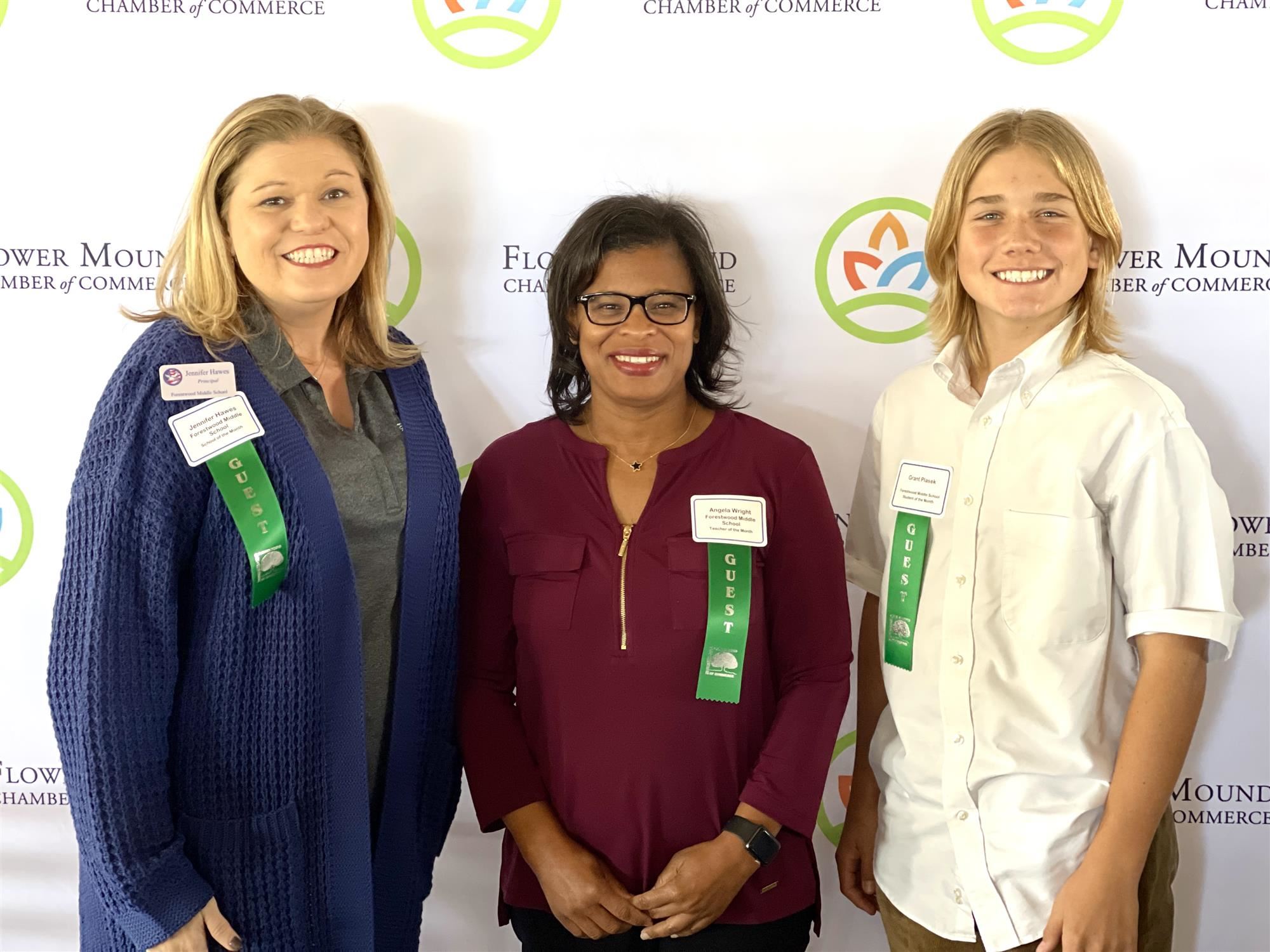 Forestwood Middle School student, teacher and school were all recognized at the Flower Mound Chamber of Commerce's October luncheon at Marty B's in Bartonville, Texas.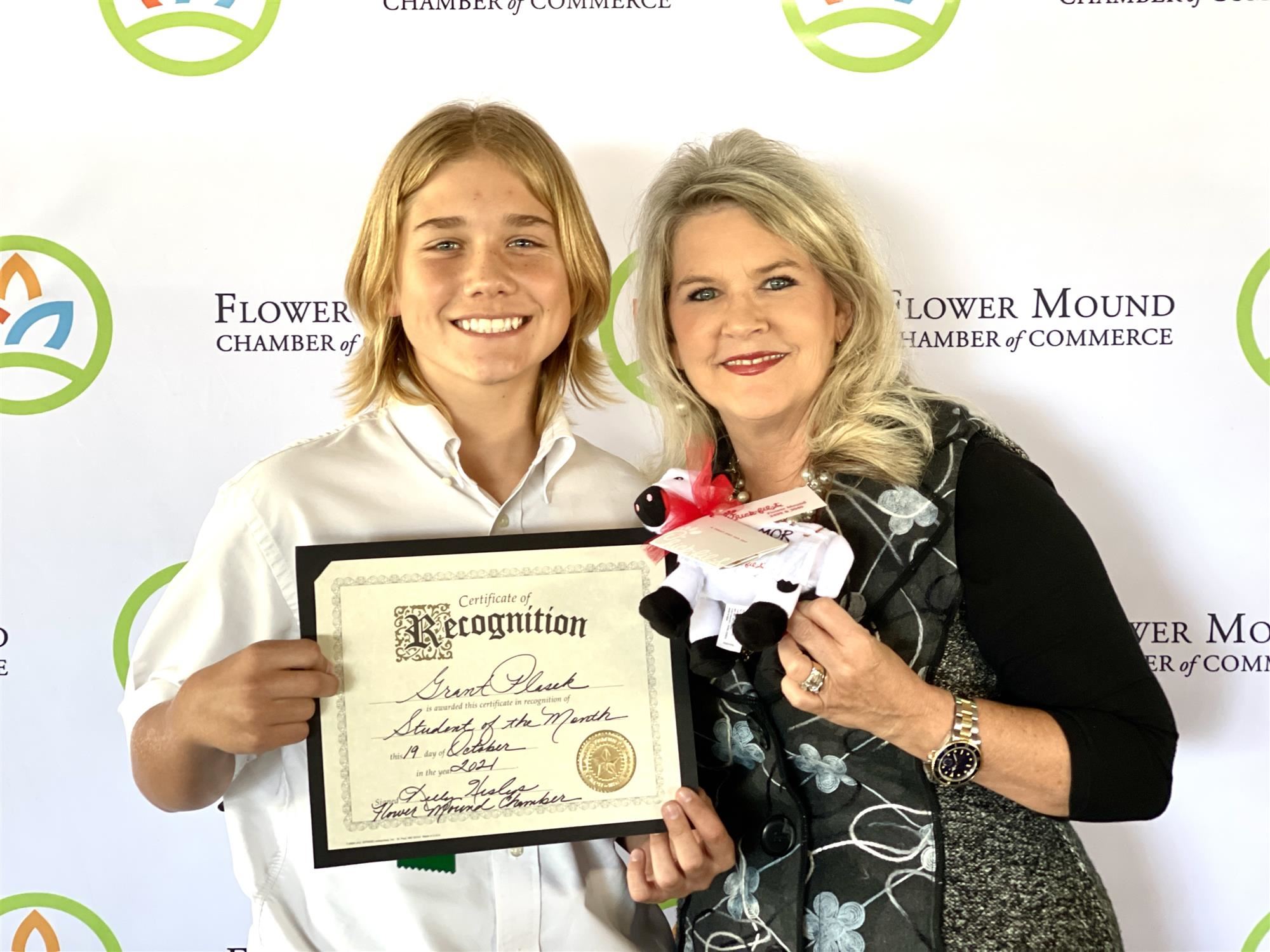 OCTOBER STUDENT OF THE MONTH | GRANT PLASEK
Forestwood Middle School 8th-grader Grant Plasek exemplifies the character, academic excellence, and leadership that Forestwood promotes for its students. Grant shows true kindness to others, actively seeking ways to include and encourage his peers and to assist teachers. A member of the Division 1 football team, Grant models the building block character traits his coaches seek to instill. His coaches say that he has battled through adversity and continuously succeeds at whatever he's doing. Additionally, Grant is taking all Honors courses, including high school level Spanish, and maintaining high A averages. Grant approaches each assignment with dedication to understanding, models curiosity by asking insightful questions, and contributes to class discussions. Putting thought into every learning endeavor, Grant often goes beyond the requirements of an assignment. As a leader and role model for his peers, Grant believes in the words of Ronald Reagan: "The greatest leader is not one who does the greatest things. He is the one that gets the people to do the greatest things." Serving as Vice President of our National Junior Honor Society, Grant recently coordinated an after school party with other NJHS officers and led his peers in a creek clean up. Forestwood is exceptionally proud of Grant.

To get to know Grant a little more, we asked him the following questions:
What are your hobbies and/or what do you like to do in your free time? My hobbies consist of playing baseball, reading, and really doing anything outside. I enjoy throwing the frisbee around, playing spikeball, and riding my longboard around my neighborhood. In my free time, I love to relax and spend time with my family. I believe talking and enjoying time with your family is an outlet, and my family is nothing less than that.
What is your favorite subject in school and why? My favorite subject in school is math. I love the fact that there is a set answer, you get the question right or wrong. I really struggle sometimes comprehending the "gray area," and in math, there is no such thing. I have also had great teachers who have pushed me and been by my side throughout my time at Forestwood Middle School and Donald Elementary. I don't think math would be my favorite subject if I hadn't had that support. And of course, I also enjoy lunch.
What are you looking forward to next year in high school? Next year, I look forward to pushing myself to be the best person and leader I can be, even at a new campus. The FM9 campus gives me the opportunity to set new goals, meet new people and continue to learn and grow. I believe high school will be a great new chapter in my life, and I hope I can continue to evolve to be the best person, son, friend and student that I can possibly be.

Who do you look up to and why? I look up to my sister. The amount of effort and time she has poured into her schoolwork, family relationships, and sports inspires me everyday to push myself and work as hard as my body and mind will allow me to. The way she handles and carries herself has shown me what to do in difficult situations and has given me a path to follow. Even though I have always wanted to be my own person, I would be lying to say that I haven't followed in her footsteps. Although getting called Liberty's brother can get annoying sometimes, the way she has helped me throughout my life has guided me to make decisions in sports, school, and family/friend relationships.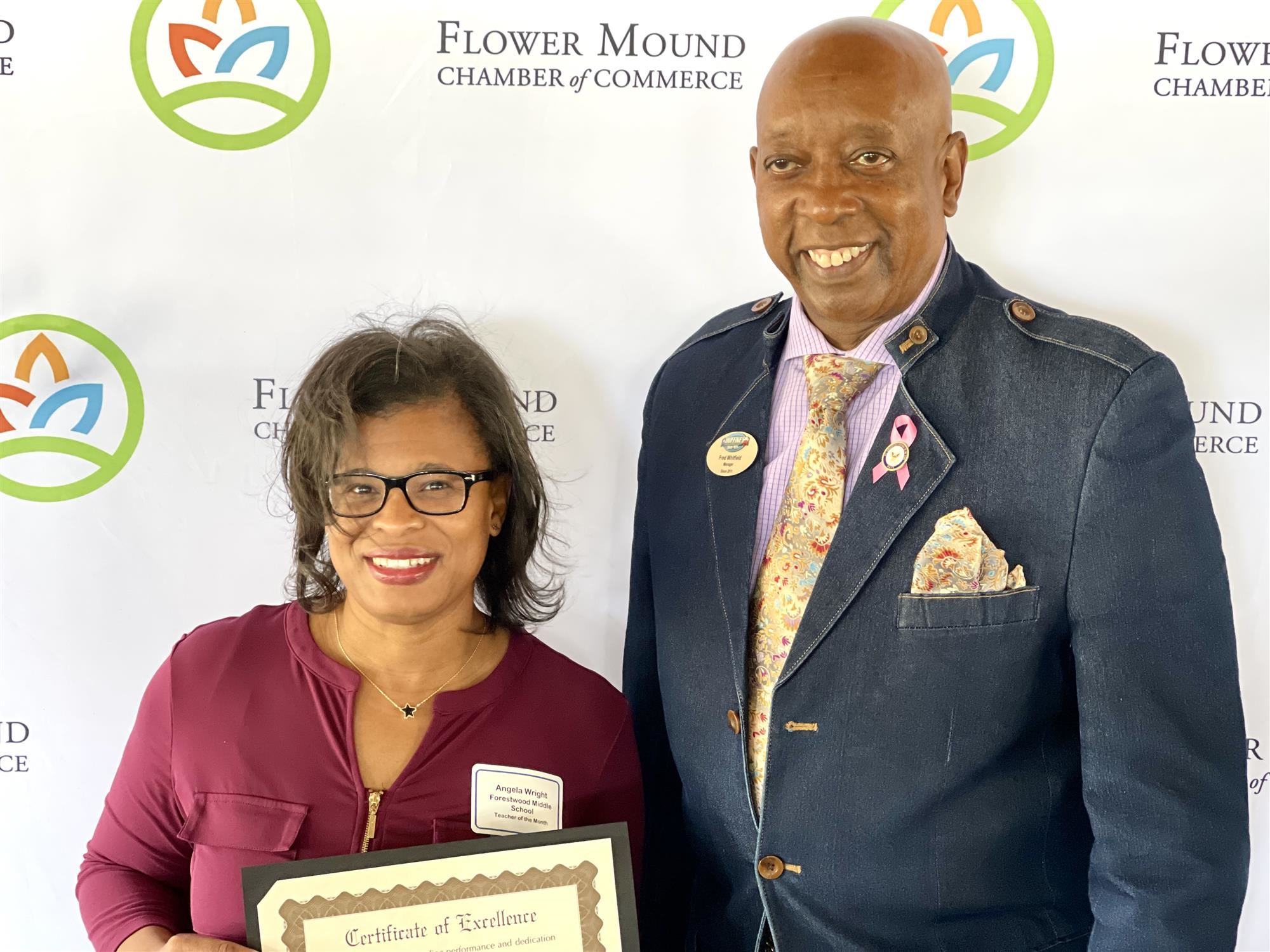 OCTOBER TEACHER OF THE MONTH | ANGELA WRIGHT
Forestwood Middle School special education teacher Angela Wright provides a wealth of knowledge to others in her department. Her demeanor is always calm and she Is extremely organized. Angela has stepped in this year and taken on even more than her usual job responsibilities when we have been short-staffed and she hasn't complained once. She continues to work hard with a smile on her face and welcoming attitude to everyone she encounters. She goes above and beyond to assist students and make sure they are successful. Angela is a true team player and Forestwood is so happy she is part of our staff.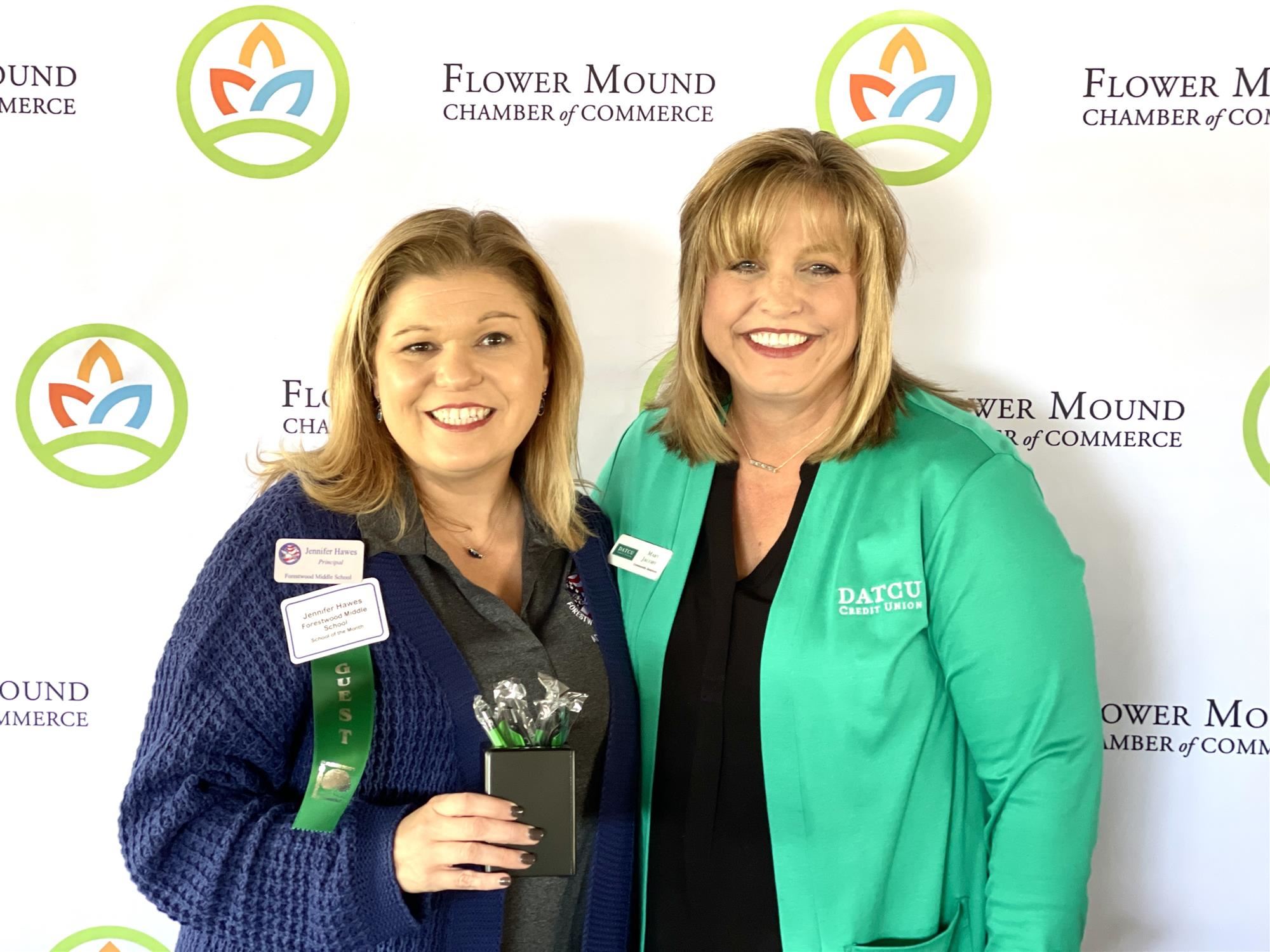 OCTOBER SCHOOL OF THE MONTH | FORESTWOOD MIDDLE SCHOOL
Forestwood Middle School was built in 1992 and currently has 879 students. At Forestwood Middle School, we are proud of our school where students show pride through loyalty, behavior and scholarship. Forestwood is not only a place to be, but a place to thrive. We challenge each student to strive to reach his or her personal best. Some of our highlights include:

National PTA School of Excellence 2020-2022

Unique programs to help our students become better learners, leaders, and friends. Some of our programs include Advanced Spanish and LISD STEM Academy

We are proud of our fine arts and athletics programs that provide a well-rounded experience for our students. In the past year, they have received some of the following achievements:

8th Grade Girls Basketball Division 1 Co-Champions • 8th-Grade Girls Basketball Division 2 Champions • 8th-Grade Girls Division 2 Volleyball Champions • Band UIL Sweepstakes Award • Choir UIL Sweepstakes Award
---
LISD STEM Academy at Forestwood Middle School is a Flower Mound, Texas middle school serving 6th, 7th and 8th-grade students with a unique STEM education experience in the Lewisville Independent School District. Forestwood feeds into the Flower Mound High School attendance zone. Follow Forestwood on Facebook and Twitter to see more student experiences throughout the school year. Join the Lewisville ISD family by enrolling today, or visit Best Schools in Texas to learn more.