Return to Headlines
Lewisville Chamber Awards | April 2021
APRIL STUDENT OF THE MONTH | JADEN WELLS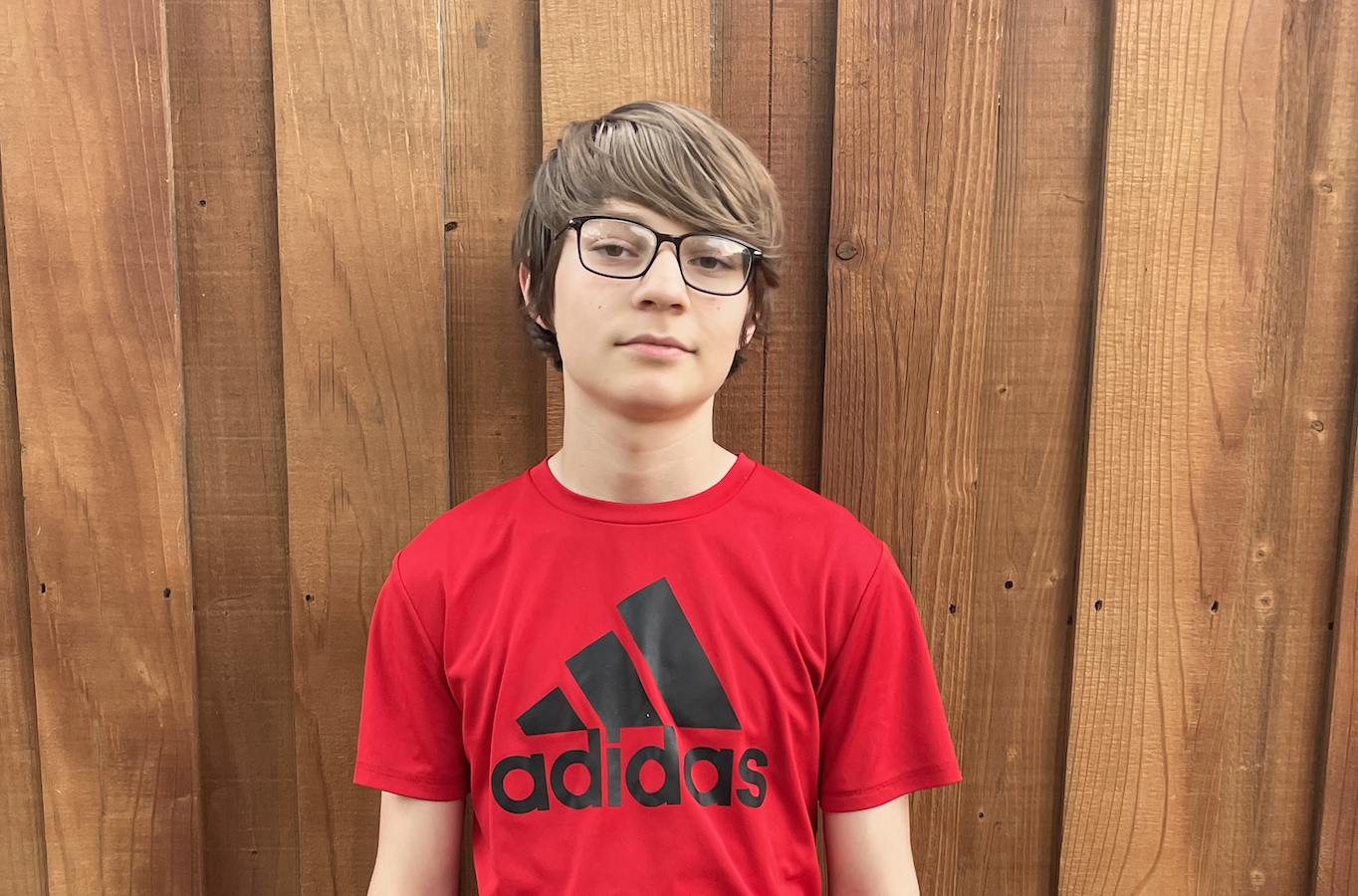 Durham Middle School 8th-grader Jaden Wells was recognized as the Lewisville Chamber/YMCA April Student of the Month. Jaden has continued to excel academically this year as well as being a kind and respectful young man. Jaden has participated virtually this year and adjusted well. Here is what one teacher had to say about Jaden: "Jaden Wells is probably the most gifted student I've ever had in more than 20 years of education. He reads and writes at a college level and he's only in the 8th grade. He is not only an exceptional student he's an exceptional young man. He completes every assignment with integrity and consistently performs at a level higher than is required. He is respectful when asking questions and always takes responsibility for mistakes. It has been a pleasure having this young man in my class this year, and I'm looking forward to seeing all he will accomplish in the future."
To get to know Jaden a little more, we asked him the following questions:

What are your hobbies and/or do you like to do in your free time?
One of my hobbies is playing soccer and I also like to play video games in my free time.

What is your favorite subject in school and why?
My favorite subject in school is history because it is interesting to find out what happened to get society to where it is today.
What do you like most about your school?
I like my school because it is constantly changing and evolving to meet the students' demands.
What are you looking forward to next year in high school?
I am looking forward to high school because it will open up new exciting opportunities for me.
Who do you look up to and why?
I look up to my father because he is a good role model in all subjects.
APRIL TEACHER OF THE MONTH | DONALD ROVIRA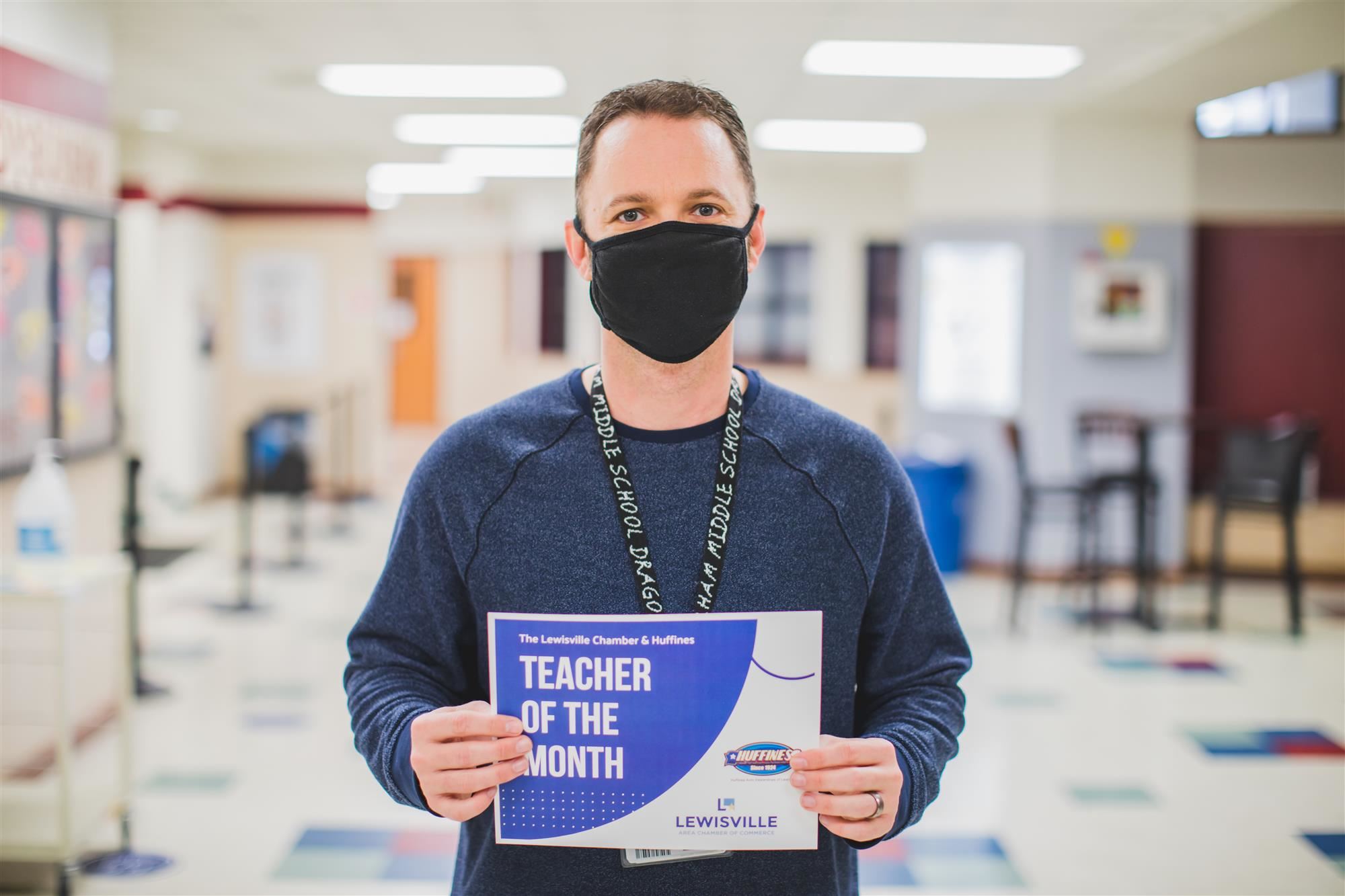 Durham Middle School teacher Donald Rovira was recognized as the Lewisville Chamber/Huffines April 2021 Teacher of the Month. According to the Durham administration, Mr. Rovira has created an engaging climate within his classroom. He sets high expectations for himself as well as his students. Mr. Rovira's students are showing consistent improvement in their reading skills. Durham has been very fortunate to receive a grant in conjunction with Lakeview Middle School to begin the implementation of blended learning. Mr. Rovira has been willing to take the lead in developing and implementing some early strategies of blended learning within his classroom.


APRIL SCHOOL OF THE MONTH | DURHAM MIDDLE SCHOOL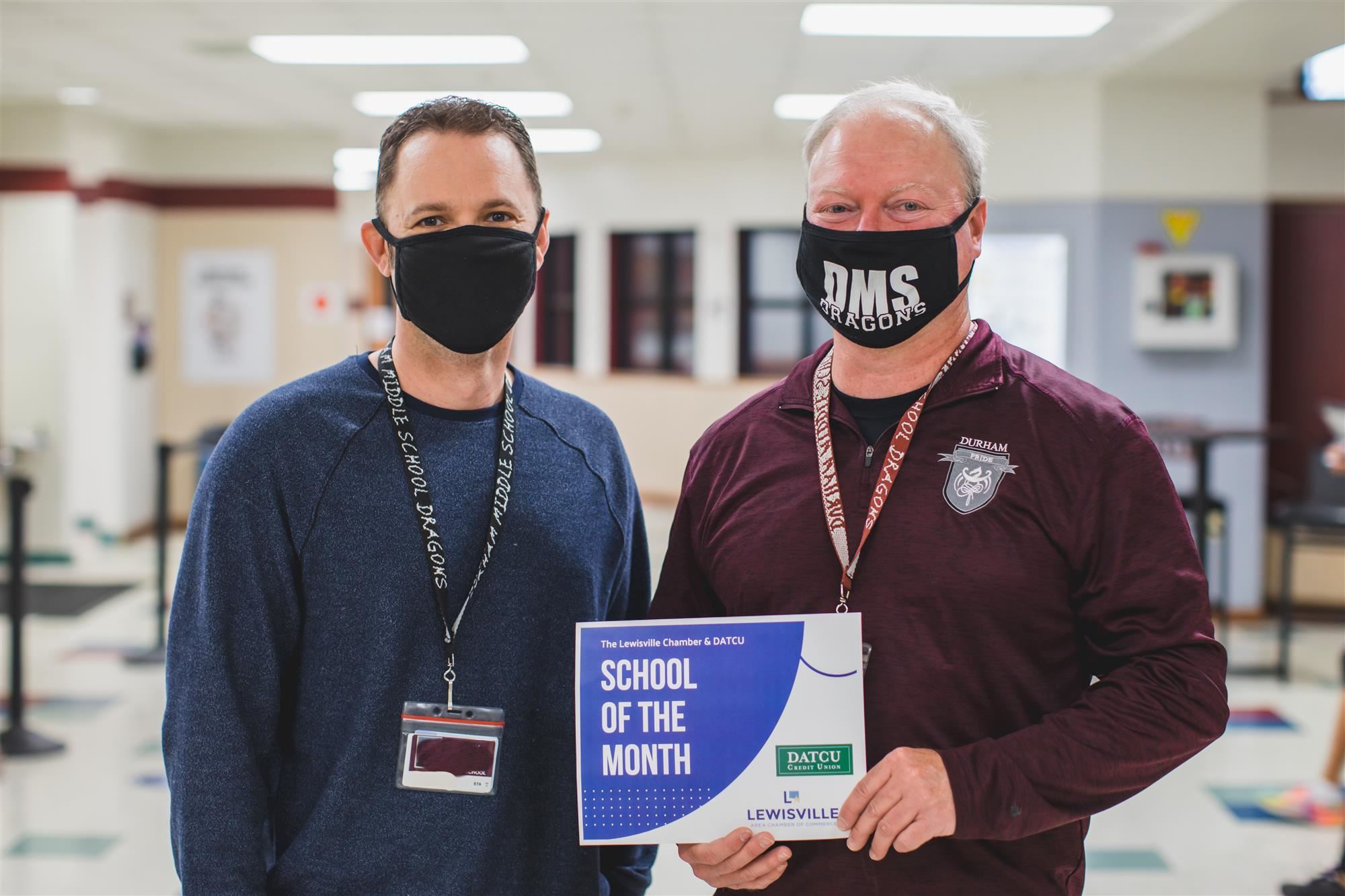 Durham Middle School was recognized as the Lewisville Chamber/DATCU April 2021 School of the Month. This year has been remarkable in that despite the obstacles created by Covid 19 and other disruptions, the teachers and students at Durham found ways to excel. The school's overarching goal is that our students would show one year of academic growth. We have been successful in achieving this goal for many of our students and we are so proud to see the academic success coupled with a very positive school culture. Achievements for the past year include being recognized as a Common Sense School with students completing training on how to become better digital citizens; receiving the CREST award through the office of Guidance and Counseling for our campus efforts on improving student experience; and as a result of recent student and staff surveys, Durham has seen a great improvement of the overall school climate.
---
| | | |
| --- | --- | --- |
| April | School | Durham Middle School |
| | Teacher | Donald Rovira, Reading Teacher |
| | Student | Jaden Wells, 8th Grade |
| March | School | Mill Street Elementary |
| | Teacher | Ashlie Hall, 3rd Grade Teacher |
| | Student | Anthony Lopez Mendez, 5th Grade |
| February | School | DeLay Middle School |
| | Teacher | Cedrick Jones, ALS Teacher |
| | Student | Reaunna Fletcher, 8th Grade |
| December | School | LHS Harmon 9th & 10th Grade Campus |
| | Teacher | Coach Jon Ann Roper |
| | Student | Carlos Plazola Castillo, Sophomore |
| October | School | Lakeland ES |
| | Teacher | Kim Nguyen, Language Acquisition Specialist |
| | Student | Henoc Castelan, 5th Grade |
| September | School | TECC-West |
| | Teacher | Cindy Porter, Cosmetology Instructor |
| | Student | Caylie Cummings, Senior |
---
Durham Middle School is a Lewisville, Texas middle school serving 6th through 8th grade in the Lewisville Independent School District. Follow Durham on Facebook and Twitter. Join the Lewisville ISD family by enrolling today, or visit Best Schools in Texas to learn more.