Return to Headlines
Flower Mound Chamber Awards | January 2022
Downing Middle School student Will Currey, teacher Jennifer Witnauer and school were recognized at the Flower Mound Chamber's April Luncheon held at Water Works Hall is Flower Mound on Tuesday, April 19.

STUDENT OF THE MONTH | WILL CURREY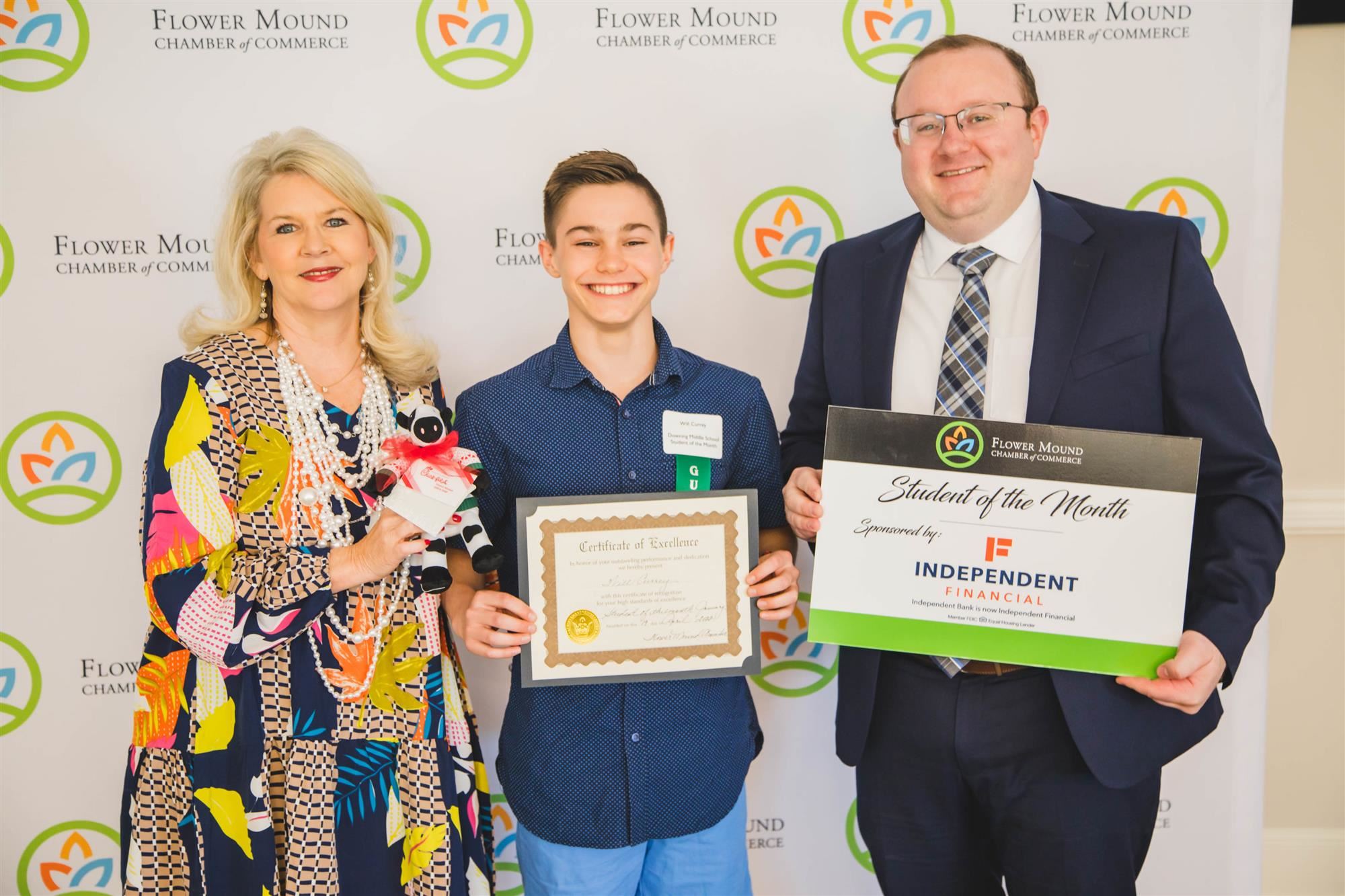 Downing Middle School student Will Currey was recognized by the Flower Mound Chamber as the January Student of the Month. According to his teachers, Downing 8th-grader Will Currey is an excellent student who always comes to class with a smile on his face. He has enthusiasm that is contagious and he always greets everyone he sees. In class, Will is a leader and a great example to others.
Will is very impressive with his ability to be articulate about difficult concepts and texts. He is an active participant in discussions and always supports his peers. Math is Will's favorite subject. He likes Math because every problem has an absolute solution. He likes that because, "He is just wired that way."
Will's favorite thing about Downing Middle School is the people and he has developed many good friendships during his years here.
Outside of school, Will enjoys swimming. He doesn't have much free time, but when he does have some free time, he likes to spend it with family. Will admires his Dad because he has such a strong work ethic.

Overall, Will is a great young man who impresses everyone he meets.
TEACHER OF THE MONTH | JENNIFER WITNAUER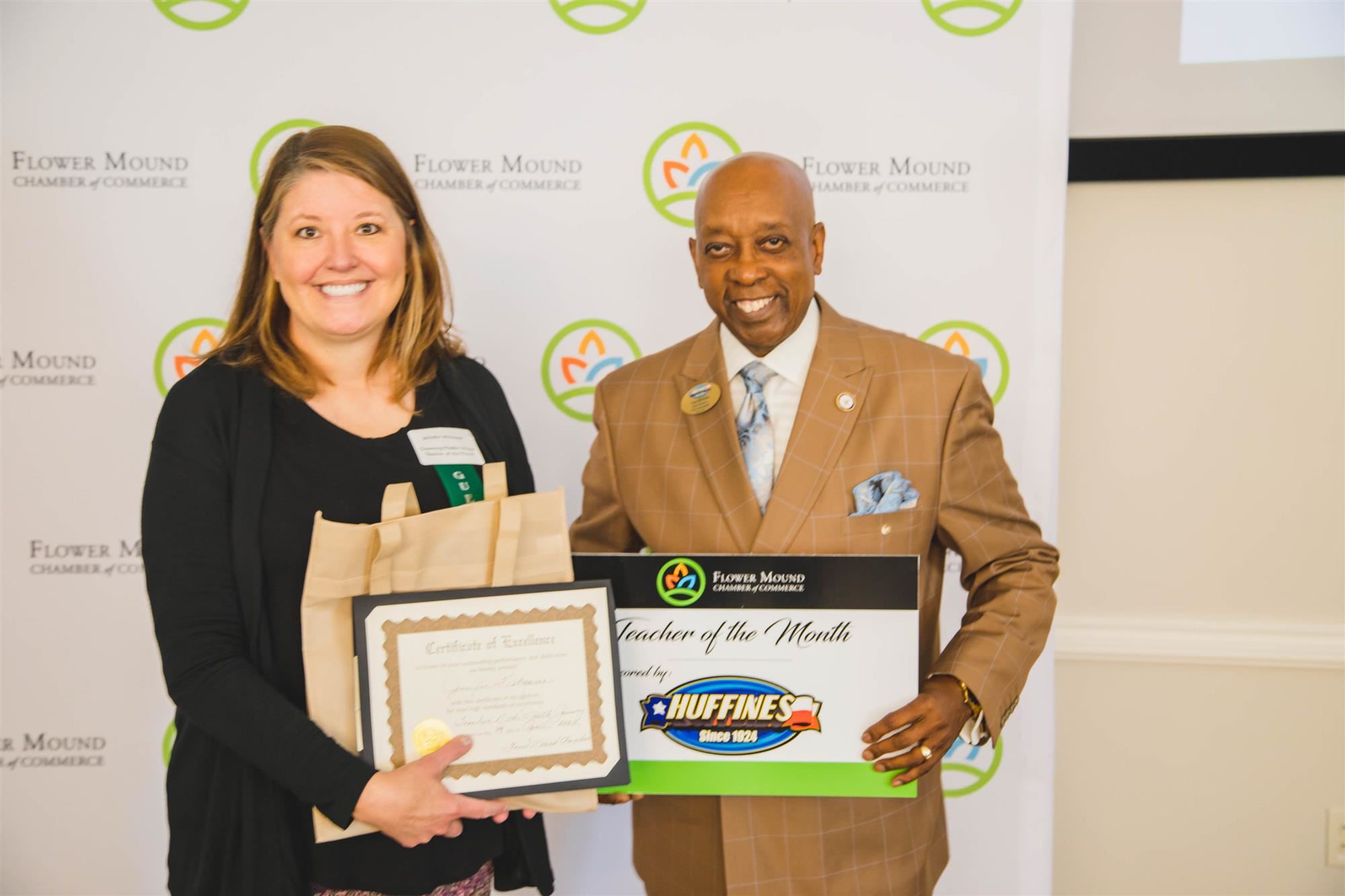 Downing Middle School teacher Jennifer Witnauer was recognized by the Flower Mound Chamber as the January Teacher of the Month. According to Downing Principal Curt Martin, Downing Gifted and Talented Teacher and Coordinator Jennifer Witnauer has an outstanding rapport with her students and colleagues. Many students qualify for the GT program at Downing, which means Mrs. Witnauer manages some of the largest classes on campus. Last year, she went above and beyond as a virtual teacher with multiple courses. She is also known for being engaging, creative, proficiently integrating varied media and technology in all her lessons and most importantly -- doing what's best for students. A great teacher communicates, listens well, adapts, engages, empathizes and has patience -- Mrs. Witnauer is a great teacher.
SCHOOL OF THE MONTH | DOWNING MIDDLE SCHOOL | PRINCIPAL CURT MARTIN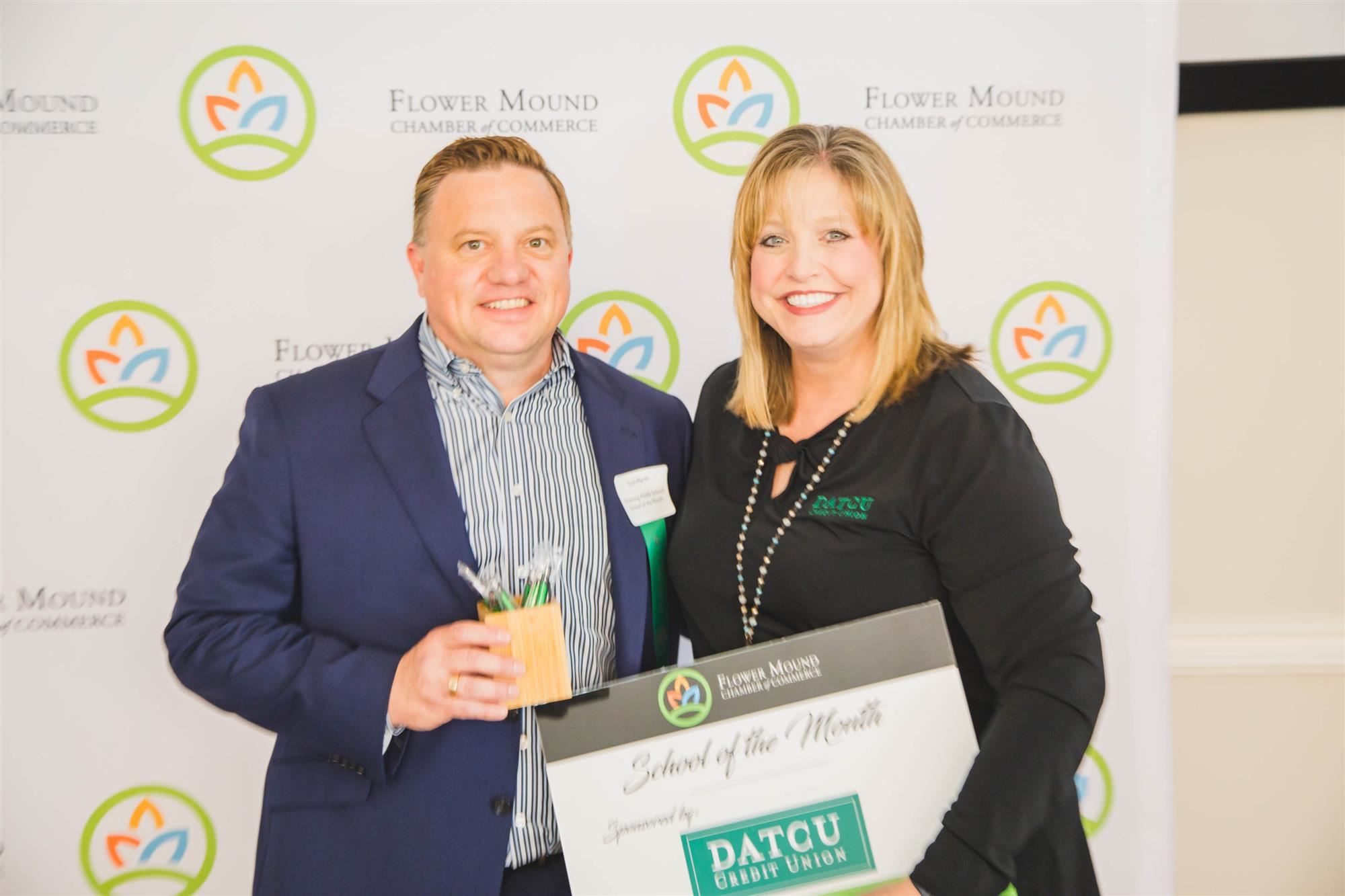 LISD STEM Academy at Downing Middle School was recognized by the Flower Mound Chamber as the January School of the Month. LISD STEM Academy at Downing Middle School is a 21st-century learning organization that teaches students to think globally in the digital age. At Downing, they aspire to engage every student every day to create and learn authentically. With an understanding that today's digital natives cannot be taught utilizing only lectures, textbooks and worksheets; Downing believes students must be challenged through the use of technology to think, plan, create, and collaborate.
At DMS, they embrace and implement cutting-edge, brain-based research practices such as being an LISD STEM Academy, creating an annual Campus Wide Project-Based-Learning activity, and offering a wide variety of exemplary and challenging courses. Through these initiatives, Downing has established itself as a true leader in the education community.
Downing also believes its purpose is to help students grow both academically and emotionally during their middle school years. The campus implements Second Steps, Restorative Practices, Kindness Week, Red Ribbon Week, and Career Week to provide students time to reflect on life choices and set positive goals. At DMS, they strive to find every student's hidden talent and enable them to be the best scholar, artist, and person they can be.
---
LISD STEM Academy at Downing Middle School is a Flower Mound, Texas middle school serving 6th, 7th and 8th-grade students with a unique STEM education experience in the Lewisville Independent School District. Downing feeds into the Marcus High School attendance zone. Follow Downing on Facebook and Twitter to see more student experiences throughout the school year. Join the Lewisville ISD family by enrolling today, or visit Best Schools in Texas to learn more.