Return to Headlines
VIDEO | Downing Gives 'Bach'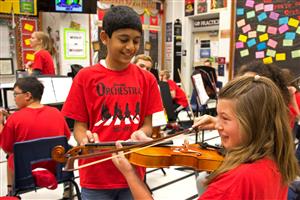 Music has a way of bringing people together – an "agreeable harmony" as once said by famous composer and musician Johann Sebastian Bach. For students, music also enriches education and lives.
In 2009, California music instructor Richard Meyer created the "Giving Bach" program, which seeks to enhance the lives of young people through music. Per the program's website, the idea is for student musicians to perform educational and interactive concerts for their peers, and the program encourages schools to bring "Giving Bach" to their communities.
Cue "Downing Gives Bach." What originally began as a graduate school research project for Downing Middle School's orchestra director Bethany Hardwick, has morphed into an ongoing collaboration between orchestra students and students in Academic Life Skills (ALS).
"It's (Giving Bach) a great way to bring music to your community and a great way for our students to learn more about each other," Hardwick said. "People at Downing are so excited to try new things that this started as a small performance and is now a full, year-round partnership."
Six students in Jennifer Rodgers' ALS class walked into Hardwick's orchestra classroom on Oct. 17 for an experience they won't soon forget. The students not only listened to a performance by their orchestra peers, but played the instruments as well.
"Some students are not able to take the class as an elective," Rodgers said, "but we wanted them to have the opportunity to play and learn about music as well."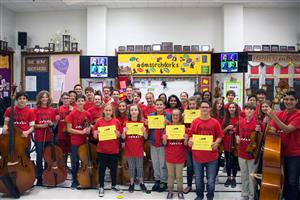 The students also felt the vibrations of the various instruments and collaborated with the orchestra students on another performance, El Gato Pizzicato, by contributing animal noises.
"I got to hold it," seventh-grader Nathan Woods said. "It was very special! It was cool."
According to Rodgers, this type of partnership has been in the works for a long time, as she and Hardwick have worked together the last eight years to ensure her students are involved in the performing arts.
"Music is a conduit to emotion and connects us," Rodgers said.
Rodgers' students weren't the only ones who enjoyed the experience. Hardwick's student musicians also enjoyed performing with their peers.
"I got to show someone how to play the viola today," seventh-grader Gavin Miller said. "I was really excited. We had so much fun together."
Added Harwick, "I don't think I've ever seen my students smile bigger than they did during their performances. They all came out so excited and so proud to share what they do with their new friends. They are already looking forward to the next concert."
For Rodgers' students, it was a momentous and impactful day.
"They loved it," Rodgers said. "We talked about the experience the rest of the day."
Watch the collaboration video below or click here to see the video on Facebook. Keep up with Downing Middle School through Facebook, Twitter or the website.