Return to Headlines
Communities In Schools of North Texas Honors Lewisville High School Principal, Student
March 7, 2017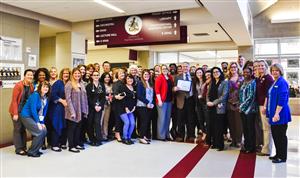 Communities In Schools of North Texas (CISNT) named Lewisville High School (LHS) Principal Jeffrey Kajs as its 2017 Educator of the Year and LHS junior Tha Cung Ceu as its 2017 Student of the Year. LHS student mentor Debbie Garrison was also named the organization's 2017 Volunteer of the Year. CISNT's mission is to surround students with a community of support with the goal of empowering the students to remain in school and succeed in life. The organization serves more than 4,000 students at risk of dropping out of school each academic year, including students in Lewisville ISD (LISD).
"Communities In Schools of North Texas changes student lives in Lewisville ISD every day," LISD Central Zone Leader Andy Plunkett said. "The program provides safety nets for our most at-risk students, who have been dealt a difficult hand in life. Through this program, these students are given the hope they need to push themselves through the difficult times when they feel like giving up."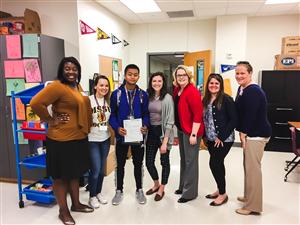 Graduation is the center focus at LHS. Per the LHS CISNT Site Coordinator, Chelsea Davis, the program helps students overcome obstacles that may impede graduation, all of which requires the support of school administration, counselors and teachers. Support that Davis believes the students and program receive.
"Mr. Kajs is a wonderful example of an educator who is 'all in,'" CISNT Chief Strategy Officer Tasha Moore said. "He does not see a student's barrier or struggle as something that defines the student or the school, but instead sees opportunities that create character and perseverance within a person and community."
The Student of the Year winner, who also goes by Michael, is a Chin refugee who has been in the United States for approximately three years. Davis said he is a student who lights up the room.
"Michael embodies a lot of what CISNT tries to embody," Davis said, "which is overcoming obstacles and working hard. He is so persistent and hardworking, but is also others-focused."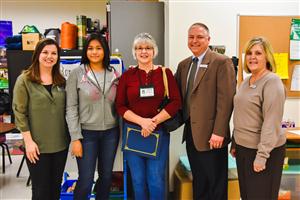 According to Davis, CISNT not only works to help students become successful in their own lives, but also has a goal of developing students into leaders who will give back and be active members of their communities.
"We try to help students develop certain personality and character traits that represent a lot of what CISNT is about," Davis said. "Michael already has a lot of those traits."
Garrison, the Volunteer of the Year winner, has mentored LHS senior Rubi Hernandez for nearly 11 years, meeting one-on-one since Hernandez's days at Central Elementary, DeLay Middle School, LHS Killough and now, LHS.
"We all work together to help these students move past obstacles and make it to graduation," Davis said.
The CISNT motto of "programs don't change people – relationships do" is evident since all three winners are connected to the Farmer community.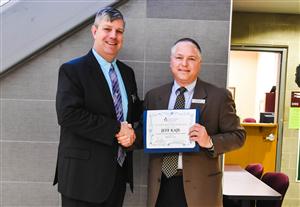 "Mr. Kajs has provided structures at LHS for students like Michael to excel with the help and guidance of mentors like Ms. Garrison," Plunkett said. "CISNT is an integral part of the LHS 'team' philosophy to ensure each student will be successful in life."
Echoing Plunkett, Kajs attributes his award to team effort.
"Receiving this award is about the work we do together as a campus," Kajs said. "It takes everyone to make this happen. Our partnership with Communities In Schools is the most powerful partnership we could have as it services so many students and families. Being a part of this partnership is reward enough."
The winners will be honored at the second annual CISNT's End of Year Banquet – Celebrating Successes April 28 at Circle R Ranch in Flower Mound. Learn more about CISNT here.