Return to Headlines
LHS Harmon Hosts Annual Chin Cultural Festival
Feb. 17, 2017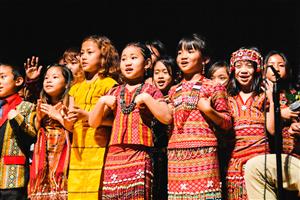 The annual Chin Cultural Festival was held Feb. 16 at Lewisville High School Harmon 9th and 10th Grade Campus. The free event was filled to capacity and guests were treated to traditional Chin cuisine and entertainment. Chin student groups from across Lewisville ISD (LISD) performed at the event including the LHS Harmon Chin Club, Lakeland Elementary's children's choir and Hedrick Middle School's choir. Chin students from the LHS triad, Hedrick Elementary, DeLay Middle School, Durham Middle School and Huffines Middle School also performed. The festival was planned, organized and orchestrated entirely by LISD Chin students.
"All of the students worked really hard to put on this event," Lewisville High School (LHS) senior Lydia Bor said. "Not a lot of people know about our culture, so we were excited to have a chance to show the Chin culture to everyone. It was also a good reminder for us to remember our own culture and the importance of celebrating Chin National Day."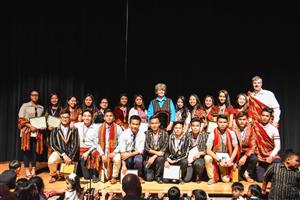 The evening also featured a senior recognition for graduating Chin students. More than 30 Chin students will graduate from LISD this spring, which is the largest group of graduating Chin students the district has seen. Central Zone Leader Andy Plunkett gave short biographies for each of the seniors, and each student was presented with a medal and framed certificate of recognition.
"It's bittersweet," Bor said about her upcoming graduation. "I've been doing this festival since seventh grade. All of these memories will stay with me forever."
Following the senior recognition, Chin Community Ministry Executive Director Becky Nelson was presented with a Distinguished Service Award for her 10 years of service to the Chin students of LISD. A Lewisville ISD Education Foundation scholarship will be named in Nelson's honor.
"I was totally surprised," Nelson said. "I hope that by having my name on this scholarship, the Chin students will remember how much I believe in them."
See more festival photos on LHS Harmon's Facebook
here
.