Return to Headlines
Lewisville Chamber Awards | February 2021
STUDENT OF THE MONTH | REAUNNA FLETCHER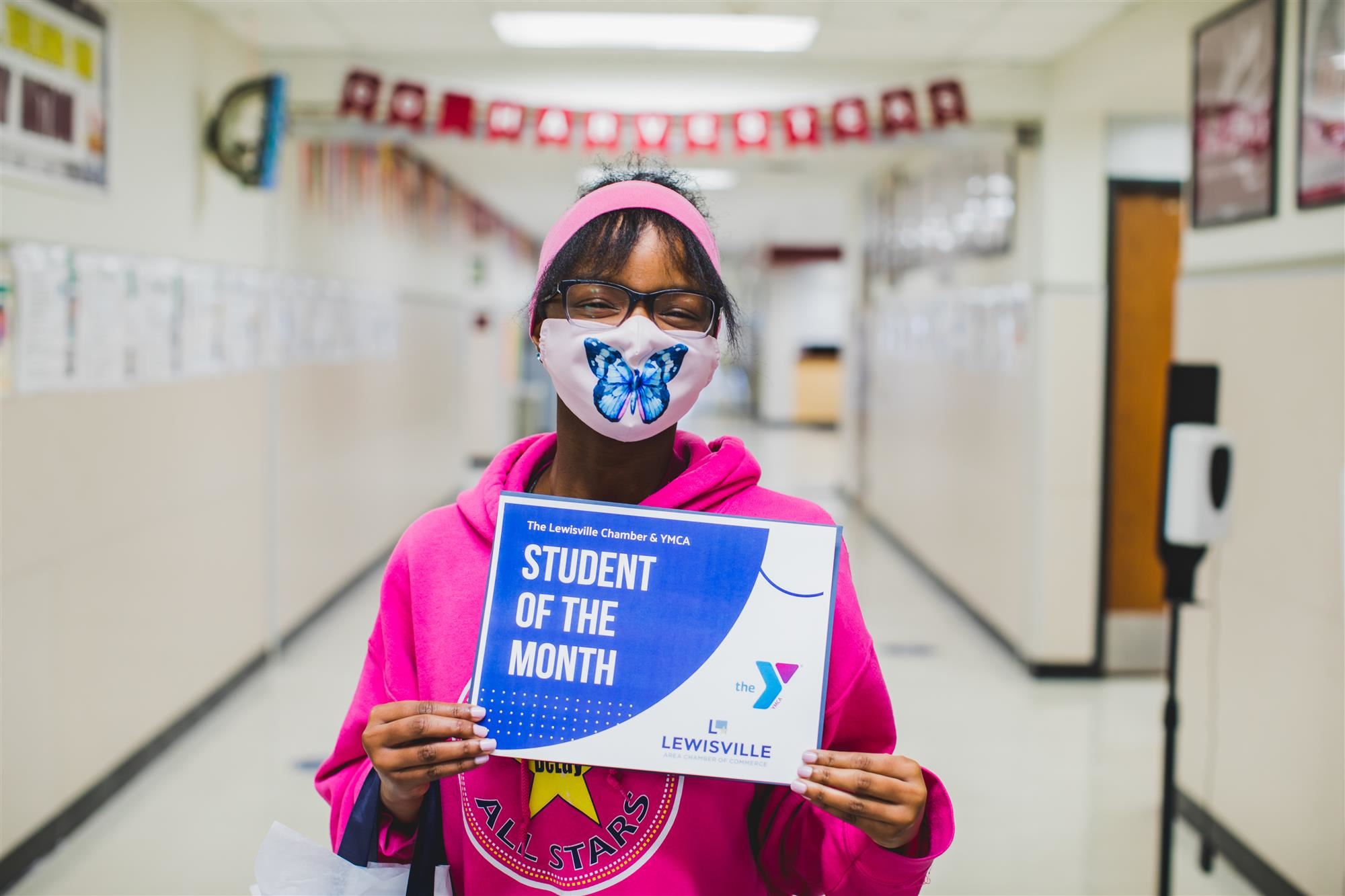 DeLay Middle School 8th-grader Reaunna Fletcher was recognized as the Lewisville Chamber/Cross Timbers Family YMCA February Student of the Month. According to Reaunna's teachers, she is the epitome of a servant leader with a servant's heart. Her charismatic and bubbly personality always lights up whatever room she enters, and you never know when she is having a down day. Reaunna is always looking to build up others and find the positive in every situation. She often checks in on her peers, teachers, and any staff member she can assist and support. She serves on the DeLay Student council, volleyball, and basketball teams, and she is also a student aide who has received DeLay's "Outstanding Harvester" award. Reaunna will without a doubt leave behind a legacy at DeLay as her siblings are former Harvesters as well. She exhibits the leadership qualities of humility, selflessness, grit and perseverance.
TEACHER OF THE MONTH | CEDRIC JONES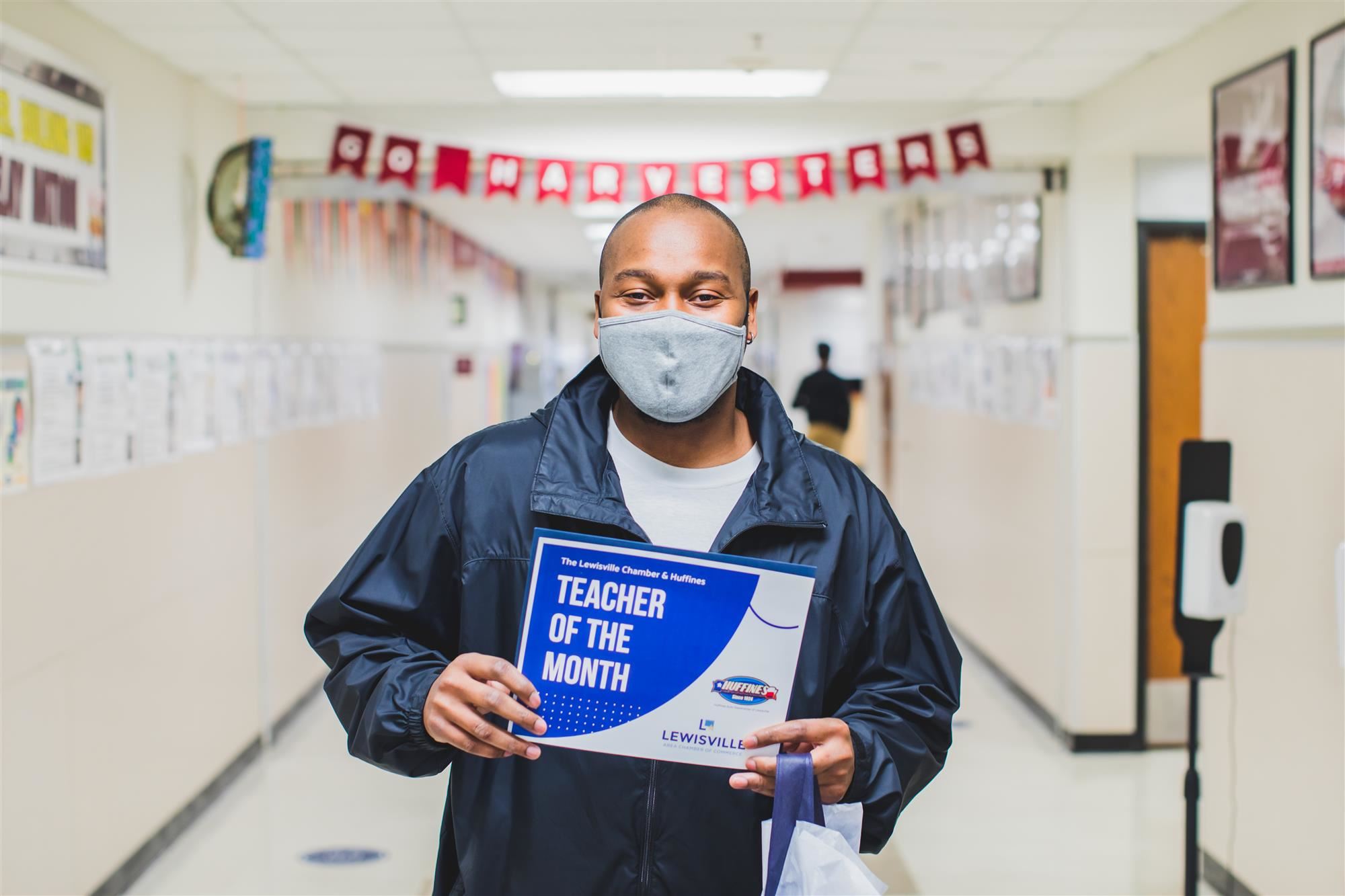 DeLay Middle School Academic Life Skills Teacher was recognized as the Lewisville Chamber/Huffines Auto Dealership February Teacher of the Month. Cedric Jones serves students in the Special Education program and has become a master teacher. Mr. Jones is an LHS graduate who has served DeLay Harvesters for three years. He currently teaches both virtual and in-person students. Anytime you walk by his classroom, you will observe him finding creative ways to engage all learners, including those participating from home. His students are always eager to learn as he creates various opportunities and learning experiences in his classroom. Mr. Jones teaches his students the essential life skills needed to grow into independent young adults. We are extremely fortunate to have Mr. Jones as part of DeLay Nation and he is well-deserving of this award and recognition.
SCHOOL OF THE MONTH | DELAY MIDDLE SCHOOL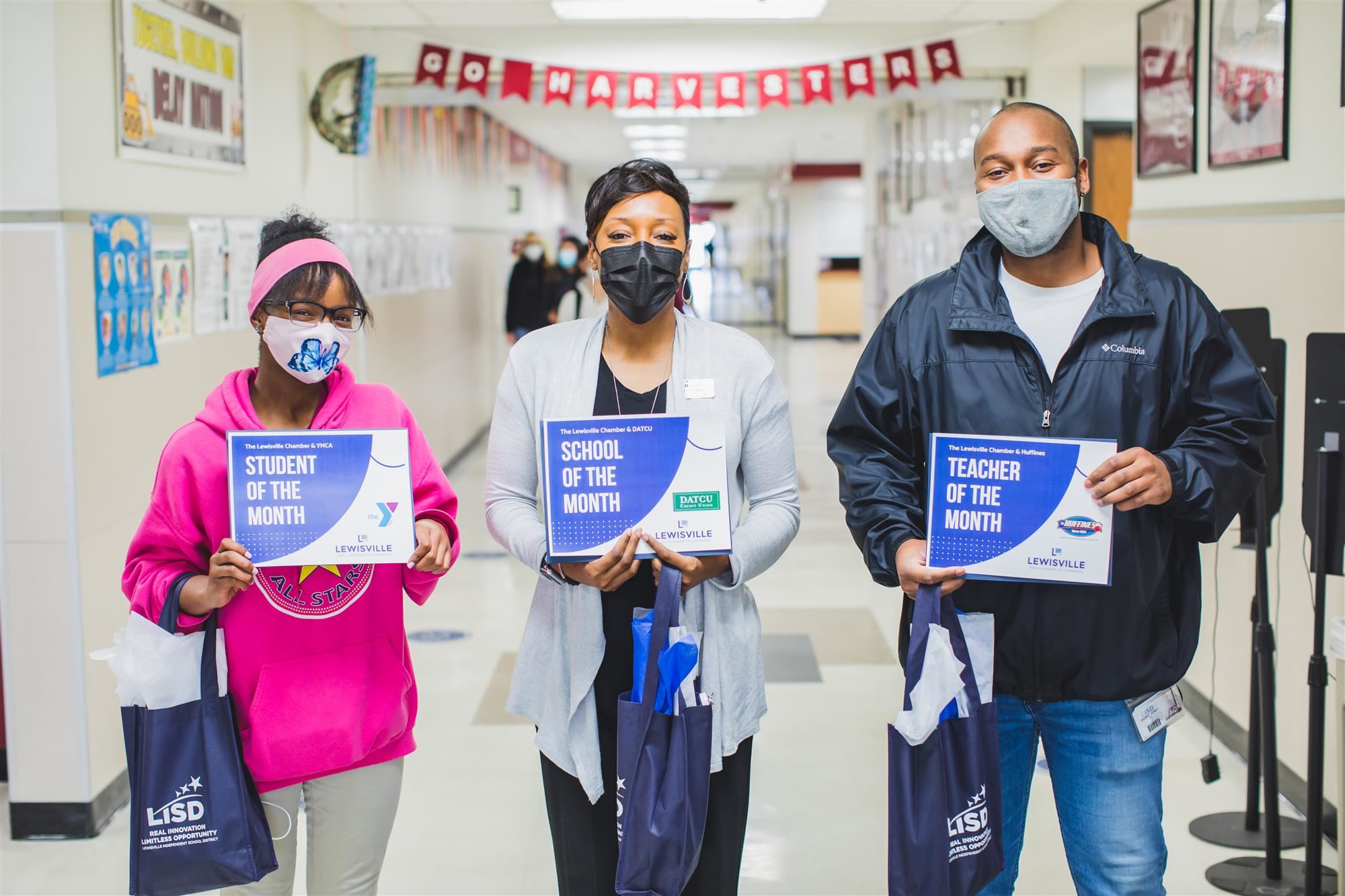 DeLay Middle School was recognized as the Lewisville Chamber/DATCU February School of the Month. DeLay is by far one of the greatest schools, but not because of what you would traditionally hear about a campus. At DeLay, they serve a population of students and families who rely heavily on the sense of family and community. It takes a village and our teachers are able to "Teach to the heart of the child." At DeLay, they understand the importance of relationships and meeting the needs of the whole child. DeLay offers several programs to support its learners Social-Emotional needs such as Communities in Schools, the ACE after-school program, and on-site counseling and mentors for students and their families. DeLay athletics and fine arts programs also grow and build student-athletes into leaders. Campus staff members are extremely dedicated to students offering a variety of clubs and activities, enabling each student an opportunity to feel that they have a place. Teaching is heart work, and the DeLay team goes above and beyond to meet the needs of their Harvesters!


---
| | | |
| --- | --- | --- |
| February | School | DeLay Middle School |
| | Teacher | Cedrick Jones, ALS Teacher |
| | Student | Reaunna Fletcher, 8th Grade |
| December | School | LHS Harmon 9th & 10th Grade Campus |
| | Teacher | Coach Jon Ann Roper |
| | Student | Carlos Plazola Castillo, Sophomore |
| October | School | Lakeland ES |
| | Teacher | Kim Nguyen, Language Acquisition Specialist |
| | Student | Henoc Castelan, 5th Grade |
| September | School | TECC-West |
| | Teacher | Cindy Porter, Cosmetology Instructor |
| | Student | Caylie Cummings, Senior |
---

DeLay Middle School is a middle school located in Lewisville, Texas, serving 6th through 8th graders, in the Lewisville Independent School District. Follow DeLay on Facebook and Twitter to see more student experiences throughout the school year or visit Best Schools In Texas for more information about joining the Lewisville ISD family.