Return to Headlines
LISD Destination Imagination Team Wins First in State
Students from three different schools across the district take on the Medical Mystery Challenge and win.

May 2019 — Lewisville ISD (LISD)'s Destination Imagination (DI) program boosts creative, problem-solving, team building and life skills through a diverse 21st-century approach.

This school year, an LISD DI team managed by Killian Middle School teacher Terri Kinsella won first place at the Texas DI State Tournament for their success in the Medical Mystery Challenge.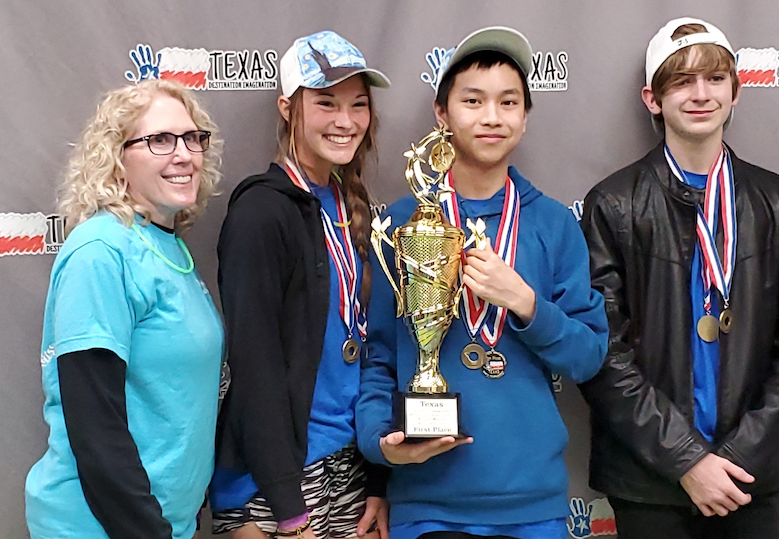 Students on the team represent three different schools from across the district: Lindsey Peterson, Hebron High School; Jacoby Solari, Flower Mound 9th Grade Campus; and Aiden Nguyen, Creek Valley Middle School.

"In my experience with DI, I have learned how to become a better team player, better leader, and a better thinker, all of which I was scared to overcome when I was first started DI in third grade," Peterson said. "I can safely say that because of DI, I have been able to increase my research and study skills and my creative thought processes."

Kinsella added, "DI is not just another program. It builds confidence, develops creativity, risk-taking and effective public speaking. It truly is the all-around package to teaching students important life skills that I have watched put in practice into adulthood. No matter your talent, interests or abilities, DI has something to offer everyone. That's why I still love being a part of it after all these years."
In addition, the team was also awarded the DaVinci Award, which is given to teams for extreme creativity and risk-taking. They were appraised by a very seasoned appraisal panel made up of people who have seen hundreds of teams for many years.

"The head appraiser of the tournament said that she sees very few teams that wow her, but this one did – she said it was one of the most creative performances she has ever seen, and I have to agree," LISD DI Coordinator Robin Napier said.

What's next? This team is headed to Global Finals in Kansas City, MO May 22-25. Good luck and stay tuned!

About LISD's DI Program
DI is a creative extracurricular, problem-solving program sponsored by LISD for kindergarten through 12th-grade students interested in science, technology, engineering, art, math (STEAM), as well as community service. Students have the opportunity to participate in small teams with a parent volunteer as the leader, working to solve mind-bending problems, as they put their knowledge and creativity to work. In the end, groups spend three to four months on a project, called a DI challenge, which involves research, designing, building, acting, script writing, poetry, songs and/or crafting costumes and props.

Learn more about LISD's DI program here.