Return to Headlines
Creek Valley Middle School Coaches Connect Virtually with Student-Athletes
Between school buildings and facilities remaining closed for the rest of the school year and social distancing measures in effect, the ability to workout with teammates and coaches isn't exactly an option for student-athletes. However, Christina LaPlant, Ashley Roberts, Ashley Mireles and Necy DeVance, the girls' athletics coaches at Creek Valley Middle School, are still finding ways to connect with their eighth-grade student-athletes, even if they can't see them in person.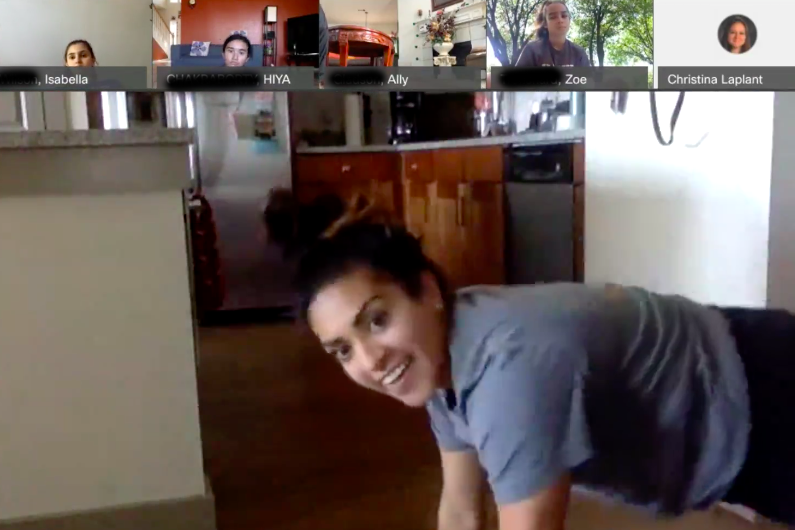 "On Tuesdays, we have created a hangout or check-in for our girls where we check in with them on a social-emotional level," LaPlant, who is currently serving as girls' athletics coordinator, said. "We ask them what their needs are, their hopes, and goals and that better helps us set a plan on our physical workout meetings and going forward to meet each student's individual needs. On Thursdays, we have a live workout led by the coaches just as we would if we were face-to-face."

LaPlant and her fellow coaches have even developed individual plans for the student-athletes, which will go a long way in helping prepare the students for high school athletics.

"Just like in the classroom, we try to meet each one of our students and what individual needs they have," she said. "We have surveyed our eighth-grade students first to come up with individual plans to help them prepare for their future. The girls are very open in telling us what their individual goals are that they are working on. We develop plans based upon their needs."

If a student is interested in a sport such as volleyball or soccer, LaPlant said WebEx is utilized to provide the student with sport-specific skills and workouts to complete at home.

"We continue to have a pulse on what the high school programs are doing and expecting from their athletes," LaPlant said. "We hold our students to these same standards and practices and pass along workouts specifically geared toward the programs they wish to join."

The efforts of the coaches have not gone unnoticed, and their student-athletes appreciate their guidance and support.


"I feel that the main way our coaches prepare us for high school is keeping us motivated and reminding us that despite quarantine, none of us are alone," eighth-grader Natalie Mendez said. "Our coaches constantly remind us that they're here for the students, whether it be for athletics or academics. They're also going to provide exercises for specific sports, which is helpful to the ambitious."

Mendez, who plays soccer, is grateful for her coaches.

"Though they don't necessarily need to do all of this by requirement, they do so anyway, which says a lot about them," she said.

Zoe Trenchard, an all-sport athlete, agreed and said she thinks the coaches are doing a great job preparing her and her peers for high school.

"They are doing everything they can for us even in these tough times," the eighth-grader said. "Our coaches at Creek Valley treat us like their own. They are doing everything they can to make our transition to high schooler easier."

Trenchard is especially appreciative of the one-on-one check ins.

"It just shows how much they care for us and gives us time to talk about whatever is going on in our personal lives because we can trust our coaches," she said.

The overall wellbeing of their student-athletes has always been a main focus for the coaches, and perhaps even more so in times such as these. And while the circumstances aren't something anyone anticipated, both the student-athletes and coaches are persevering.

"Obviously it has been tough because we miss our students but we have built our program on a strong culture that emphasizes getting better everyday and taking care of one another," LaPlant said. "The students have risen to the challenge and are continuing to carry out that mentality at home. We all have adapted by embracing the challenge and deciding to thrive within any new environment that we are given."

She added, "Our job with our students is too important not to."


---
Creek Valley Middle School is a middle school located in Carrollton, Texas serving students in the Lewisville Independent School District. Follow Creek Valley on Facebook and Twitter to see more student experiences throughout the school year or visit Best Schools in Texas for more information about joining the Lewisville ISD family.