Return to Headlines
Briarhill, McAuliffe Expedition
May 25, 2016
Students and teachers test Google's latest virtual learning tool.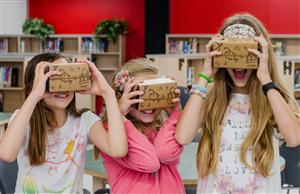 Briarhill Middle School (BMS) recently opened its doors to test Google Expeditions – a new product that allows teachers to take their classes on virtual field trips, immersing students in experiences that bring abstract concepts to life and giving students a deeper understanding of the world beyond the classroom.

For one full day, BMS Library Media Specialist Trela Weesner lined up 20 teachers and their classrooms, including two classrooms from neighboring school McAuliffe Elementary, to stop by and experience Google Expeditions.
"Right now, we are more or less showing our teachers how to use Google Expeditions and learn what's out there, as far as emerging technologies are concerned," Weesner said. "Right away, we can see the benefit in this for geography and history classes. We had a U.S. History class exploring the battleground of Gettysburg, which was pretty cool. It just makes it come to life."

How exactly does it make it come to life?
For the experience, a box arrives with everything users need to travel: a tablet for the teacher, and Cardboard viewers and phones for every student. Google Cardboard is a virtual reality viewer made almost entirely of actual cardboard. Cardboard allows anyone with a modern smartphone to experience virtual reality.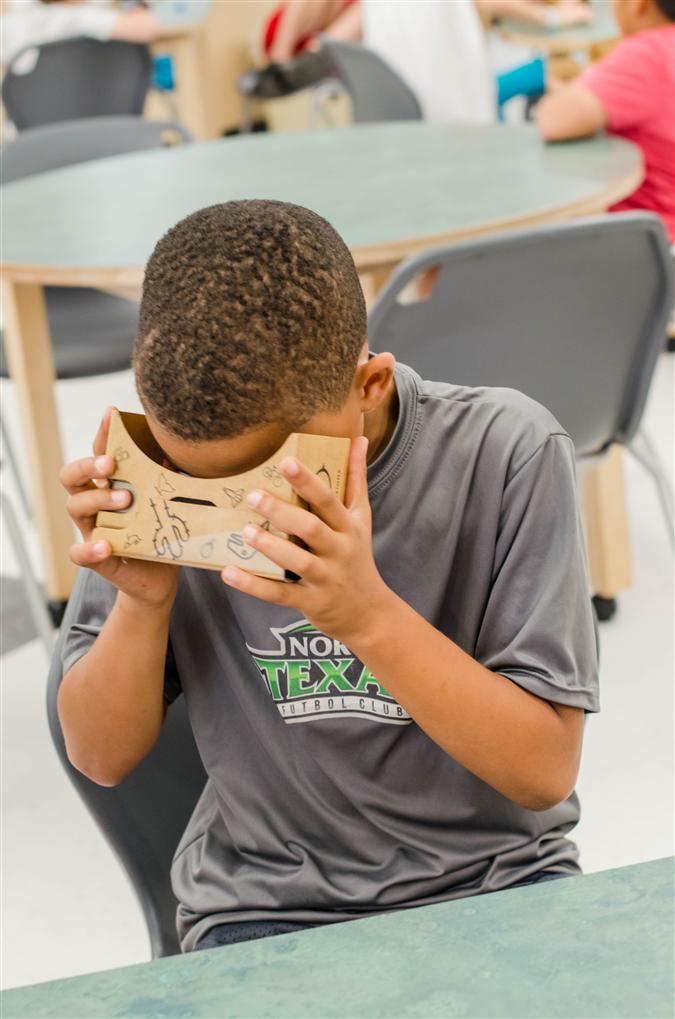 Next, the teacher selects a destination, and the entire classroom jumps there automatically. The trips are collections of virtual reality panoramas — 360° photo spheres, 3D images and video, ambient sounds — annotated with details, points of interest and questions that make them easy to integrate into classroom curriculum.

"To see the kids reactions when they first put it up to their face and go 'whoa and wow' is amazing," Weesner said. "I want the kids to see what's out there and experience it. There are so many new things on the horizon."

For one BMS student, her expedition experience summed up her knowledge of the ocean.

"I learned more about the ocean in 30 minutes than what I've learned about it my entire life," 7th-grader Liv Hendrick said.

As for visiting elementary folks from McAuliffe, students not only enjoyed diving into the ocean from space, but they welcomed a visit to their future middle school.
"It's pretty cool coming to Briarhill so I can get a feel of where everything is before next year," McAuliffe 5th-grader Ethan Riquinha said. "What we saw today using Google Expeditions was pretty amazing. I learned that I want to go to the Great Barrier Reef one day."

Fellow McAuliffe 4th-grader Cale Glover added: "I liked testing this out today and going at our own pace to see things we've only been able to see on the web before. It feels like I am older, because I am at Briarhill."

And teachers enjoyed the opportunity to test out the tool.

"I think it's fantastic and there are so many ways you can use this in the classroom and quickly," McAuliffe Gifted and Talented teacher Holly Plunkett said. "They thought it was going to be cartoonish and then to see their reaction when they saw actual detailed pictures of places around the world was exciting. It was also nice to take trip from McAuliffe to Briarhill for a little break and give students another opportunity to see where they will go to middle school one day."
While Google Expeditions isn't for sale just yet, Briarhill and McAuliffe teachers enjoyed the opportunity to simply expose students to another type of learning experience.
See pictures of this virtual opportunity for students
here
.