Return to Headlines
SCHEELS Friday Night Lights at Marcus HS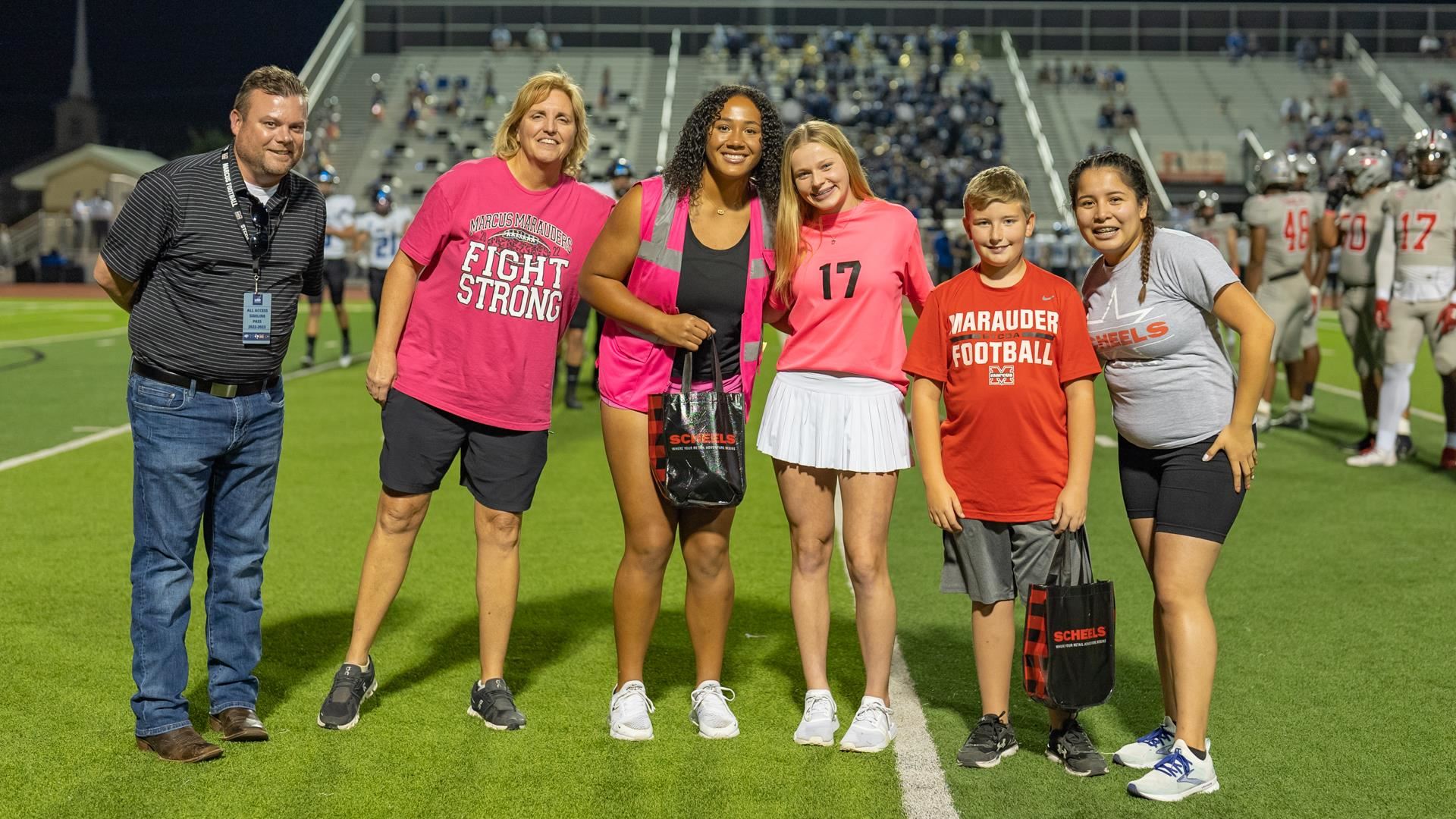 In partnership with SCHEELS in The Colony, Lewisville ISD continued its Friday Night Lights campaign at Marcus High School's varsity football homecoming game against Plano West High School on Friday, Oct. 14. To promote teamwork, leadership, discipline and highlight student-athletes of all ages, three students were announced as SCHEELS Athletes of the Week during the game.
Congratulations to the following athletes that were nominated by their schools for their dedication, integrity and sportsmanship:
SCHEELS HIGH SCHOOL ATHLETE OF THE WEEK
Marcus High School senior Tori Edwards plays softball for the Marauders and has been a varsity starter since her freshman year. Tori is verbally committed to play softball collegiately at LSU. Over the last three seasons, Tori has earned numerous awards and accolades as a softball player and a student. As a sophomore and junior in 2021 and 2022, Tori was named the District 6-6A Offensive Player of the Year and Academic All-District both years. Tori is a member of NSHSS and NJHS, Marcus Student Advisory, and the Lewisville ISD Student Leadership Council. Tori is also in the top 20% of her senior class of 736 students.
"Tori is an invaluable leader for our team!" Marcus Softball Coach Christy Tumilty said. "Her softball knowledge, amazing softball skills, and overall athleticism are attributed to her leadership skills. However, it is her example of discipline and dedication to always working to be her very best that allows her to naturally rise to be the leader of her team. What makes me proud of Tori is when community members and area coaches talk about Tori and how they see she is a great person and a wonderful example for younger athletes. Tori is a model student who excels in all of her high-level classes and she has always been able to manage her time so she can be successful in the classroom and on the field."
SCHEELS MIDDLE SCHOOL ATHLETE OF THE WEEK
Emerson Ortmeier is an eighth-grade volleyball player at Briarhill Middle School. Emerson is the first server to start the game, the setter that leads the offense, and the most consistent power hitter, according to her coaches. Emerson's attacks for the season are at 90%. Emerson has also played basketball, cross country, track and soccer.
"Emerson is the most positive and hard-working athlete that I have coached," Briarhill coach Julie Benson said. "Emerson is the epitome of what a coach would want on their team. She respects her coaches, makes her teammates better by encouraging them, and her work ethic is top-notch. Outside of volleyball, she is an amazing friend who never has a negative thing to say about anyone. She is the most deserving of this award and represents Briarhill and everything that I could possibly want in an athlete!"
SCHEELS ELEMENTARY SCHOOL ATHLETE OF THE WEEK
Cohen Bynum is a fourth grader at Flower Mound Elementary who loves to play every sport. Cohen has played football, baseball, soccer and basketball outside of school. Cohen is a huge Arkansas Razorbacks fan and loves to watch all their games on TV. He's also really involved with helping his sister, Alivia, work on her gymnastics routines and is always so proud of her accomplishments.
"Cohen is the most caring, kind-hearted and hardworking student I know," Flower Mound Elementary coach Anne Rogers said. "Every time he steps into the gym, he has an infectious attitude that uplifts everyone in the room. He follows directions, goes above and beyond to show what he's learned about being a good sport, and is a role model and leader to others without having to be asked. Any coach would feel beyond proud to have Cohen as a part of their team, as he never gives up and always shows a good attitude, no matter the result of the game."
---
From the beginning, Lewisville Independent School District has committed to ensuring all students—your children—have the resources they need and want to ultimately thrive in a future they create. Follow Lewisville ISD on Facebook, Instagram and Twitter to see more student experiences throughout the school year or visit Best Schools in Texas for more information about joining the LISD family.