Return to Headlines
LISD Profile: Flower Mound High School Chemistry Teacher Leslie Gibson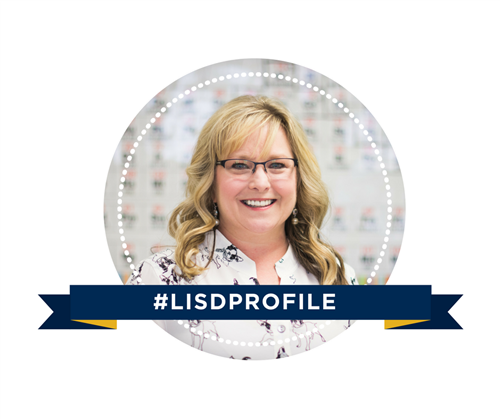 April 21, 2017

Read our latest profile about Flower Mound High School (FMHS) Chemistry Teacher Leslie Gibson, who discusses what she loves to do during her free time and the benefit of building relationships with students to further engage their learning.
Lewisville ISD (LISD): What do you do for our district?


Leslie Gibson (LG): For the last eight years, I've taught Gifted and Talented and Pre-Advanced Placement Chemistry at FMHS. I am set to teach Advanced Placement Chemistry next school year. In addition, I serve as the Gifted and Talented Campus Facilitator.
LISD: What is your favorite thing about being a part of LISD?

LG: I love how LISD gives me the freedom to take risks, experiment with new teaching strategies and think creatively about how to best motivate my students to be curious and competent.
LISD: Growing up, was there an educator who specifically impacted your life?

LG: I knew I wanted to teach from the time I was a little girl. I believe it was because my teachers kept me inspired and often created special projects for me to do to keep me engaged. My high school Algebra teacher Janice Wilson was very special to me. She was patient beyond measure, encouraging me to believe in myself and she treated each person with respect.
LISD: If you could be any storybook character, who would you be?

LG: I would be Madeleine, the little French girl in the Parisian boarding school. I love her tenacity as the smallest but bravest of the students. She speaks a lovely language and lives in a beautiful city. Her life of endless learning and adventure mirrors my own heart's desire.
LISD: What do you enjoy doing in your spare time?

LG: I am a voracious reader and memoirs are my current favorite genre. I love news, current world affairs and documentaries that help me make sense of complicated situations. I am a self-taught interior designer, junker and antique hound. I enjoy refinishing furniture and decorating for each season of the year. I spend lots of time with my family members who are also my best friends.
LISD: What is one thing that most would not know about you?

LG: I love kids, especially toddlers. They exhibit a curiosity and an innocence that is enviable. I find them endlessly entertaining and they remind me to stop and smell the roses.
LISD: What has been your greatest success or favorite moment since entering the education field?

LG: I am proudest of my relationships with my students. I work hard to listen to them and pick up on what each one is engaged in and passionate about. I work with gifted and talented students who have special social and emotional issues. One student's abilities made it particularly difficult for him to adapt to the classroom. Over time, I was able to connect with him and four years later he still contacts and visits me regularly.

Stay tuned for our next profile, published on LISD.net every week. See all profiles here. #LISDprofile