Return to Headlines
LISD Profile: LISD's Elementary Curriculum and Programs Director Adrienne Gall
April 7, 2017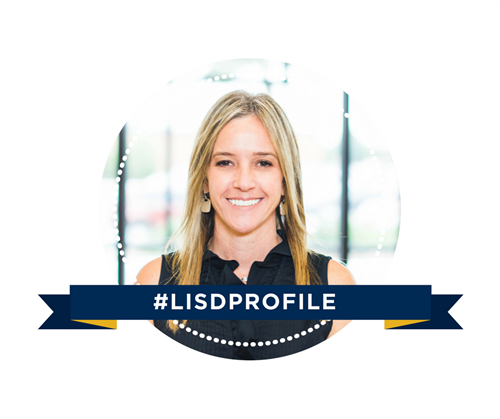 Read our latest profile about Lewisville ISD's Elementary Curriculum and Programs Director Adrienne Gall, who discusses what she loves to do during her free time and learn more about her journey from teaching students to enhancing LISD's elementary curriculum.
Lewisville ISD (LISD): What do you do for our district?

Adrienne Gall (AG): I have the privilege of serving the district in my role as Director of Elementary Curriculum and Programs. Our team includes leaders who support teachers and students in each content area as well as programs such as Gifted and Talented, Bilingual/English as a Second Language, Dyslexia, Early Childhood and Outdoor Learning. We strive to develop and enhance the curriculum and instructional experiences by working with campus administrators and teachers to create a strong environment for learning.
LISD: What is your favorite thing about being a part of LISD?

AG: I most enjoy being a part of LISD due to the people we get to interact with every day. From the campus leaders who take so much pride in what they do, to the teachers who work countless hours to create engaging experiences for our students, it is a joy to support the most important people who make LISD successful. As a former campus principal, I also love any time I get to interact with the students to hear about their achievements and talk about their learning.
LISD: Growing up, was there an educator who specifically impacted your life?

AG: I grew up in a very small town in Oklahoma and had the opportunity to be around the same teachers for the majority of my schooling years and many left an impression on me. However, I was significantly impacted by coaches in my life including my soccer and basketball coaches, all of whom modeled a strong work ethic, drive, passion and helped me to see my leadership potential. But ultimately, the best teachers in my life were my parents who taught me that I could do anything I set my mind to if I was willing to work hard enough.
LISD: If you could be any storybook character, who would you be?

AG: I have fond memories of the book "Summer of the Monkeys" by Wilson Rawls. Who wouldn't want to be Jay Berry Lee running around the Oklahoma river bottoms in the summer to catch a bunch of lost circus monkeys for a cash reward!
LISD: What do you enjoy doing in your spare time?


AG: My husband, John, and I spend most of our time attending soccer games for our very busy boys ages 13 and 10. I also love down time with my family, watching movies, going to sporting events, running, the beach and a nice cup of coffee!
LISD: What is one thing that most would not know about you?

AG: That a love for soccer gave me the opportunity to meet my Welsh husband while we were both playing at Oklahoma City University, we were married at the OCU chapel in 1999.
LISD: What has been your greatest success or favorite moment since entering the education field?


AG: One of my favorite moments in my career occurred many years ago while teaching 5th grade students in Irving. I had a reluctant student take a risk and submit an essay for a contest that included meeting Nolan Ryan. She couldn't believe it when she found out she had actually won! And she flew with me on an airplane for her very first time in order to meet him, take pictures, fish, ride horses and get his autograph. It's moments like these that offer unforgettable experiences.
Stay tuned for our next profile, published on
LISD.net
every week. See all profiles
here
. #LISDprofile