Return to Headlines
LISD Alumni Profile: Marcus High School Graduate Dawn Wallace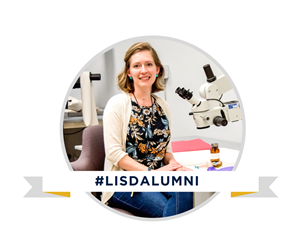 March 29, 2017
This week, we caught up with
Marcus High School
graduate Dawn Wallace, finding out what she has been up to since high school and her journey to a career in art conservation. Read more to learn about her recent project -- preserving Dorthy's Ruby Slippers from the 1939 film "The Wizard of Oz."
Lewisville ISD (LISD): What have you been up to since you graduated from Marcus High School (MHS)?
Dawn Wallace (DW): After graduating, I attended Austin College in Sherman, Texas, where I received a double major in Art and Classics. My interests in art and history led me to spending my junior year abroad in Florence, Italy, where I was introduced to Art Conservation. Needless to say, I was hooked! The idea of actively working with the artifacts that inspired me fueled my pursuit into the field, and I spent the next 10 years working towards it. I've held internships at the Dallas Museum of Art and the Museum of the North at the University of Alaska, Fairbanks, then headed to east Washington, D.C., for projects at the Smithsonian Institution. I've had the opportunity to work in conservation at the Smithsonian's National Museum of Natural History, National Air and Space Museum, and the Smithsonian American Art Museum. I went to graduate school and completed my Masters in Art, with a Certificate in Art Conservation, from Buffalo State in New York, focusing on object conservation. Since then, I've been at the National Museum of American History working with objects ranging from Alexander Graham Bell's early experimental lab recordings to an early model of Barbie. Recently, we started an exciting project for the preservation and display of Dorthy's Ruby Slippers from the 1939 film "The Wizard of Oz." I will be working on their conservation treatment and collaborating with a team of scientists and curators to determine how to best preserve them.
LISD: What were some of your favorite activities from when you were at MHS?

DW: I had many friends in band, both marching and jazz, and so much of my free time was spent watching them practice and perform. Football games included cheering from the stands during halftime and eating snacks during 3rd quarter. I also was very involved with the Latin club, acting as president my Senior year, and participated in the Junior Classical League (JCL) competitions at the local, state and national levels. I particularly liked the costume competition, delving into the history of the character and creating meaningful and historically accurate costumes.
LISD: What teacher or coach had the biggest impact on you as a student at MHS?
DW: It would definitely be Magistra, or Ms. Santos. She was my Latin teacher in Latin I my freshman year. I took the class as a starter to languages, not knowing yet what modern language I intended to study. However, after one course, I became hooked and learned the language and prose up through Latin V, then moved onto Ancient Greek in college. I even came back to MHS to substitute for Magistra after college and helped judge for JCL competitions. She taught how a 'dead' language is still alive and well in the modern world, even beautiful in its construction. She taught us not to cut corners, but take pride in ourselves and work towards our goals. Magistra enjoyed teaching students to search and understand the reason behind the language and syntax, not just the face value translation, and I carried that with me.
LISD: What words of wisdom or encouragement do you have for high school students at MHS and/or across LISD?
DW: I encourage them to expand their studies outside their major interests and understand how they can influence each other. Some of the most interesting classes in college were not within my majors and I still use them in my work today. I also feel that accomplishment is built off perseverance, flexibility and a good measure of fun and attitude. It wasn't until after college I started working towards conservation and it included many evening organic chemistry classes, internships, set backs and triumphs.
LISD: Where do you hope to be in five years?
DW: Where I am right now, conserving amazing objects and preserving their stories so that future generations may enjoy them. I spent many years working towards this goal, and I look forward to the constant surprises and opportunities art conservation brings.
Stay tuned for our next #LISDalumni profile published on
LISD.net
.