Return to Headlines
LISD Profile: Timber Creek Elementary Principal Amy Acosta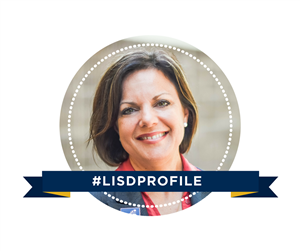 March 3, 2017

Lewisville ISD had the opportunity to sit down with first-year Timber Creek Elementary Principal Amy Acosta to learn her favorite things about LISD; what she enjoys doing in her spare time; and something some may not know about her. Acosta has worked in the education for 22 years – 13 in LISD.
LISD: What is your favorite thing about being a part of LISD?
Amy Acosta (AA): I love being a part of a district that recognizes individual student needs and maintains focus on student success as the center of every decision. LISD believes in building capacity among staff and fostering leadership qualities in our students.

LISD: Growing up, was there an educator who specifically impacted your life?
AA: My high school English teacher always pushed us to go beyond where we thought our limitations were. She was encouraging to us and made us feel like superstars every day. Even when the work was difficult, she had a way of communicating corrective feedback in a way that made us appreciate the opportunity to make our best work even better.
LISD: If you could be any storybook character, who would you be?
AA: Snow White has always been one of my favorites. My mom made me a Snow White costume when I was in second grade. As for the why, Snow White spread joy wherever she went, and she made the heavy lifting seem light, thanks to her positivity and appreciation for each individual on her "team." I am definitely a far cry from all of Snow White's loveliness, and I don't even know how to whistle. However, I do think there is great value in a positive mindset, and I believe in contagious enthusiasm.
LISD: What do you enjoy doing in your spare time?
AA: I love hanging out with my children, whether it's watching a movie, going around town, or my personal favorite, just talking! This year, I have gotten back to nutrition and physical fitness as priorities in my life. I am eating healthy, exercising and making progress in my personal fitness goals. My family has been great about trying out new recipes, and my kids even exercise with me from time to time!

LISD: What is one thing that most would not know about you?
AA: When I was in college, I did custodial work during the summers. It was hard work, but I enjoyed all the people I met, and it has given me such an appreciation for all that our campus custodians do to keep our buildings clean and sparkling every day. Every job on our campus is important; none are more important than the rest.

LISD: What has been your greatest success or favorite moment since entering the education field?
AA: I find it impossible to narrow this down to one moment. What I like best about my job in education are the relationships that grow from interacting with students, teachers, parents and community members every day.
Learn more about Acosta here.