Return to Headlines
LISD Alumni Profile: Lewisville High School Graduate Joshua Johnson
Feb. 22, 2017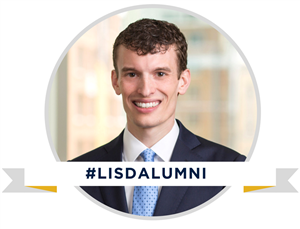 This month, we caught up with Lewisville High School graduate Joshua Johnson, finding out what he has been up to since graduating high school and becoming an attorney in Washington D.C.
Lewisville ISD (LISD): What have you been up to since you graduated from Lewisville High School?
Joshua Johnson (JJ): I obtained my B.A. and J.D. from Yale University. After graduating from law school, I did three different one-year clerkships with federal judges. In the clerkships, I assisted the judges in preparing for oral argument and in drafting decisions. My final clerkship was with Justice Ruth Bader Ginsburg on the U.S. Supreme Court. Before my clerkship with Justice Ginsburg, I worked for a year in the U.S. Department of Justice's Criminal Appellate Section, where I had the opportunity to argue several cases in the U.S. courts of appeals. I am currently a Senior Associate in the appellate practice group of Vinson & Elkins LLP. I work in V&E's Washington D.C. office. Most importantly, I married fellow LISD-alum Jillian McMahon in 2011. We live with our new puppy, Peach, in Alexandria, Va.
LISD: What were some of your favorite activities from when you were at LHS?
JJ: I loved speech, debate, and mock trial. Ms. Squibb and Ms. Massengale have built and maintained a tremendous debate program. I was very fortunate to be able to participate in it.
LISD: What teacher or coach had the biggest impact on you as a student at LHS?
JJ: Ms. Squibb and Ms. Cooke (who I believe is now retired) both had an enormous impact on me. As a lawyer, my job is to communicate a position as effectively and persuasively as possible, and they taught me how to do that, both orally and in writing. They provided me with the foundation I needed to succeed in school and in my career, and even more importantly, they showed by example, the importance of intellectual curiosity to a rich and fulfilling life.
LISD: What words of wisdom or encouragement do you have for high school students at LHS and/or across LISD?
JJ: It takes a village. I have been fortunate to have many incredible mentors in my life. I was able to attend Yale because I had teachers at LHS who encouraged me to apply there and were willing to take the time to write letters of recommendation for me. Similarly, I would not have gotten into Yale Law School without the support and encouragement of professors and people I had worked for during summer internships. And, I would not have had the amazing opportunity to work with Justice Ginsburg if I did not have the support and guidance of law-school professors and of the district court and court of appeals judges for whom I clerked. Developing mentors is key to achieving your goals.
LISD: Where do you hope to be in five years?
JJ: I hope to be practicing law and enjoying life with my lovely wife!
Stay tuned for next month's #LISDalumni profile published on
LISD.net
.