Return to Headlines
LISD Profile: Briarhill Middle School Librarian Trela Weesner
Feb. 10, 2017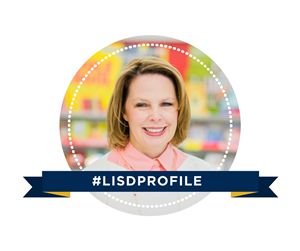 Read our latest profile about Briarhill Middle School's Library Media Specialist Trela Weesner, who discusses her favorite thing about Lewisville ISD; what she enjoys doing in her spare time; and something most would not know about her. Weesner has worked for LISD for the past 12 years; three years as a second-grade teacher and eight years as a Library Media Specialist.
Lewisville ISD (LISD): What is your favorite thing about being a part of Lewisville ISD?
Trela Weesner (TW): My favorite thing about being a part of LISD is that I am not only allowed, but I'm encouraged to take risks to create innovative programs that engage students.

LISD: Growing up, was there an educator who specifically impacted your life

TW: There were several educators who impacted my life. My kindergarten teacher was probably the one who impacted my life the most. She was patient, understanding, encouraging and firm when she needed to be. Her name was Mrs. Thomas, but I called her mother. She was my mom.

LISD: If you could be any storybook character, who would you be?

TW: If I could be any storybook character, I would be Mary Poppins. She is absolutely AMAZING! She puts everyone at ease, never gets frazzled and always has a solution to the problem. She is "practically perfect in every way."

LISD: What do you enjoy doing in your spare time?

TW: I enjoy spending time with my family, reading and traveling.
LISD: What is one thing that most would not know about you?
TW: When I was younger, I had a severe speech impediment. I spent seven years in speech therapy. I loved going to speech class because the therapist made it fun.

LISD: What has been your greatest success or favorite moment since entering the education field?

TW: My greatest success is when I find just the right book for a student who does not enjoy reading. One day I was at a restaurant and a young man asked me if I was the librarian at Briarhill. I told him that I was and that he looked very familiar, but I could not place him. The young man proceeded to tell me how much he enjoyed coming to the library when he was in middle school, and thanked me for turning him into a reader.
Stay tuned for our next profile, published on
LISD.net
every Friday. See all the profiles
here
.
#LISDprofile