Return to Headlines
ACMS Band Breaks School Records with All-District, All-Region Student Participants
Nov. 15, 2016
Arbor Creek band celebrates record-breaking number of students who earned a spot in the all-district and all-region band.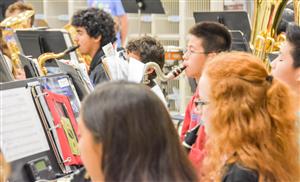 On Monday, Oct. 31,
Arbor Creek Middle School
announced that they had a record-breaking 57 seventh and eighth grade students earn a spot in the all-district band and 54 students earn on a spot in the all-region band, a first in school history and the most out of the 28 middle schools that competed in the region.
"All students, seventh and eighth grade students, compete against each other in these competitions, so it was kind of surprising that we did so well as a group given how young we are this year," Arbor Creek Band Director Rylon Guidry said. "Last year we had a really large eighth grade class, so we weren't sure how we were going to do, but it was a really nice to see these guys show up and play their best and place as well as they did."
Arbor Creek honors band and select symphonic band members auditioned for all-district band where 35% of the 850 students that auditioned were selected. Students from wind symphony, honors, symphonic and concert bands were among the top 25% of 1,400 students from Northwest ISD, Lake Dallas ISD and Denton ISD who competed for a spot in the all-region band.
"The program has always been a really good program, but we've managed to continually increase the amount of all-district and all-region students we have every year, which really shows how hard these kids work," Guidry added. "With them seeing the successes that the students before them have, I think they start with a precedence that they are going to come in and do the same thing, if not exceed all expectations."
With all-district and all-region band being the highest individual honor that a middle school band student can achieve, Arbor Creek students have an understanding amongst themselves that these results, while outstanding, are something to be expected.
"I think that the students know that we, as directors, have really high expectations," Guidry said. "But then again, we are all they know at this age, so we just try to instill in them as soon as they start in sixth grade that whenever we do anything, whether it's practice, rehearsal or competition, that we do it at the highest possible level. We place a lot of individual responsibility on them, so they know that their job is to come to class every day prepared and ready to play as a group."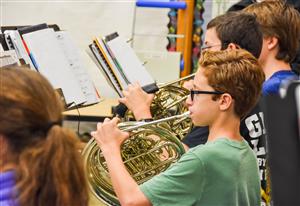 To see more photos of the band rehearsing, visit the Arbor Creek
Facebook page
. The full list of all-district and all-region band members from Arbor Creek is below.
FLUTE
Hailey Dirks: all district, all-region 2nd honor band
Michelle Gonzalez: all-district, all-region 12th wind symphony
Helen Lei: all-district, all-region 11th honor band
Olivia Lester: all-district honor band, all-region wind symphony
Ava Meyer: all-district
OBOE
Amy Baumgardner: all-district, all-region 1st symphonic
Haley Pacheco: all-district honor band, all-region 3rd honor band
Ananya Subramaniam: all-region 2nd symphonic
BASSOON
Skylar Bohlman: all-district honor band, all-region 4th wind symphony
Tatum Gray: all-district, all-region 1st symphonic
Mia Martinez: all-district, all-region 2nd symphonic
CLARINET
Emily Alvarez: all-district honor band, all-region 5th wind symphony
George Cardozo: all-district honor band, all-region 15th honor band
Macey Contreras: all-district, all-region 11th honor band
Samuel Hall: all-district 1st chair honor band, all-region 2nd wind symphony
Allie Harper: all-district
Sarah Hurtado: all-district, all-region 16th symphonic
Ryan Hwang: all-district honor band, all-region 15th concert
Mary Krauss: all-district, all-region 12th concert
Makenna Lechleitner: all-district honor band, all-region 9th honor band
Nicholas Montoya: all-district honor band, all-region 3rd wind symphony
Sean Simpson: all-district, all-region 5th honor band
BASS CLARINET
Kristian Kim: all-district honor band, all-region 1st honor band
Hogan Nguyen: all-district honor band, all-region 3rd wind symphony
ALTO SAX
Jaden Coleman: all-district, all-region 6th concert
Nhat-The Nguyen: all-district honor band, all-region 2nd wind symphony
Abin Thomas: all-district honor band, all-region 6th wind symphony
TENOR SAX
Jason Hamdan: all-district 1st chair honor band, all-region 1st wind symphony
BARI SAX
Aidan Roark: all-district, all-region 2nd wind symphony
TRUMPET
Jacob Alana: all-district honor band, all-region 12th wind symphony
Ricky Boudreau: all-district, all-region 8th concert
Isaiah Escalona: all-district honor band, all-region 2nd wind symphony
Parker Hagen: all-district, all-region 11th honor band
Casey Ivanoff: all-district honor band, all-region 1st wind symphony
Tais Loye: all-district honor band, all-region 4th wind symphony
Eloy Trevino: all-district, all-region 5th honor band
Colton Varvil: all-district, all-region 5th wind symphony
Eema Willis: all-district
HORN
Weslyn Brown: all-district
Logan Calltharp: all-district, all-region 7th honor band
Cody Dorn: all-district, all-region 3rd concert
David Howe: all-district honor band, 7th wind symphony
Connor Ivanoff: all-district
John Kritschgau: all-district honor band, all-region 6th wind symphony
Jackson Staton: all-district honor band, 3rd honor band
TROMBONE
Chance Akin: all-district honor band, all-region 1st honor band
Jackson Baker: all-district, all-region 1st concert
Ian Boggs: all-district, all-region 7th concert
Nicholas Guss: all-district, all-region 7th wind symphony
Alexander Rodriguez: all-region 8th symphonic
Andrew Saltar: all-district honor band
EUPHONIUM
Chase Akin: all-district 1st chair honor band, all-region 1st wind symphony
Ethan Grant: all-district, all-region 6th honor band
Grace McClenaghan: all-district 6th, all-region 6th symphonic
Jackson Rourk: all-district, all-region 2nd concert
TUBA
Grayson Maynard: all-district honor band, all-region 2nd wind symphony
Neel Vavilapalli: all-district, all-region 4th concert
PERCUSSION
Parker Freeburg: all-district
Tyler Kerch: all-district 1st chair honor band, all-region 1st wind symphony
Iris Lee: all-region 6th honor band
Anthony Pipitone: all-region 2nd symphonic