Return to Headlines
LISD Profile: Griffin Middle School Principal Amy Boughton
Check out this week's profile featuring new Griffin Middle School Principal Amy Boughton, where she dishes on her favorite thing about Lewisville ISD and one of her favorite moments since beginning her career in public education.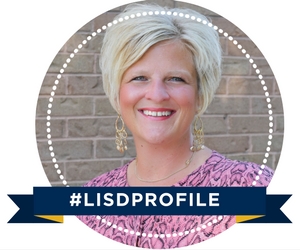 Lewisville ISD (LISD):
What do you do for our district? (job title, responsibilities, LISD alum?)
Amy Boughton (AB): Principal of Griffin Middle School. I am currently in my 10th year in the district. I am an LISD alum, I went to Highland Village Elementary, Milliken Middle School, and I graduated from Marcus High School.
(LISD):
What is your favorite thing about being a part of Lewisville ISD?
(AB): One of my favorite aspects of LISD are all of the professional learning opportunities that we are provided. As a result of those professional learning opportunities, I have been able to collaborate and forge relationships with colleagues across the district. I feel blessed to work for a district that is truly committed to the professional and personal growth of their employees.
(LISD):
Growing up, was there an educator who specifically impacted your life?
(AB): Since I grew up in LISD, I have had countless staff members and teachers who significantly impacted my life. So many of them are the reason that I chose to become an educator. I would like to specifically recognize Rhonda Godbey and Leigh Ann Lewis who were both coaches of mine in high school, and to this day they continue to serve as tremendous mentors to me.
(LISD): If you could be any storybook character, who would you be and why?
(AB): This question automatically makes me think of Mowgli of the Jungle Book. I was obsessed with the story as a child and every night before bed my Dad would ask me " What book do you want me to read?", and The Jungle Book would always be my request. I wanted my life to be a daily adventure, I wanted to run across tree branches chasing fun, and have two awesome furry best friends like Bagheera the panther and Baloo the free spirited bear.
(LISD): What do you enjoy doing in your spare time?
(AB): In my spare time, I love to get in the car and head out to our family cabin in the mountains. I love to hike, ski, snowboard, mountain bike, raft, sit around the fire, and spend time with my family and friends. There is just something about getting away from it all and connecting with nature.
(LISD):
What is one thing that most would not know about you?
(AB): At 21 years old I was diagnosed with Type 1 Diabetes. Type 1 Diabetes (T1D) is an autoimmune disease in which a person's pancreas stops producing insulin, a hormone that enables people to get energy from food. It was very difficult for me to accept as a young adult but now I work very hard to balance nutrition, exercise, and proper blood glucose management techniques with the rest of life's many priorities. As an administrator, I love to talk about it with students who are dealing with the disease and I continue to advocate for the JDRF.
(LISD):
What has been your greatest success or favorite moment since entering the education field?
(AB): I have had so many wonderful moments as an educator, but I would have to say that having a student say to me, "I wouldn't be here today or I wouldn't have made it across this stage without you" has given me the greatest feelings of success. I have been afforded many opportunities in my life because someone believed in me, and I believe it is my job to do the
for our students.
Stay tuned for our next profile, published on
LISD.net
every Friday. See all the profiles
here
. #LISDprofile