Return to Headlines
Arbor Creek Art Class Adds Color to The Colony Animal Shelter
Sept. 14, 2016
ACMS eighth grade art class adds color to the walls of The Colony Animal Shelter with paintings of animals that will be adopted through the shelter.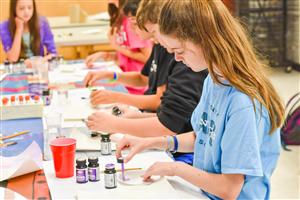 Art students at
Arbor Creek Middle School
(ACMS) recently received a project with a little more appeal than normal – painting cute, cuddly animals. Working with
The Colony Animal Shelter
, student teacher Katy Bleyl assigned each student an animal in need of adoption from the shelter to paint.
"We started by drawing the animals, working on their contour drawing skills," Bleyl said. "Then we practiced shading and identifying tones of color. They are getting practice in all of the skills necessary to create a painting from scratch."
Eighth grade art teacher Charles Brouillette and Bleyl visited the shelter before the project started to identify the needs of the shelter and where their art would be best displayed. They took photos of the animals in need of adoption and took them back to the class to share their animal photo with them.
"They're really excited about it," Bleyl added. "The kids love animals obviously and a lot of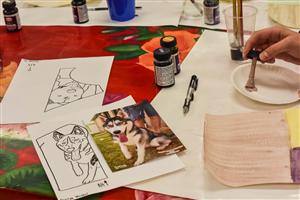 them have actually adopted animals from this shelter, so it all comes full circle for them."
The Colony Animal Services Division Manager Mark Cooper knew the shelter needed some pizazz and jumped on the opportunity when ACMS approached them with the idea.
"We are currently renovating the shelter and knew this project would be the final and most important part of the new look," Cooper said. "Our intention is to help educate proper pet care and animal handling while also teaching the signs of neglect and abuse. As this project hangs in our lobby, we want it to be a daily reminder that we are bettering this city's animal shelter today, so the community can be proud of it for years to come. We are grateful to Arbor Creek for their kind gift."
Once the students are finished with their individual paintings, each of their masterpieces will be added to a large canvas to create two large collages.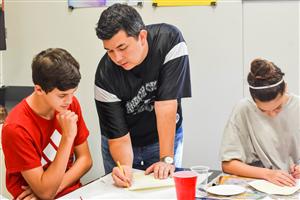 For eighth grade student Ellie Haught, art is an outlet, and looking at cute dogs and cats for this specific project brightens her day.
"I love being able to express my feelings through art," Haught said. "I like being able to collaborate with my friends when we are being creative, and so doing all of this for a good cause, encouraging people to adopt animals, makes us really feel good."
To see more photos of the students working on this project, go to the ACMS
Facebook page
.