Return to Headlines
LISD Profile: Executive Director of Facility Services & Construction Jason Hughes
Aug. 26, 2016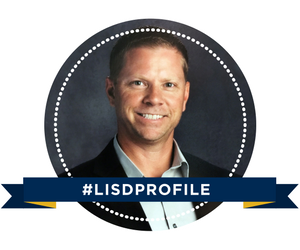 To give thanks to the team who works tirelessly throughout the summer to make sure our schools are ready for students when the first day of school rolls around, we are kicking off the 2016-17 LISD Profile series with Executive Director of Facility Services and Construction Jason Hughes.
Lewisville ISD (LISD): What do you do for our district?
Jason Hughes (JH): My title is Executive Director of Facility Services & Construction. My primary responsibilities are tied directly to goal number one of the LISD Strategic Design that states to, "Provide all learners with safe, nurturing, inclusive, and flexible learning environments." I hope to achieve success in this area using a holistic approach that not only includes construction of new facilities to meet the needs of educators and students but also the maintenance and preservation of those facilities to meet the standards determined by all LISD stakeholders for the life of the facility. Facility Services & Construction consists of many departments and areas of specialization that make this possible including three maintenance zones, grounds and irrigation, distribution and warehousing, service call center, special projects, construction, night painting crew, indoor air quality, integrated pest management, energy management, utilities, and rentals.

LISD: What is your favorite thing about being a part of Lewisville ISD?
JH: My favorite thing about being a part of LISD is being a part of something that I believe really matters and makes a difference. I believe that public education is honorable work and I get to play a role in so many children's educational experience including my own here in LISD. Over a decade ago at one of my first conferences I overheard a long time maintenance director say that what his department did may not make students' success go up but that it could certainly make it go down. This statement has always stayed with me and helped me understand the importance of the work that my staff does everyday.

LISD: Growing up, was there an educator who specifically impacted your life?
JH: Of course! My high school art teacher, Mrs. Claudine Ripley, was that educator for me. She genuinely cared for me and my future and encouraged me into roles that I would never have chosen for myself. For example, becoming the National Art Honor Society president was one of the furthest thoughts from this introverted teenager's mind who had a deathly fear of public speaking... She poured so much encouragement into me that I seriously thought I could be the Michael Angelo of the modern era, (lol come to find out I wasn't quite that good) but it was this confidence that she built in me that made me want to pursue art/drawing in college and that ultimately led me into architecture.
LISD: If you could be any storybook character, who would you be and why?
JH: I was going to get philosophical here but I think I'll just go with Legolas from Lord of the Rings. He's just a cool character… immortal, one with nature, a man of few (carefully chosen) words, and his skills with a bow are "on point" as my son would say…
LISD: What do you enjoy doing in your spare time?

JH: I love anything outdoors, especially; hunting, camping, mountain biking, and golf. I like working on my house and doing home improvement projects and I'm also kind of a geek and like computers, video games, and drones.
LISD: What is one thing that most would not know about you?

JH: I'm from a small town in North Texas and married my high school sweetheart, Jennifer, who works for Communities in Schools at DeLay Middle School. We have a senior, Caleb, at Flower Mound High School and an 8th Grader, Coby, at McKamy Middle School.
LISD: What has been your greatest success or favorite moment since entering the education field?

JH: My greatest successes are the relationships that I have been blessed with through LISD. I have met so many wonderful and talented people who care for others as much as, or more, than themselves. That is good company to be associated with in my book.
Stay tuned for our next profile, published on
LISD.net
every Friday morning. See all of the
LISD profiles
.
#LISDprofile