Return to Headlines
NOW UNTIL 3/10 - 2019 ACMS YEARBOOK Order Online for EARLY BIRD Price $50
Hello Arbor Creek MS Families!
The Yearbook Staff is running an early bird special, the yearbook is only $40 but only until December 4th. Also, there are new features this year, you can personalize the cover with name and icon. Take advantage of this awesome deal because this year at ACMS only happens once!
Ordering the ACMS Yearbook is easy, click link
www.balfour.com
, type Arbor Creek Middle School in the top search bar and choose the 2019 Yearbook. You will have the option for 3 line name stamps & up to 4 icons.
An additional note to the 8th Grade Families, it's time to start thinking about your 8th Grade Yearbook Dedication. The dedications are a meaningful way to memorialize the pride you have for your student's accomplishments and growth. More information to follow on how to create your dedication page, but in the meantime take advantage of the early bird special running through December 4th to pre-order your child's yearbook.
Have a great 2018-2019 school year!
Announcements from the Yearbook Staff:
Great new features to personalize your ACMS Yearbook – Name and Icon Stamping!
We saw the stamping in person and it is sharp looking.
8th Grade Dedication Ads are now available on Balfour website! Creating an 8th Grade Dedication Ad for your student is a wonderful way to celebrate their accomplishments and journey before entering high school. Deadline for completing your ad is December 15th.
8th Grade Ad can be purchased at a separate time from purchasing the yearbook

The ad can be created over time, one DOES NOT need to complete ad in one sitting

Balfour makes creating the ad fun & easy

Deadline for creating and completing the ads is December 15th

Attached to this email is a pdf of the instructions for creating the ad, in addition here is the link to the Balfour website where you will find more information.
As always, please let us know if you have any questions and remember this 2018-2019 school year at ACMS only happens once!
Sincerely,
ACMS Yearbook Staff &
Jessica Wasiak-Burns
Art & Yearbook Adviser
Arbor Creek Middle School
ACMS Yearbook Staff
How to Name Stamp the Cover:
Once you have clicked the Arbor Creek Middle School Yearbook you will see on the right side of the page a dropdown menu for a lunch selection, please choose the lunch your student has during a 8th-period day.
Directly below that you will see "Name Stamp Line 1" click on that and then a picture of 'the corner of a yearbook' will drop down.
Click on 'the corner of a yearbook' picture and then another dropdown will appear that will allow you to type in a name.
How to stamp an Activity Icon:
Just below the name stamping options is the option to stamp Activity Icons.
Click on the "Activity Icon".
Then click on "Icons" in a blue square and from there you will have the option to choose icons.
Below in a picture of the process and the stamped activity icons options.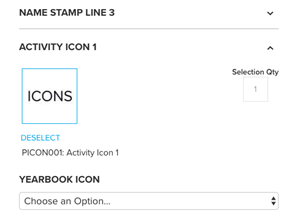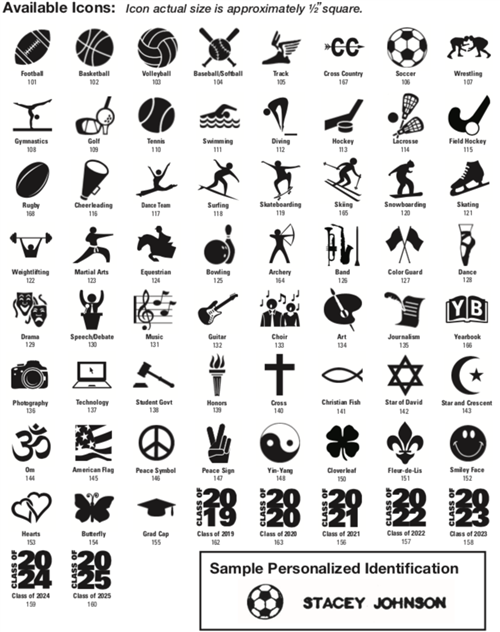 Ordering Is All Online!
Yearbooks can be purchased for $35 on Balfour.com until Sunday, September 30.

September 31st yearbooks can be purchased for $40 on Balfour.com until December 4.

December 5th yearbooks can be purchased for $50 on Balfour.com until March 10.

March 11th yearbooks can be purchased for $60 on Balfour.com until March 15.

After March 15, yearbooks will no longer be for sale.

If extra yearbooks are available upon delivery, extra yearbooks will be for sale for $60. If you would like an ACMS yearbook, order now and do not wait.
Steps for ordering an ACMS yearbook online:
Type in "Arbor Creek Middle School"

Select our school

Click on "Yearbook"

Scroll down to the section labeled "Individual Yearbook Items"

Select the yearbook (priced at $35 until the Sunday, September 30th)

Type in your student's first and last name, grade, and LUNCH

Select the desired quantity of yearbook(s)

Click "Add to Cart"

Click "Proceed to Checkout"

In order to checkout, either create a Balfour account or proceed as a guest

Complete the billing address

Complete the shipping address

Complete the shipping method

Complete the payment method

Place the order

Congratulations! You are now finished ordering your yearbook.
If you have any questions or need additional clarification, please email Ms. Wasiak-burns, the yearbook adviser, at Wasiak-burnsJ@lisd.net. Thank you for your support of the ACMS yearbook program.