Return to Headlines
When you volunteer to be a part of Watch D.O.G.S. (Dads of Great Students), you'll be helping all the students and families at Stewart's Creek Elementary. Here's what to expect when you sign up to volunteer, and the guidelines and rules to make your experience a success.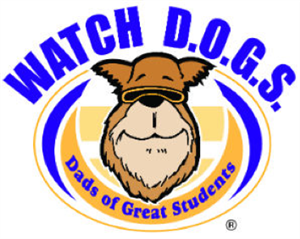 ---
Typical duties include:
Monitoring the school entrance
Loading and unloading buses or cars
Supervising the lunchroom
Helping in your child's classroom
Reading with kindergarteners and other kids
Watch D.O.G.S. Volunteer Guidelines:
Arrive at the school early to review your daily schedule (7:15 a.m.)
Please wear your Watch D.O.G.S. t-shirt while you're volunteering. You will purchase this at the Watch D.O.G.S. online store ahead of time. You will also purchase a t-shirt for your child/children.
Be Approachable – smile, talk to students and listen.
Be Smart – follow the school's policy on conduct & behavior
Be Alert – report situations to the Principal
Be Available – for the students, teachers, and the school
Watch D.O.G.S. Volunteer Rules:
Don't use the student restrooms. Always use the faculty/staff restrooms.
Follow school's confidentiality policy in regard to students and staff.
Do not be disruptive when classes are in session.
No profanity.
No tobacco on school grounds.
Do not share religious or political views.
Limit personal use of cell phones and similar devices.
Never engage in any conduct that brings disrespect to you, your student(s), the School, the WATCH D.O.G.S.® Program and/or other volunteers.
---
Make sure to complete a background check on the Lewisville ISD website before you sign up to be a part of Watch D.O.G.S. All adults who volunteer in the building are required to do a yearly background check for safety purposes. You can find this at: https://www.lisd.net/Page/386
PLEASE CONTACT THE WATCH D.O.G.S. COORDINATOR AND COUNSELOR, JAMI BOSLOW, FOR MORE INFORMATION. The direct number to that office is (972) 350-1235.
https://docs.google.com/forms/d/e/1FAIpQLSc4eqKHnI28lPWq09ax4c2nH02T8ZAmhY9N7xbJyf_Wqu47_w/viewform?usp=sf_link