Return to Headlines
LISD Profile: Lewisville High School Alum Cody Linley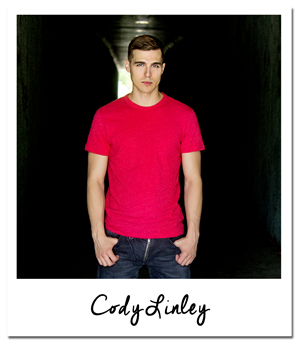 Check out the profile about 2008 Lewisville High School graduate Cody Linley, who is an actor and singer. He played the role of Jake Ryan – the on-again, off-again boyfriend of Miley Cyrus – on Disney Channel's hit television series Hannah Montana and was a contestant on the seventh season of Dancing with the Stars, partnering with Julianne Hough.
Linley made his acting debut in the 1998 made-for-TV film, Still Holding On: The Legend of Cadillac Jack. He has appeared in feature films My Dog Skip, Miss Congeniality, Cheaper by the Dozen and Where the Heart Is, as well as TV series Melissa & Joey and Walker, Texas Ranger. Linley has been a guest on The Ellen DeGeneres Show and Jimmy Kimmel Live!
Linley is the youngest male to ever appear on Dancing with the Stars. In addition to Hough, he partnered with Edyta Śliwińska for two weeks. Linley finished in fourth place. Brooke Burke won his season, which included Kim Kardashian, Lance Bass, Warren Sapp and Toni Braxton.
Linley released his first single, "Breathe," in September of 2010 and his debut album, "The Definition of Music", in 2012.
Linley took acting classes from his mother, Cathy Martin Sullivan, along with Selena Gomez and Demi Lovato.
Lewisville ISD (LISD): What are you up to these days?
Cody Linley (CL): This year has been awesome so far. I'm in London right now doing a little publicity for a film I finished earlier this year for SyFy. It's called Sharknado: The 4th Awakens, which is an over-the-top thrill ride. I play the role of Matt Shepard and it was a hoot to film. I got to do lots of stunts and green-screen work, so I hope folks get a chance to watch it.
LISD: What has been the greatest achievement in your professional career thus far?
CL: I believe my greatest achievement has been making a difference in other people's lives. I've continued to have fans tell me that I inspire them to follow their dreams, give them hope and was a big part of their childhood. Who gets to be that? I mean, it's a blessing.
LISD: What was your favorite thing about being on Hannah Montana?
CL: It was pretty cool to be in front of a live audience and get to do a lot of physical comedy, fight choreography and dancing. Also, the cast and crew was super nice and we all become like a family. It was a safe and supportive space for me to grow up with.
LISD: How would you describe your experience on Dancing with the Stars?
CL: It was transformative. I felt very lucky to work with Julianne Hough and Edyta Śliwińska on Season 7. I had no idea I could pull off some of the dances we did together, but I had great partners who pushed me to new limits. There was a bunch of press and we worked seven days a week for three months straight, so it was also draining.
LISD: Have you ever been starstruck when first meeting a co-star or celebrity? If so, who?
CL: I'd say Julianne, because, even though I've met tons of stars, it was hard for me to keep it together during the first week of working with her – probably because she's so beautiful and we were working so closely on passionate dances.
LISD: What do you miss the most about living in Texas?
CL: I'd say my family, since that is where everybody is for me. I do get to visit them at least twice a year and sometimes they come out to Los Angeles and we relax and hang out together.
LISD: What is something that most would not know about you?
CL: Despite being a Texan, I'm vegan. It can sometimes be challenging when I travel to find great food, but I like to cook as much as I can.
LISD: What do you like to do in your spare time?
CL: I love being active: lifting weights, walking the dogs, long-boarding, etc. I also like to sing and play the guitar. I like gazing at the stars and goofing around with my friends.
LISD: What is one memory or experience you remember most from when you were a student at Lewisville High School?
CL: When I was a senior, before "Battle of the Ax," my friends and I stayed up all night and guarded the ax. It was fun and we got to bond and do some freestyle rapping in the parking lot.
LISD: Is there a specific teacher who made an impact on your life while you were attending LHS?
CL: Coach Grant Wilhite and Sally Squibb – both in 9th grade. From Coach Wilhite, I learned about hard work and teamwork. Not even Michael Jordan won every single game, but you give it your best every time. From Ms. Squibb, I learned to think for myself and respect my own beliefs and those of others.
LISD: What advice would you give to today's students at LHS?
CL: Don't be afraid to be different. When I was in school, I often felt like I was weird or didn't quite fit in, but everybody is unique and embracing that makes you special. I've learned that the only way for me to be successful is to be true to myself and to keep Cody weird.
LISD: What does Farmer Pride mean to you?
CL: It means never giving up and coming together with your family and friends to support those you love with all your heart. I'm proud to be a Farmer and hope to meet the next aspiring actor or director to come out to L.A. and foster their own Farmer Pride.
Stay tuned for our next LISD Profile, published on LISD.net every Friday. #LISDprofile