Return to Headlines
Lewisville ISD Superintendent Receives Excellence in Educational Leadership Award
Dr. Kevin Rogers recognized for contributions to district

September 25, 2019 — Lewisville ISD Superintendent of Schools Dr. Kevin Rogers has been named a recipient of the University Council for Educational Administration's 2019 Excellence in Educational Leadership Award.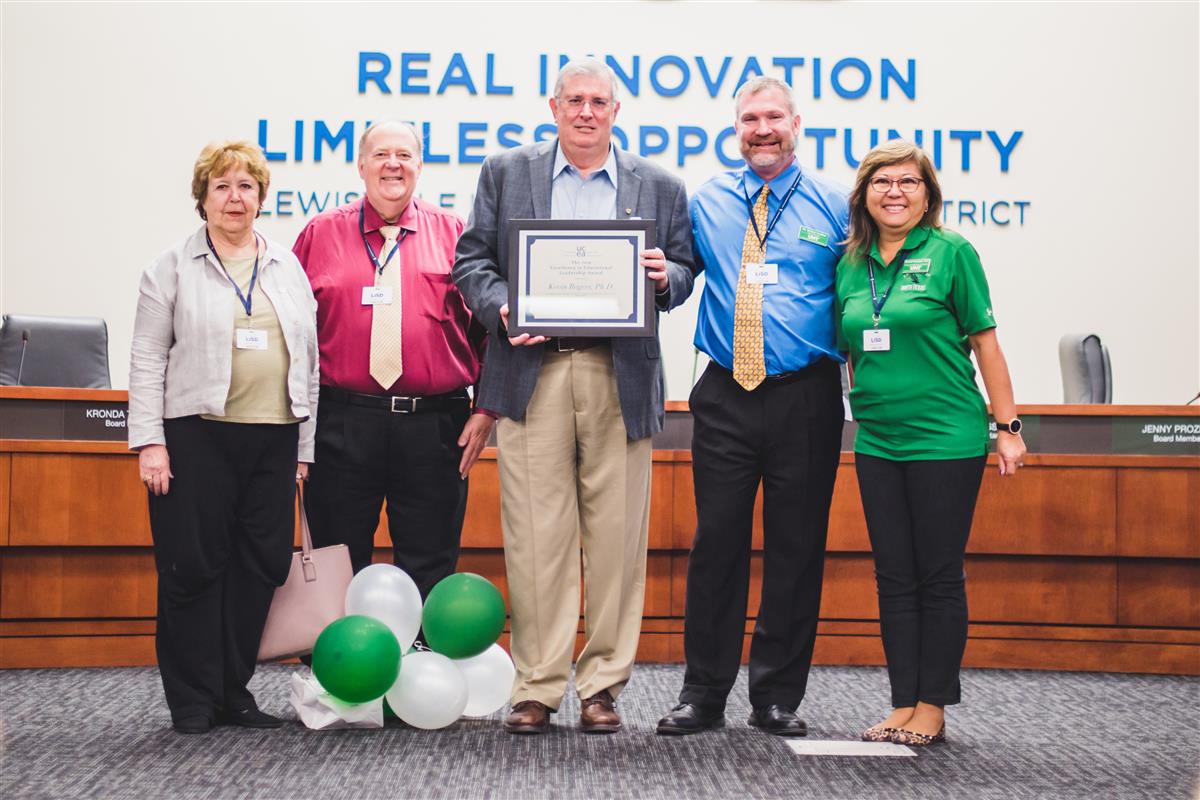 The award is an annual recognition for school administrators who have made significant contributions to the improvement of administrator preparation. The University of North Texas (UNT), a member university of UCEA, nominated Rogers.

Representatives from UNT's College of Education surprised Rogers during his monthly meeting with district and campus leadership. The surprise included a framed award as well as a standing ovation.

"This award is really a recognition of Lewisville ISD's focus on equity in education for all students, and that has been a focus of our Board and administration for several years," Rogers said. "I've been part of the LISD family for 34 years, and I've been proud to witness so many tremendous accomplishments by students and staff during that time. But nothing makes me more proud of our district than our focus on ensuring all students are equipped to thrive in a future they create. I am a proud two-time graduate of UNT, and I appreciate their support of our work."

UNT College of Education Assistant Professor Robert Voelkel shared excerpts from the nominator's submission, shining a light on Rogers' leadership and guidance of more than 6,000 employees and 52,000 students, and included strides LISD has made since Rogers took the helm as superintendent in 2015.

"The Board is thrilled Dr. Rogers was recognized for his leadership of LISD, specifically related to the district's work on educational equity," LISD Board of Trustees President Katherine Sells said. "He is a champion for ALL LISD students, and our students, staff and the communities that comprise our district have greatly benefited from his dedication to LISD."

Under Rogers' leadership, the district launched its Four Cornerstones — Student Learning, Student Experience, Community Engagement, Resource Stewardship — which serve as guiding principles to ensure students thrive in a future they create and also captures Rogers' core values as a leader.

"Of great significance is Dr. Rogers efforts toward equity in his district, and he has been forthright and unwavering, with the understanding that today's educational challenges require complex solutions," his nominator wrote. "His focus on equity through policy and practice is resolute. His equity policy has had systemic impact, such as cultural proficiency, professional development system-wide, and reform efforts in the referral identification and serving of historically underserved populations in the gifted and talented and advanced academic programs."

This year, only 16 recipients nationwide received the esteemed organization's prestigious honor.