Return to Headlines
Lewisville ISD Sept. 9 Board Meeting Recap
Sept. 10, 2019 — The Lewisville Independent School District Board of Trustees met for its regularly scheduled Board meeting Monday, Sept. 9. All LISD Board Meetings are streamed live and archived at lisd.net.
Below are the meeting highlights:

PLEDGE OF ALLEGIANCE


Students from
LISD STEM Academy at Polser Elementary
led the meeting in the Pledge of Allegiance and the Texas Pledge.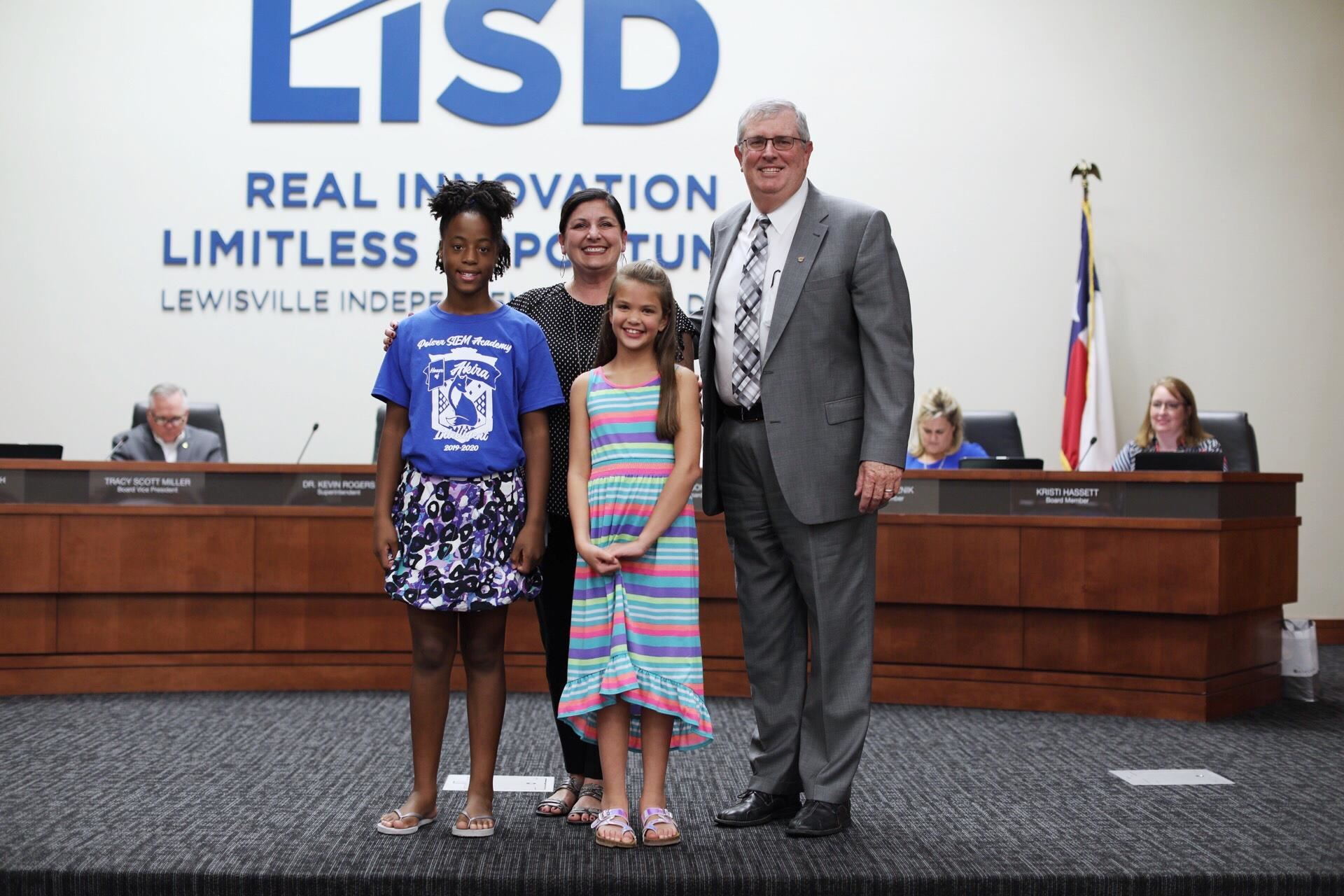 AWARDS & RECOGNITIONS


Donald, Flower Mound, Garden Ridge, Heritage, Indian Creek, and Timber Creek elementary schools and Hedrick Middle School were recognized for being named 2019-2021 National PTA Schools of Excellence.


McKamy Middle School 7th-grader Abhijay Kodali was recognized for being one of the eight co-champions in the 2019 Scripps National Spelling Bee.
The Colony High School's School Resource Officer Omar Montemayor was recognized for being named the 2019 Texas School Resource Officer Association SRO of the Year.

COMMUNITY INPUT
Three community members participate in the community input portion of the meeting, which included the recognition of LHS Killough math teacher Leigh Ann Mitchell for being named the 2019 Tech Titans of the Future - High School Math/Science teacher of the year; and Hebron High School Computer Science teacher Jared Stites was a finalist in the 2019 Tech Titans of the Future - High School Math/Science teacher category.
INFORMATION ITEMS
LISD Executive Director of Career and Technical Education Jason Cooper presented an update about the district's CTE programs.
Details
LISD PE/Health & Specialized Support Administrator Trish Cuckler and External P.E. Monitor Debra McDonald presented the district's External Physical Education program report.
Details
DISCUSSION ITEMS
LISD Chief Financial Officer Mike Ball presented the district's monthly financial, bond and investment reports.
Details
ACTION ITEMS


Approved the District's Improvement Plan.
Details

CONSENT AGENDA
The Board approved the consent agenda. See the agenda
here
.