Return to Headlines
LISD Named Best Community for Music Education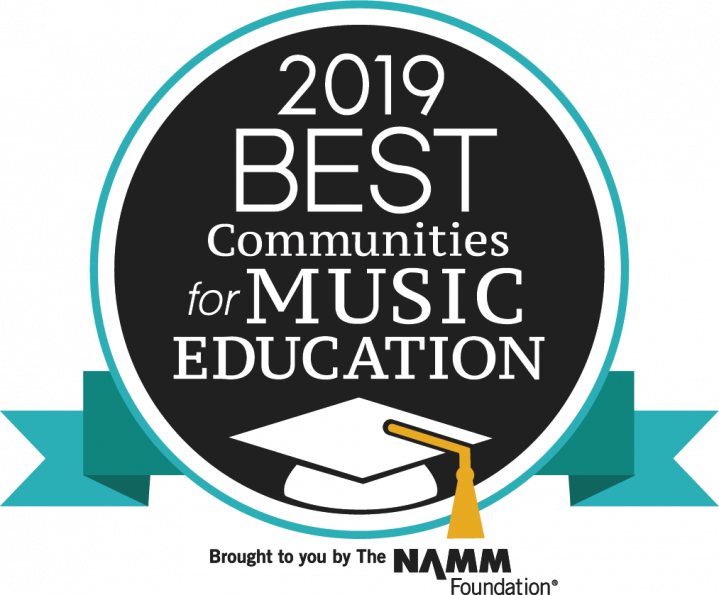 District earns recognition for its continual high-performing music programs.
April 15, 2019 — For the 15th time, Lewisville ISD (LISD) has received a "Best Communities for Music Education" designation by the National Association of Music Merchants (NAMM) Foundation.
"LISD is fortunate to employ a dedicated team of outstanding music educators. All LISD Fine Arts programs provide invaluable learning opportunities and help enhance and enrich the LISD student experience." LISD Director of Fine Arts Amanda Drinkwater said.
LISD joins 623 school districts across the country — 68 in Texas — in earning the national award.
This 'Best Communities for Music Education' designation, awarded by the NAMM Foundation, is awarded to districts that demonstrate outstanding achievement in efforts to provide music education to all students. The award is based upon robust criteria for grade levels K-12, with data provided regarding all aspects of our elementary and secondary vocal and instrumental programs. Scholastic and community-based music performance opportunities are considered along with program engagement, musical achievement, and evidence of district support.
LISD music opportunities include 40 elementary and 50 secondary music programs. Vital support from the district, its schools, and the communities it serves have propelled numerous musical achievements across LISD for many years:

LISD MUSIC PROGRAM ACHIEVEMENTS
Consistent Superior Ratings for a majority of band, choir, and orchestra large ensembles at the annual UIL Concert & Sight Reading Evaluation
TMEA HS Honor Band (HHS, MHS, TCHS)
TMEA HS Invited Choir (FMHS, HHS, MHS)
TMEA MS Honor Band (DeLay MS, Griffin MS, Killian MS, McKamy MS)
TMEA MS Invited Choir (Arbor Creek MS, Briarhill MS)
Appearances by numerous LISD high school and middle school band and orchestra programs at the Midwest Band & Orchestra Clinic
Invited choir performances for the American Choir Directors Association Convention (FMHS, HHS, MHS)
Consistent appearances and finalist placements at the UIL State Marching Band Contest, with LISD marching bands earning the UIL 5A/6A State Marching Band Championship in 2006, 2008, 2010, 2012, 2014, and 2016 (MHS and FMHS)
Multiple band programs awarded with the Sudler Shield and the Sudler Flag by the John Phillip Sousa Foundation
Marching Band appearances at the Rose Bowl Parade (FMHS, TCHS)
Multiple LISD Elementary Honor Choir Performances at TMEA
See the entire list of 2019 Best Communities for Music Education winners here. Learn more about LISD Fine Arts at lisd.net/finearts. Learn more about NAMM here.