Return to Headlines
Forest Vista Elementary Collects for a Cause
Students donate thousands of toys to local hospital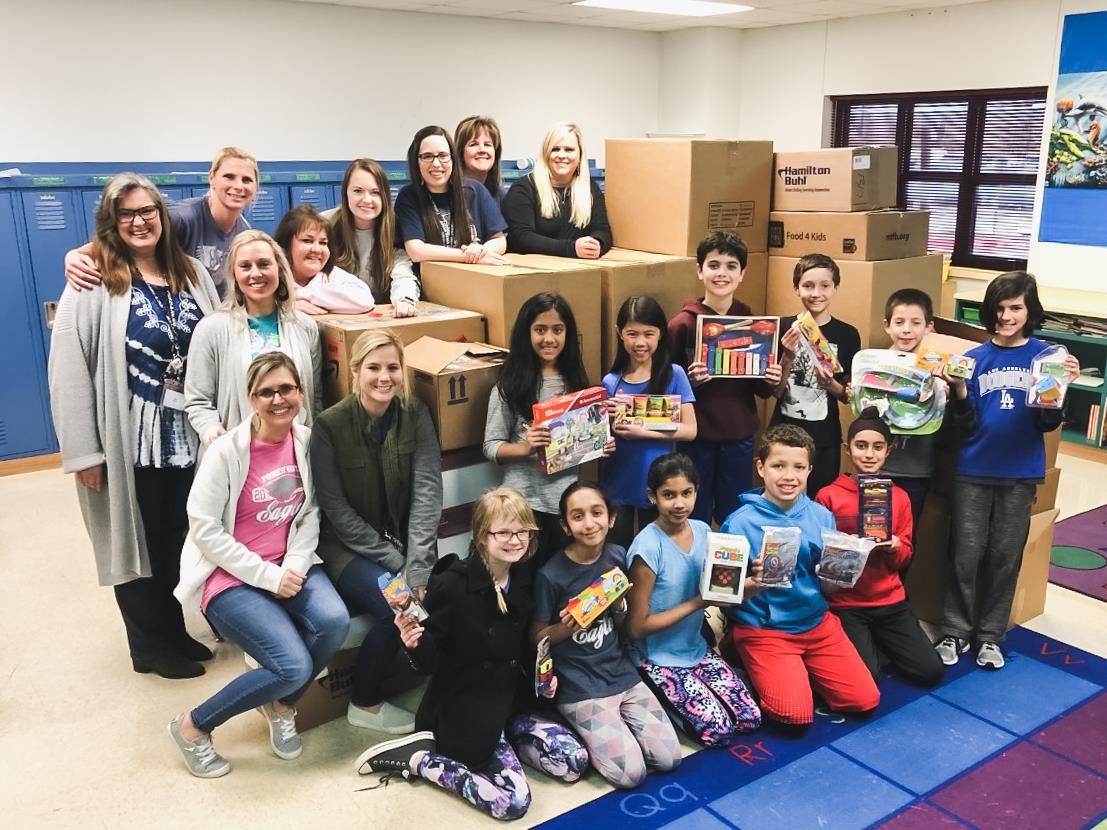 March 8, 2019 — Giving back to others has become a significant part of the culture at Forest Vista Elementary (FVE). Each month, the FVE Student Council holds a Pay It Forward (PIF) Day — the funds raised benefit an organization of the student council's choosing. For one of its fundraisers last school year, FVE raised money for an organization that provided "Sunshine Sacks" for adult cancer patients. Recently, FVE held a similar fundraiser, but this time, students collected toys to benefit Children's Medical Center of Dallas.

FVE Kindergarten teacher and Student Council sponsor Sheila Loftis brought the option of a toy drive to her student council students after her daughter Hailey, a Flower Mound High School alumna and current Lewisville ISD Extended School Day employee, pitched the idea of benefiting the children's hospital. Hailey, who also runs the nonprofit organization, A Sprinkle of Sunshine, helped connect FVE with Children's Medical Center of Dallas.

"The students jumped all over the idea," FVE Assistant Principal Heather Shorter said. "They were really excited to be able to help children out this year. This is something they really connected with, and I think they felt a sense of community helping people who are just like them."

From Jan. 28 through Feb. 1, students and families were invited to donate brand-new, unopened toys, art supplies and non-edible treats. As an incentive, the highest donating class in each grade level would earn an extra recess.

"Our students were so excited about this drive!" Shorter said. "Every morning I stand in the foyer welcoming students before school, and countless students would stop and show me the items their family purchased to donate, tell me about their shopping trips, and update me on their class progress. It was really amazing to see the whole student body excited to help a great cause!"

The 12 student council members worked hard to ensure the fundraiser's success. They created flyers to send home with students prior to the toy drive, created posters to display around the school, appeared on the morning announcements to share information with the student body, and posted and updated progress charts in the cafeteria daily.

"My role in the fundraiser was helping to organize the toys after the collection and count the toys every day so kids at school could see how many toys their class collected during lunch," fifth-grader Jordan Olive said.

By the end of the fundraiser, FVE had collected more than 2,000 toys to donate to Children's Medical Center of Dallas. From Hot Wheels and Play-Doh sets to coloring books and playing cards, FVE students had boxes of toys to hopefully bring a smile to the young patients.

"It was great to be doing this for other kids the same age to only a little older than we are," fifth-grade student and Student Council President Ryan Permetti said.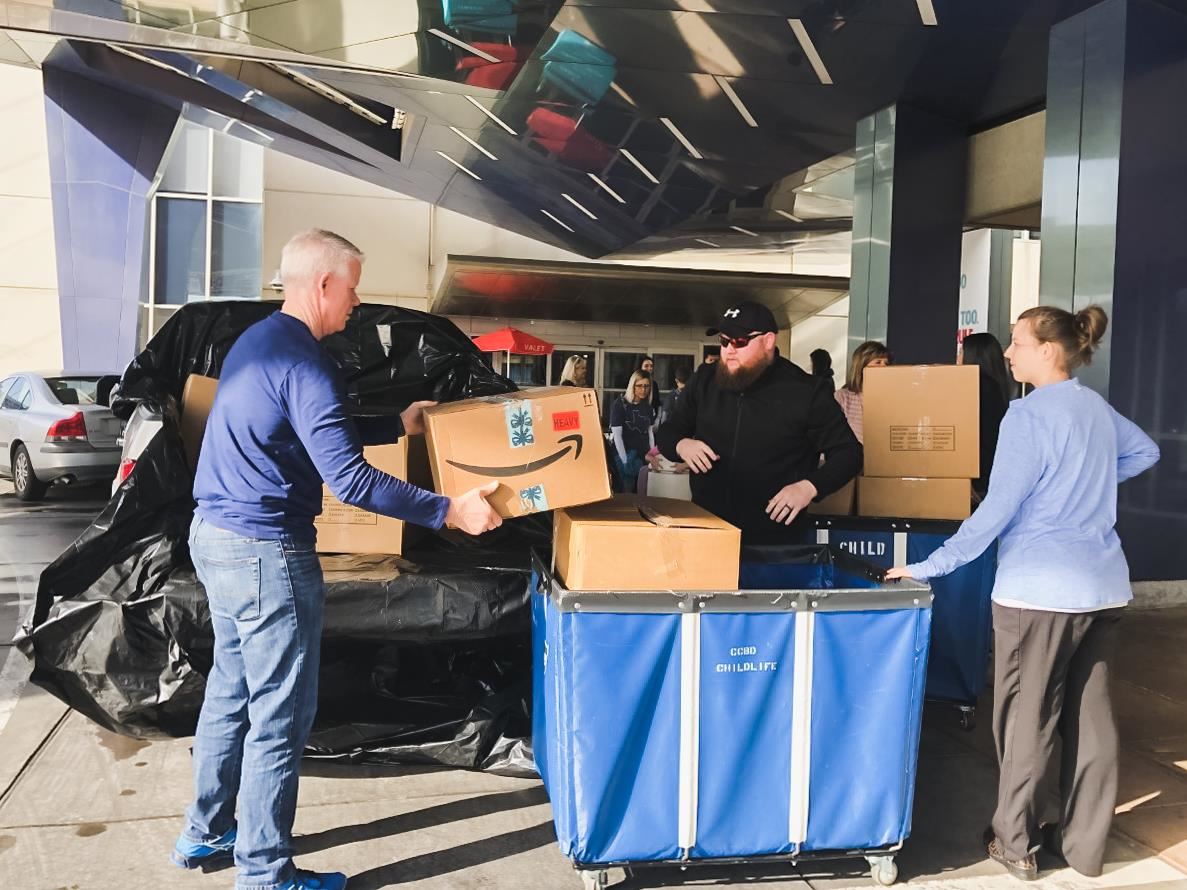 To top it off, Hailey Loftis and A Sprinkle of Sunshine also donated American Girl Dolls and placed an order for Build-A-Bear toys to be delivered at a later date.

On Feb. 23, a group of volunteers loaded up vehicles with toys to be delivered to Children's Medical Center of Dallas. In all, five commercial-sized "wagons" were filled to the top with toys. However, according to Shorter, due to the fragile immune systems of patients, the volunteers could not directly deliver the toys to the children.

"We were able to meet with the Child Life Specialists who was our contact for donations, and we had help from a few nurses who loaded the carts and took the toys to an area for intake," Shorter said.

The donated toys will be given to children as rewards for blood draws, taking medications, completing treatments and more.

"The staff at the children's hospital was very gracious and exceptionally excited about the donations. They were so surprised we had students and teachers deliver the toys personally, too!"

For the FVE students, they were thrilled they could bring a smile to the faces of kids their own age.

"Helping other children made me feel great inside," Olive said. "Knowing that even if they're in the hospital they can still have a great time with the toys Forest Vista has collected for them is pretty cool."

As for Shorter, the toy drive was a testament to the school's culture and community.

"Forest Vista really is a campus that centers all conversations and relationships around respect; as a whole, we constantly discuss respect for self, respect for others, and respect for our community," Shorter said. "This student body has a reputation of being respectful, and I think this is because of the 'we're all part of a bigger picture' attitude our entire staff supports. It's unbelievable how such a commonly-heard sentiment has truly permeated the culture of this campus; it not only makes coming to school each day a positive experience, but it also empowers all the stakeholders to take ownership of their choices, no matter how small."

She added, "When you have parents, teachers, and staff who all firmly believe their personal choices impact the world, it creates kind, empathetic, and socially-aware children who will become great leaders!"