Return to Headlines
Hedrick Elementary Students Making a Difference
Inspired by book, group of third-graders create successful fundraiser for American Red Cross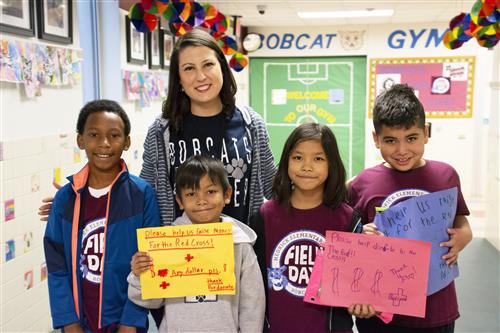 Jan. 25, 2019 – What began as a comprehension and vocabulary lesson turned into a school-wide fundraising campaign – one Hedrick Elementary students can be extremely proud of.
Third-graders in teacher Ashley Dillen's reading group became so moved by the book, "The Red Cross," by Mary Clare Goller, they decided to launch a four-week campaign that resulted in a $334.12 donation to the American Red Cross.
The group – Anthony Muñoz Ayala, Jenevi Per, Denny Sang and Ayden Spivey – worked together, creating posters and crafting messages about the fundraiser for the morning announcements. They wrote a speech they read to all classes – one-by-one – in the entire school. Donations were collected in their pencil bags.
"I am so proud of these students for what they initiated and executed," Dillen said. "Learning about the American Red Cross really inspired them to do more."
American Red Cross Texoma Chapter Executive Director Douglas Crowson, who made a 1-hour plus drive to Hedrick Elementary on Jan. 18 for the check presentation, was also impressed by the students.
"It's remarkable what they did," Crowson said. "It warms my heart and gives me confidence in our future that 8-year olds took the initiative to raise money for a great purpose. It's fantastic to see that type of dedication from young people."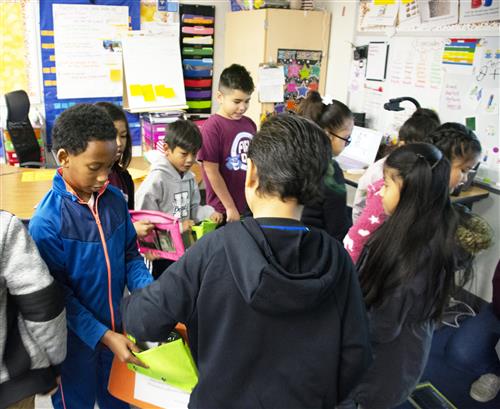 The American Red Cross, founded in 1881, is an organization that helps prevent and alleviate human suffering in the face of emergencies by mobilizing the power of volunteers and the generosity of donors. This was all covered thoroughly in the 20-page Benchmark Education Company book Dillen found in the school's leveled library.
"It feels great to know with our donation, the American Red Cross can buy things like food, water and medicine that will help people survive," Muñoz Ayala said.
Added Sang: "Knowing the money we raised will help so many people makes me happy."
In addition to comprehension and vocabulary, the American Red Cross campaign also served as a great lesson in writing, public speaking, counting money and problem solving. Through the process, the students became more confident in themselves.
"Even though I knew what a great cause it was for, the first time I spoke in front of a class, I was shy," Par said. "After that, I wasn't shy anymore. We all ended up loving it."
It is a group project they will never forget.
"We were able to work together and because of it, people will get things they need during emergencies," Spivey said. "That's an awesome feeling. We will always remember this – and all want to continue to help make a difference."
To see a photo gallery of the fundraiser, click here.