Return to Headlines
Middle Schools Continue LISD Kindness Movement
Campuses inspired by high schools, proudly follow in their footsteps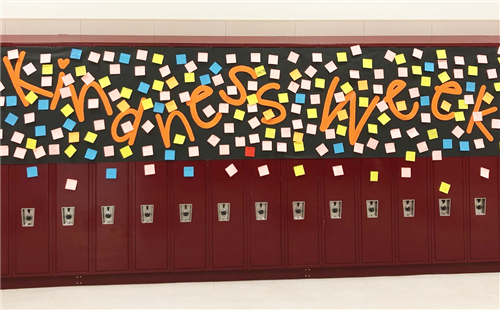 Oct. 9, 2018 — After watching high schools complete an extremely successful "Kindness Week," middle schools in Lewisville ISD were determined to make a mark of their own.
Mission accomplished.
Sept 24-28 saw all 15 LISD middle school campuses – Arbor Creek, Briarhill, Creek Valley, DeLay, Downing, Durham, Forestwood, Griffin, Hedrick, Huffines, Killian, Lakeview, Lamar, McKamy and Shadow Ridge – stand up for what was right, make a difference and ensure everyone felt included.
"I can't express enough how proud I am of all of the middle school campuses coming together to help spread kindness throughout Lewisville ISD," LISD Assistant Chief of Schools Leigh Ann Lewis said. "As the movement continues, students are seeing the magical effects from simple acts of kindness and how they can ignite positivity amongst all students and the entire community."
Following the high schools' lead, middle schools stayed with the same theme days (dressing up in orange, neon, twin clothing, camouflage and sport jerseys) and challenges (greeting everyone at the front door, passing out candy, distributing "pay it forward" compliment cards, playing kindness bingo at lunch and sending daily kindness text messages). The color orange was again visible everywhere – worn by students and staff members alike.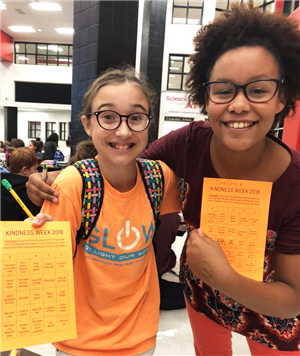 "Kindness Week was fantastic," Lakeview Middle School eighth-grader and Student Council President Jusedes Gutierrez said. "I loved how many students and teachers participated in all the theme days. I'm looking forward to all Lakeview Leopards, as well as all middle school students in LISD, spreading more kindness throughout the year."
Added Huffines Middle School eighth-grader and Student Council President Emily Jackson: "What I liked most about Kindness Week was seeing students going out of their way to be kind to others every single day. I am proud of everyone at Huffines and all the LISD middle schools."
Students also got a boost during the week from Kindness Ambassadors from all five LISD high schools – Flower Mound, Hebron, Lewisville, Marcus and The Colony – who stopped by their former campuses to lend a hand and provide encouragement.
"The high school students made Kindness Week even better because of their positive attitude when they would visit," Gutierrez said.
It is that type of support that is helping create such a strong kindness wave – sparked by the Character Strong program – across all of LISD.
"We are so proud to be a part of a district that unites for a campaign that is founded on kindness," Briarhill Middle School Assistant Principal Leslie Davenport said. "We saw student participation like never before. Students were super inspired by what they saw their high school peers doing earlier in the year and could not wait to jump on board!"
The kindness movement does not look to be stopping at the middle schools, either. LISD's elementary schools have taken note and began putting plans into motion for their own Kindness Week later this fall. So stay tuned.
To see pictures and video from the LISD middle schools' Kindness Week, visit @lisdbekind on Twitter or search the hashtag: #LISDBEKIND.
To read a recap of the LISD high school's Kindness Week, click here.