Return to Headlines
LISD High Schools Spread Kindness Far and Wide
"Kindness Week" creates wave across entire district, continues to make impact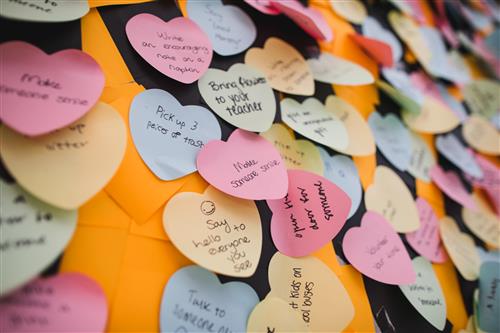 Sept. 5, 2018 — Student ambassadors from all five Lewisville ISD high schools – Flower Mound, Hebron, Lewisville, Marcus and The Colony – were determined to make kindness normal. A group of 50 leaders met this summer and wanted to stand up for what was right, make a difference in their schools and ensure everyone felt included.
Fast-forward to the end of the day on Aug. 24: check, check and check. That was when "LISD Kindness Week" officially concluded.
The school week of Aug. 20-24 was filled with nonstop positive vibes and the color orange – the campaign's official color – everywhere. Kindness Ambassadors energetically greeted fellow students and staff members at the front door each morning, passed out candy, distributed "pay it forward" compliment cards, clipped on positivity clothespins, decorated hallways, orchestrated kindness bingo games at lunch and gave daily kindness text message and social media challenges. Each day also had an official theme that included dressing up in orange, neon, twin clothing, camouflage and sport jerseys.
Evidence of kindness was flowing at all LISD high schools – including the 9th grade and 9th and 10th grade campuses – but those were not the only places. You could find participation of theme days and kindness challenges at middle schools, elementary schools, the LISD Administrative Center and even in the community. District staff members were just as involved as the students.
"Watching the participation of our LISD administrators, school board members, faculty, staff and community members during Kindness Week was inspirational," Lewisville High School Student Activities Director Allison Stamey said. "Knowing these leaders were making a positive impact on all of our children throughout the district made my heart swell with pride. I believe it showed an extremely large audience that LISD truly cares about its students."
Following the initial summer meeting, Kindness Ambassadors met a few more times before the first-ever LISD Kindness Convocation took place on Aug. 7 at Leo C. Stuver Auditorium. Nearly 900 students attended the event that featured Character Strong co-founder Houston Kraft as the keynote speaker. That set the tone for a positive start to the school year on Aug. 15 and eventually Kindness Week. Lives have been changed forever.
"Having the opportunity to participate in LISD Kindness Week was truly an amazing experience," Flower Mound High School Student Body President Justin Chae said. "It was incredible to see the wave of support in our initiative to spread kindness. I was amazed to see students going out of their way to get to know each other and create relationships with people they normally wouldn't talk to."
Added Hebron High School Student Council President Karishma Cordero: "Being able to see kindness implemented throughout the school brought so much joy to so many people. It's amazing how the smallest things, such as saying 'good morning' while opening the door to dressing up for dress-up days, can make such a difference. Everyone could see there was a different vibe in the school. A joyful one."
The Kindness Ambassadors hope to see the initiative continue to show results throughout the school year and beyond. So far, so good. The district's 15 middle schools plan to roll out their own kindness campaign in the near future.
"Since we had such great participation with this campaign, my hope for the future is that all of us, students and educators alike, continue practicing kindness in our schools, homes and life in general," Chae said.
Added Cordero: "I'm truly excited to see what this year will look like. We as a school, district and community are doing something great and it really is making a difference."
To see LISD Kindness Week photos from all 10 high school campuses, click here.
To see social media coverage, visit @lisdbekind on Twitter or search the hashtag: #LISDBEKIND.
To watch a feature that aired on NBC Channel 5, click here.