Return to Headlines
Valley Ridge Elementary = Leader Elementary
Numerous students setting positive examples each day, taking ownership of school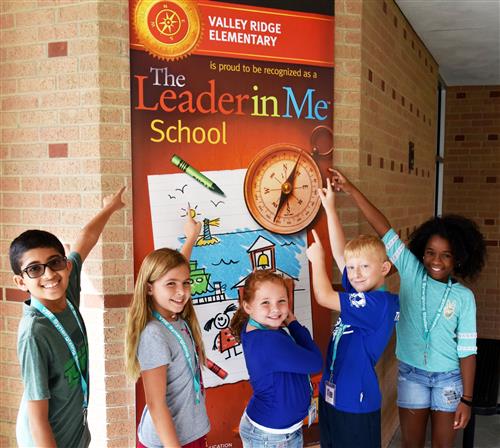 Oct. 19, 2017 – Valley Ridge Elementary could also be called, "Leader Elementary," with the way students are proudly taking ownership of their school and setting positive examples for others.
Each and every school day nearly 250 students take on official leadership roles, including crossing guard, flag patrol, hall monitor, kindergarten helper, mail room worker, morning greeter and safety patrol officer. You can spot them by the leadership lanyards they wear.
The leadership roles stem from Valley Ridge Elementary's The Leader in Me journey, which officially started in June. The program is Dr. Franklin Covey's whole school transformation process that teaches 21st century leadership and life skills to students. It creates a culture of student empowerment based on the idea that every child can be a leader – all by teaching the book, "7 Habits of Highly Effective People".
Valley Ridge Elementary Principal Rachel Garrett has been thoroughly impressed with her student leaders.
"I am so proud of them," Garrett said. "I didn't expect so many students to jump at the opportunity to take on a leadership role and rise to the occasion. They have really taken ownership of their school."
At least one student from every classroom has a "VRE Synergizing Student." To qualify for a leadership role (only one per semester so they can explore a variety of areas throughout the school year), students had to complete an application. The process included selecting a maximum of three roles they believed they could thrive in and then they had to explain why. Once chosen by teachers, students began training for their specific role.
Since then, it has been full steam ahead for the students and they are loving it.
"It's all about helping others and making our school better," said 4th grader Kaiden Diglia, who serves as a morning greeter and can always be seen holding open a front door with a smile. "We want this to continue to be a place where everyone wants to be."
Added 4th grader Ally Litteral, who is a hall monitor: "It's a great responsibility to be in charge of others and show that you're a leader. Plus, it's fun getting to interact with so many students and teachers. I believe these roles will help us down the road not only in school but our entire lives."
Many of the students – especially 5th graders – see great value in grooming future leaders because they will be moving on to Huffines Middle School soon.
"We want to get other students to become leaders," said 5th grader Sajan Murthy, who is in charge of the mail room. "We want to show them what are the right things to do. This program really shows how great our school is."
To follow the VRE Synergizing Student program, follow @ValleyRidgeES on Twitter and search the hashtag #VREjags. To learn more about The Leader in Me, click here.