Return to Headlines
LISD Names Rapp Deputy Superintendent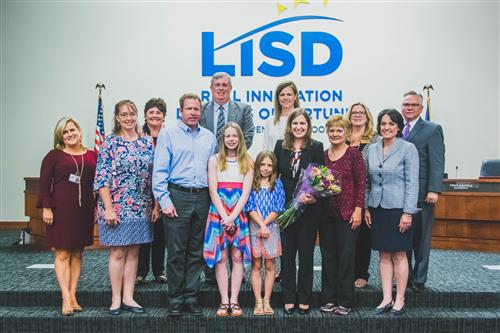 Oct. 17, 2017 - The Lewisville ISD (LISD) Board of Trustees at its Oct. 16 Regular Meeting appointed Dr. Lori Rapp Deputy Superintendent. In addition to her duties as the head of Learning and Teaching, she will provide oversight for Employee Services and Schools and Student Activities.
"There is no person better suited than Dr. Rapp to take on the role of Deputy Superintendent for Lewisville ISD," Superintendent of Schools Dr. Kevin Rogers said. "She is one of my most trusted advisors and is a leader in every sense of the word. Lori has been a driving force behind many of the positive changes we've implemented during my tenure as superintendent. I am exceptionally proud of the innovative work her team is doing in the Learning and Teaching division, and I am confident under her leadership the Employee Services and Schools and Student Activities departments will reach even greater heights."
Dr. Rapp is recognized as a respected educational leader across the district and across the state, noted for not only her deep knowledge of curriculum and instruction, but for her ability to lead change in a collaborative way. She has dedicated her entire career to LISD and the communities the district serves, joining the LISD team as a math teacher at The Colony High School in 1996.
"Lewisville ISD has been my professional home for more than 20 years. The wonderful people who make up this amazing district are my family, and it is humbling and a tremendous honor to have the opportunity to serve LISD as Deputy Superintendent," Rapp said. "I became a teacher because I wanted to inspire students and make a difference in their lives. As a district administrator and now as Deputy Superintendent, my goal is simple – to serve and support our teachers, campus staff and principals in every way possible. I am grateful for the confidence in me the Board and Dr. Rogers have shown, and I look forward to continuing the district's work to ensure every student is prepared to thrive in the future they create."
Before being named Deputy Superintendent, Dr. Rapp served as the district's Chief Learning and Teaching Officer since 2015 overseeing the district's elementary and secondary curriculum and programs, digital learning, professional learning, special education, assessment and accountability and elementary STEM Academies. She also served LISD as Executive Director of Learning Design and Support.
Dr. Rapp received her Bachelor of Arts degree in Mathematics from Texas Tech University. She received her Master of Science in Mathematics from Texas Woman's University and her doctorate degree in Educational Leadership from Dallas Baptist University.
Rapp and her husband live in LISD and are the proud parents of two students in the district.