Return to Headlines
LISD Set for Another Successful 21-Day Challenge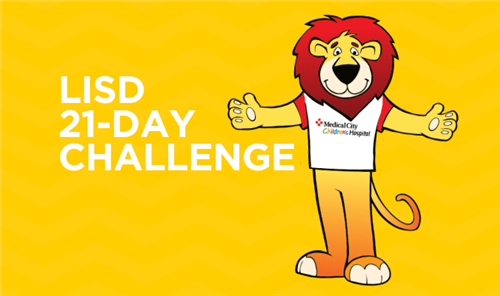 Sept. 18, 2019 — Lewisville ISD (LISD) is participating in the Medical City Children's Hospital 21-Day Challenge for the fifth year in a row. The campaign is set for Oct. 7-27.
The 21-Day Challenge is an opportunity to encourage students to be independently healthy by getting into the kitchen and making their own fruit and veggie snacks.
"LISD is committed to providing a school environment that supports the health and well-being of all our students," PE/Health & Specialized Support Administrator Trish Cuckler said. "The 21-Day Challenge is a wonderful opportunity to start learning about healthier eating by encouraging students to make heathier snack choices."
Soon your child(ren) will receive one of The North Texas Recipe Books, which features recipes created by LISD students from The Colony High School's Culinary Arts Program. One of the covers was designed by Technology, Explorations and Career Center East students.

To sign up your child(ren) for this year's 21-Day Challenge, visit kids-teaching-kids.com/sign-up/ from Sept. 23-Oct. 7. Encourage your child to make and eat healthy snacks for the 21 days of the challenge, as well as save your assigned number with each enrollment.

Students will receive a reward for their participation when all the steps of the 21-Day Challenge, including filling out the final survey (Nov. 11-18), are complete.

Please share your healthy snack selfies and experiences on Twitter. Tag @LewisvilleISD in your photos and use the hashtags #LISD21Day and #ktk21day.

For more information, please visit kids-teaching-kids.com.

21-Day Challenge Dates
Sign-Up: Sept. 23 - Oct. 7
21-Day Challenge: Oct. 7-27
Final Survey: Nov. 11-18


---
Lewisville ISD está listo para otro reto exitoso de 21 días
Sept.18, 2019 - Lewisville ISD (LISD) participa en el Reto de 21 días de Medical City Children's Hospital por quinto año consecutivo. La campaña está programada del 7 al 27 de octubre.
El Reto de 21 días es una oportunidad para alentar a los estudiantes a estar saludables de forma independiente al entrar a la cocina y preparar sus propias meriendas de frutas y verduras.
"LISD se compromete a proporcionar un ambiente escolar que apoye la salud y el bienestar de todos nuestros estudiantes", dijo Trish Cuckler, Administradora de PE/Salud y Apoyo Especializado. "El Reto de 21 días es una oportunidad maravillosa para comenzar a aprender sobre una alimentación más saludable al motivar a los estudiantes a elegir meriendas más saludables".
Pronto sus hijos recibirán uno de los libros de Recetas del Norte de Texas, que presentan recetas creadas por estudiantes de LISD del Programa de Artes Culinarias de la Escuela Preparatoria de The Colony. Una de las portadas fue diseñada por estudiantes de Tecnología, Exploraciones y Carreer Center East.
Para inscribir a su (s) hijo (s) en el Reto de 21 días de este año, visite kids-teaching-kids.com/sign-up/ desde el 23 de septiembre al 7 de octubre. Anime a su hijo a preparar y comer meriendas saludables durante los 21 días del reto, así como guardar su número asignado con cada inscripción.
Los estudiantes recibirán una recompensa por su participación cuando todos los pasos del Reto de 21 días, incluyendo completar la encuesta final (11-18 de noviembre), estén completos.
Comparta sus selfies y experiencias de meriendas saludables en Twitter. Etiquete @LewisvilleISD en sus fotos y use los hashtags #LISD21Day y #ktk21day.
Para más información visite kids-teaching-kids.com.
Fechas del Reto de 21 días
Registro: del 23 de septiembre al 7 de octubre
Reto de 21 días: del 7 al 27 de octubre
Encuesta final: del 11 al 18 de noviembre