Return to Headlines
Bridlewood Bippity Boppity Bee-Bots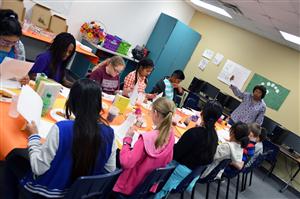 During the week of Dec. 7-11, students across the globe participated in Hour of Code – a global movement to introduce students to the coding world of computer science.
However, second graders in Joy Hutto's class at Bridlewood Elementary took the challenge a littler further by taking what they are learning in class about measurements and math, and applying it to coding a robot.

The task? Students designed a maze and coded a program for Lewisville ISD (LISD)'s Bee-Bots to navigate – a first for Hutto's class, which has been writing code for the last three years. This year, Hutto collaborated with Bridlewood's Librarian Theresa McMurray to take the leap and have students synthesize their understanding on a deeper level.

"We love to try new things that we think have a meaningful learning experience for students—and that can sometimes lead to interesting twists and turns," teacher Joy Hutto said. "But life is like that and we want the students to take risks, so we take risks."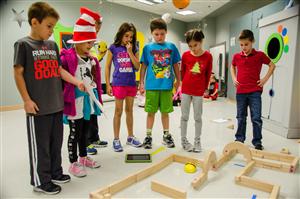 The true test of their ability came when student groups gave the code they wrote to another group to try and successfully navigate the Bee-Bot through their course.
Students mastered the challenge quickly and enjoyed the entire process.
"Knowing to code is hard, but it gets easier once you get the hang of it," 2nd-grader Will Currey said. "I can use measurements to design a maze. I can use an algorithm to navigate the Bee-Bot through the maze, and I can solve a problem within the given limits. This is pretty cool."
Bee-Bot is one of many gadgets from LISD's Library Media Services and Emerging Technologies' Mobile Makerspace – an opportunity for campuses district-wide to checkout technical learning tools to enhance lessons.
The Hour of Code is a global movement reaching tens of millions of students in 180+ countries. Anyone, anywhere can organize an Hour of Code event. To learn more about the initiative, visit hourofcode.com.
See students and Bee-Bot in action here.