Return to Headlines
LISD Celebrates Beginning of The Colony High School Collegiate Academy
Partnership with Collin College provides unique opportunity for high school students to earn associate degree and diploma at same time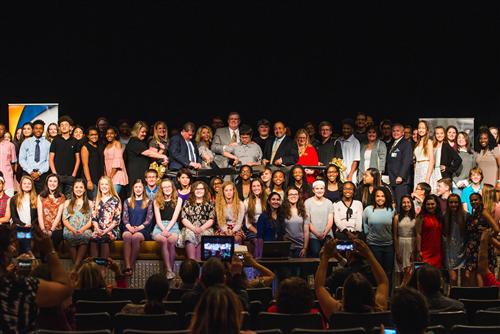 Lewisville ISD has partnered with Collin College to form The Colony High School Collegiate Academy, a program that allows students the opportunity to earn up to an associate degree by taking dual credit throughout high school.
The program celebrated its impending launch with a special gathering on May 10 at TCHS Performing Arts Center. The festivities included speakers from LISD, TCHS and Collin College; a parent meeting; commemorative photos; and a special ribbon cutting with students and committee members to signify the first academy of its kind in the district.
"Lewisville ISD is thrilled to offer this exceptional opportunity for students and their families in The Colony High School feeder pattern," LISD Assistant Superintendent of Strategic Initiatives and Community Engagement Dr. Beth Brockman said. "The community enthusiasm for TCHS Collegiate Academy has far surpassed our expectations for the 2017-2018 school year. We look forward to working with these students, celebrating their successes, and supporting them throughout this academic journey."
Added TCHS Principal Tim Baxter: "We are extremely honored to have the first TCHS Collegiate Academy starting next year. This is going to be a life-changing opportunity for students and families, and we can't wait to get started."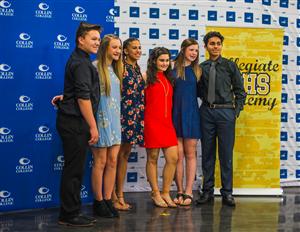 More than 130 students in the 9th grade at TCHS and 8th grade at Griffin Middle School and Lakeview Middle School have applied for and been accepted into TCHS Collegiate Academy. They will have the chance to earn between 36 and the full 60 hours of college credit by high school graduation.
The program, which is in collaboration with the LISD Counseling and Guidance Department, also allows students to take classes at a significant discounted rate. As a bonus, LISD will provide the course books for the inaugural cohort class for all four years.
TCHS Collegiate Academy will provide students with continuous academic support and opportunities to explore several post-secondary options by using the "school-within-a-school" model so they may continue to participate in high school fine arts, athletics and career and technology programs.
At the start of next year, Collin College – regionally accredited by the Southern Association of Colleges and Schools Commissions on Colleges whose credits transfer to multiple four-year universities – will have adjunct professors on TCHS' campus daily.
It is a partnership the college is thrilled to be a part of.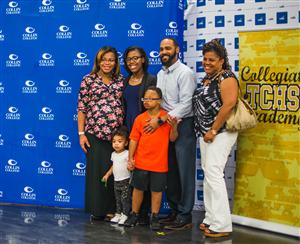 "Collin College is committed to student success, and we are confident this partnership will provide The Colony High School students with strong insight into the higher education experience," Collin College Associate Vice President of K-12 Partnerships Raul Martinez said. "This unique opportunity puts high school students way ahead in terms of testing the waters of a college-level class, earning college credit at an incredible cost savings, all while acquiring the skills and knowledge to navigate the college process. This program puts students first, and we are thrilled to be part of creating college-ready learners."
In addition to classes, students will be provided with frequent guest speakers, college visits, club time during lunch and specific sponsors dedicated to continuing excitement and motivation.
Find more information about the TCHS Collegiate Academy here or email collegiateacademy@lisd.net. You may also follow @TCHSCollegiate on Twitter or search the hashtag: #TCHScollegiate.
See a photo gallery from the TCHS Collegiate Academy celebration here. Watch a video about four sets of twins who will be in the inaugural class here.